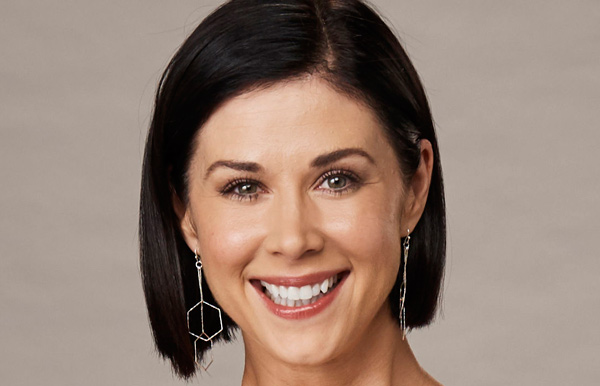 Marguerite Astoni (2017-2020)
Kestie Morassi
Episodes: 6682–7368
Date of Birth: 8th March 1979
Parents: Richard Walford & Diana Carrington
Siblings: Kate Walford
Marital Status: Ben Astoni (1997-present)
Children: Ziggy & Coco Astoni
Occupation: Teacher/Principal
---
Maggie was first seen arriving at her home in the city after her younger daughter Coco was suspended from school. She spoke to her husband Ben about the difficulties they'd been having with their two daughters, both of whom had been going off the rails, and convinced him they needed to go and see her mother Diana, even though Diana seemed to believe Maggie had married beneath herself. However, a short stop in Summer Bay resulted in the car breaking down and them having to stay at the caravan park while it was fixed. Maggie noticed Leah eyeing up Ben at the Diner and cheerily explained he was her husband; however, the embarrassment caused tension between the two of them.
A series of calamities involving Ziggy stealing a wallet and Ben damaging a water tank saw them having to stay in town another week, with Maggie reluctantly to go on to Diana's without Ben. She tried to convince Ziggy and Coco to look around town and booked them on John and Marilyn's bus tour. Although an encounter with a snake and the discovery that John had recently spent time in prison for arson brought things to an abrupt halt, Maggie was enchanted with the farm house, which was up for sale, telling Ben it was the sort of place she'd always dreamed of owning, although they quickly noted the girls would never agree to moving. However, after Ziggy had made an aborted attempt to run back to the city, the family decided to stay in Summer Bay for the rest of the school holidays.
On learning that the principal's job at Summer Bay High was available and that the pier was also up for sale, she made plans with Ben to buy both the pier and the farm. Their bid on the pier was accepted but they had a hard time convincing Coco and Ziggy to agree. When she learned that Brody had had drug problems, she agreed with Ben that they should keep him away from Ziggy. She attended a lunch with new tenants Alf, Irene and Leah who immediately objected to her and Ben's plan to redevelop the pier. She struggled as principal, having difficulty relating to the students, and quickly made an enemy of Jennifer Dutton. After Leah offered her some advice, she tried to help her son VJ, who was repeating Year 12, only for Ben to clash with him when he saw him getting close to Coco. Maggie forced Ben to apologise and share news of the development with the tenants. She had Irene, Leah and Marilyn round to show them the plans but they were upset to discover it included taking space away from the Diner and building a restaurant. She asked Ben to cancel the development but eventually decided to support him.
She asked Roo to be a teacher's aide and confided in Leah that she had post-natal depression with Ziggy and had never bonded with her. After Ziggy responded to a falling out by getting a part-time job, Maggie agreed to treat her more like an adult. She had to suspend Coco and Jennifer when they got into a fight, which resulted in her clashing with Jennifer's dad Nick and him blocking the pier development plans by applying to give it listed heritage status. When Roo managed to upset Raffy by suggesting she go up a year, Maggie suggested teaching might not be for her.
When she saw how upset Ben was about the loss of the development, Maggie asked Alf and Leah to help her set up a surf shop for him. VJ and Hunter told her Roo had helped them with their HSC trials, prompting her to change her stance and offer her a permanent position on qualifying. She then received news that Coco had fainted. When she and Ben found a used condom wrapper, they wondered if Coco was sleeping with VJ and Maggie asked Leah to talk to him, before interrogating Coco. She then realised it was Brody and Ziggy but an attempt by her and Ben to talk to Ziggy ended in an argument and resulted in Ziggy briefly moving out until Brody broke up with her. When Ziggy ran away from an attempt by Coco to get everyone to air their feelings, Maggie suspected she was hiding something big. She was touched when Ben gave her the first surfboard he made, even though they both knew she'd never use it.
Worried about the lack of bond between herself and Ziggy, she tried to organise a family dinner but had to cancel to deal with a spat between Raffy and Jennifer. When someone threw a rock through a window while she was working late and she saw a hooded figure, she began having flashbacks to an incident years earlier when she had been knocked down by intruders at the school and suffered a head injury. However, the present day intruder turned out to be Raffy, who summoned her family. Coco then collapsed again and Leah admitted she had bulimia, while Ziggy ran away from home. Maggie accepted Ben's belief that they should concentrate on Coco. When Ziggy finally turned up, she admitted she was one of the vandals in the incident where Maggie had been injured. She was touched when Ziggy bought her an olive tree as an apology, on the grounds she'd need plenty of branches, and they planted it together. She unknowingly took Mick Jennings back to the house when he helped her change a tyre.
Maggie had to pay $5000 bail when Ben was charged for assaulting Brody, saying she took out a loan. When Diana turned up in town, she had to admit it was her that she'd borrowed the money from. Despite being irritated by Diana's presence, she was unimpressed when Ben lost his temper with her. She told him to be honest with Diana and afterwards the pair teamed up to surprise Maggie with an impromptu vow renewal on the beach to mark their 20th anniversary. She found Coco about to binge after being rejected by Ryder and attended her glow day, partnering John in the obstacle course. Afterwards, she and Ben discussed ways to get Diana to leave but Ben ended up inviting her to stay longer when they received news that Maggie's father Richard was remarrying. Maggie tried to find her a hobby but Diana then announced she was moving to the Bay. Maggie quickly arranged for Diana to instead go and stay with her sister Kate in London, with Coco going to stay with her until then.
She began to suspect Brody and Ziggy were more than friends but started to approve of them when Brody cooked dinner for the family, offering to help bring Ben round to the idea. However, her first idea, getting Brody to help Ben fix the gazebo, just led to arguments. They then learned Jarrod was in town but Ziggy promised she wasn't going to get back with him. Coco returned and Maggie was shocked to find a newspaper report about her being arrested at a protest, trying to stop her harassing the locals with her newfound environmentalist ideals. After attending the party to re-open Salt, she collapsed on the beach.
She was found by Ben and Coco and rushed to hospital where she was found to have a high white cell count. She was sent home with a suspected virus but Ben brought her back in when she felt faint and scans showed a mass in her abdomen that could be cancerous. The biopsy results would take a week so she threw herself into work to take her mind off it but had a panic attack after ignoring calls from the hospital. Tori then visited her at home and told her she had cancer. She was reluctant to tell the girls but eventually decided to have a day on the beach together and then tell them. However, she went home while Ben and the girls were in the sea, unable to face it, only for the girls to guess anyway. She was told the cancer was fast-growing so elected to immediately start chemotherapy but collapsed after her first session.
While clearing Kat's things out of the Diner flat, Maggie was forced to accept she might die. Ben refused to listen and sent her home to recover but she asked the girls to be honest with her. Ben admitted to her that he was scared. He had to move out for a bit when he had a cold while Maggie's white cell count was low, meaning he missed Maggie's birthday, although she spoke to him via Skype and Ziggy, Coco and Brody organised breakfast for her. She went to the hospital to have scans done and had Ben turn up late after appearing in court on the assault charge.
After overseeing construction work at the school, she decided to reopen while it was going on. However, her first day was plagued with problems including two teachers being off sick and she got confused in class. Ben convinced her to stop teaching and concentrate on being a principal. She prepared a surprise party for Ziggy's 20th, but during the preparations she found evidence her cancer had spread. She put on a brave face during the evening but made a point of having a photo taken of the whole family. Next morning, she told Ben they needed to go to the hospital. She was told her best chance was a stem cell transplant, but the most likely donor was Ziggy, who she was reluctant to ask. Ben convinced her to let Ziggy make the choice and she agreed to be tested. When she became ill while having injections prior to the donation, Maggie became convinced it was because of them and tried to cancel the procedure but was talked into going ahead with it.
When she learned Coco was skipping school, she suggested she go to a camp for the children of cancer sufferers. She was thrown when she started losing her hair but Irene and Marilyn visited her with headscarves. She made a special meal for Ben after his first day at work as a labourer only for him to stay out drinking with new workmates. Brody and Ziggy made up for it by making them dinner the next day. When Ben joined the construction work at the school, Maggie felt the need to step in when his boss Barry Johnson criticised him but Ben asked her not to. She began losing more hair and Coco suggested shaving it off. Although initially uncomfortable with the idea, Maggie eventually agreed and asked her family to help her. However, after the initial empowerment, she was worried it made it obvious she had cancer. Ben helped her feel less self-conscious by taking her for a private breakfast on the balcony at Salt.
On her return to school, she let the students question her about her cancer before getting down to class. However, soon after she had to go home sick, then collapsed and was found to have a chest infection. It was also discovered the stem cell transplant had had no effect and, once Maggie recovered from pneumonia, she was put on the transplant register. On returning home, she asked Ben to give her some space before breaking down with Roo. She began writing letters to her family in case she died and convinced Ben to go away with her for the night to a beach cottage. However, shortly after their return, Ziggy found the letters. Maggie had a hard time explaining it but told them they could all read the letters if they wanted.
She was initially pleased when Ziggy and Brody were engaged until she suspected Ziggy only did it because of her letter, in which she talked about how she'd regret not being at her wedding. She worried she would look like she had cancer on the wedding photos but let Leah and Roo help her pick out a wig to wear and also took part in Leah's vlog. She tried to help Ziggy organise the wedding only to find Ziggy agreed with everything she suggested, including doves and horses, prompting her to back off and let her make the decisions. She was upset that she wasn't well enough to deal with the arrangements but Roo, Leah and Marilyn rallied round to help her.
On being told that her cancer had spread despite the chemotherapy, Maggie was advised to have a different chemo combined with immunotherapy. Instead, she decided to give up treatment, feeling it had achieved nothing and she just wanted to enjoy the wedding and whatever other time she had left. Ben and Ziggy reluctantly went along with it. She helped Ben learn to waltz for the wedding and dealt with Ziggy's doubts about going through with it. She attended the wedding but immediately after waving the couple off she collapsed.
At hospital, Maggie was informed that her cancer markers were up, her red cell count was low and she had an infection but still refused further treatment. Ziggy and Coco convinced her to change her mind and resume chemotherapy. Diana and Coco found a drug trial in Europe that could help and Maggie was interested. However, Ben and Ziggy were against the idea and Maggie collapsed during an argument. When Tori said the trial results were promising but there were no guarantees, Maggie decided to stay with her family. However, this resulted in her falling out with Diana. She then learned a stem cell donor had been found and Diana returned to support her during the treatment.
She worried about returning home after the latest setback and was afraid of infection when she returned to the house, refusing to let any of her family touch her or to eat with them and shutting herself away in her room. However, she eventually realised she was pushing them away, especially when they initially didn't tell her about a robbery at Salt, and decided to go to the beach with them. She was upset when Ziggy decided to move out with Brody but did her best to be happy for them. She had her first outing to the Diner, bringing her own plates and cutlery. Marilyn advised her to take up a hobby to deal with being home alone and Ben bought her some craft things. She gave the resulting painting to Brody and Ziggy as a housewarming present.
When she learned Raffy and Coco's grades had dropped, she quickly volunteered to give them extra tutoring. She felt aroused during a trip to the beach with Ben and, with help from Marilyn, set up a special dinner and tried to seduce him, only to be left humiliated when he rejected her. Marilyn suggested he was used to seeing her as a patient and Maggie told Ben she didn't want the cancer to rob them of intimacy. She worried when her test results took longer than usual only to learn it was because the cancer markers were further down than expected. Brody threw a farewell meal for the family at Salt where Brody played the guitar although Maggie had to help him through a panic attack afterwards. She made several unsuccessful attempts to cook health food so Brody started giving her lessons. After Brody put the health dishes on the Salt menu, Maggie and Ziggy launched an online promotional campaign. She then helped Brody prepare the food for a reviewer. When Ben noticed a bruise, she went to hospital to get it checked out. This resulted in her having the tests earlier than planned and being given the all clear.
Maggie returned to work but was soon bogged down with paperwork and then fell asleep while having dinner with Ben. She felt she needed to do more with her second chance than just go back to teaching and began making plans for big changes with her life only to upset Ben who felt excluded. She was stressed out trying to catch up on marking, which was only increased by her family fussing over her and arranging surprises to cheer her up. However, she and Ben broke the ice by spending a night sitting up coming up with crazy ideas for their future, which resulted in Maggie deciding she wanted to help cure cancer. In order to raise money for research, she began dreaming of climbing the highest mountain in every state but a simple power walk showed her how unfit she was. Ben suggested she get proper training, using Mason as a personal trainer. She was forced to accept the mountain climbing was unlikely so decided to organise a fundraising event. She was initially irritated when Irene and Roo began offering unsolicited ideas but Coco changed her mind when she read the letter Maggie had written for her, in which she told her to accept help from those around her. She suggested a morning tea which Roo quickly changed into a big event with a marquee. She did everything she could to help Ryder stay in school after Year 11, eventually arranging for him to retake his exams with her invigilating.
She was thrown when Leah and Roo produced posters with her face on them and refused Leah and Ziggy's suggestion of telling her story for an advertising vlog, since it was about raising funds, not her. However, she then hit upon the idea of getting lots of cancer survivors to tell their stories instead. She reluctantly suspended Raffy when she had a fight with Abbi Simmonds. She opened the fundraiser and discarded her wig for the first time at the dinner that followed, her hair having partly regrown. The event raised $17,000. She selected Coco to go to a science camp on merit and provided support to Ben when he refitted the surf club for his board shop counter.
When Roo told her she'd been offered a teaching placement in the Kimberleys, Maggie insisted she couldn't go because the students needed continuity. However, she signed off on it after realising she just wanted Roo around for herself. She felt her training could get more intensive and got permission from her doctor, starting to train for a charity marathon. When she saw Bella Nixon in town, she enquired about her starting school. Since Bella had missed a lot, Colby and Chelsea asked Maggie to assess her. She concluded she was intelligent but had gaps in her knowledge and offered to find a bridging course for her over the summer. Colby kept changing their plans and Maggie tried to keep up, planning to tutor Bella herself at one point. She and Ben had a date night together at Salt.
When she heard that Coco had been offered a scholarship in Cairns, she refused to consider it. Although she had concerns about Coco's anxiety issues, she admitted to Ben that the main problem was she wasn't ready to let her go. After Raffy and Ryder helped Coco with a presentation, Maggie agreed. She signed up to a charity marathon and Coco volunteered to join her on the first lap. Ziggy joined her on the second but collapsed from heat stroke. Maggie flew to Cairns with Coco, returning the following week.
She gave Ryder and Raffy some study material before the start of the school year although this only served to stress Raffy out. Instead, she began looking for funding for a support teacher for Raffy and Bella and turned a blind eye to Bella wearing jeans to school. She agreed to employ Simone as a voluntary support teacher, even though Ziggy had had issues with her, and went to the press about the lack of funds. Simone shared the fact that Bella had confessed to being afraid her dad would come back and kill Colby, which she passed on to him. However, her working relationship with Simone deteriorated when she learned Brody had been cheating on Ziggy with her, resulting in Brody and Ziggy breaking up, and she took advantage of an excuse to criticise Simone for not being there to help Bella upload work.
Ryder convinced her to have a Purple Day at school to educate people about epilepsy. However, she was frosty towards Tori when she turned up to give a talk and tried to exclude Simone. When Bella was absent from school, Maggie told Simone to stay at home. However, after Ben and Ziggy tried to get her to fire Simone, she realised things were going too far and told Simone she wouldn't cause trouble at school, while also warning her not to upset Ziggy further. She and Ben witnessed an argument between Ziggy and Dean and learned Dean had refused to take advantage of her when she made a drunken pass at him.
When Simone accused her of giving her a bad reference for a flat, Maggie told her she'd actually been complimentary and realised Simone didn't know about Brody's criminal record. She had to deal with Simone's office door being graffited, suspecting first Ziggy and then Raffy before Bella confessed. Although she handled the situation seriously, she was happy to accept Simone's resignation and wave her notice period. She continued to worry about Ziggy's drinking, although Ziggy got a wake-up call when Dean was beaten up for defending her. She arranged for Roo to take Simone's place as support teacher but ended up having to suspend Bella for setting off a fire alarm.
She encouraged Ben to make up with Justin and gave Ziggy details of a charity car rally that she had been sent for her cancer work, intending her to enter next year, but Ziggy decided to enter that year instead, rushing to get everything ready. She warned a visiting Coco to not be too vocal about Brody at Raffy's birthday party but refused to discuss with Brody the fact Ziggy had gone to the rally with Dean. Despite this, she and Ben sensed something had happened between the pair when they returned but decided it was Ziggy's choice. She was however uncomfortable to hear Dean climbing out of Ziggy's bedroom window when she came home. She politely accepted Brody's offer of his and Ziggy's wedding album before he left town.
She began to accept Dean and Ziggy were more serious than they'd thought, questioning him after he stayed the night and getting Ben to pay him a proper wage at the bait shop. Although she was frosty towards Leah and Justin when she and Ben ran into them, she quickly agreed to help Leah get Justin and Ben to make up. She tried to trick Ben into having dinner with the couple and, when that failed, convinced him to have a beer with Justin and sort out their differences. She helped Ben work out the figures for a large board order and they concluded he couldn't afford the initial outlay although he ended up accepting a loan from Dean. As Ben struggled to get the order finished on time, Maggie suggested he use a factory.
Ben began making plans for when the money came through, suggesting they go on a trip to Italy. However, the factory turned out to be a front for drug trafficking; Ben was blamed and charged, with Maggie unable to find paperwork that could clear him. She decided they need to sell the pier to pay for a lawyer but Ben was annoyed when she arranged a valuation without consulting him. She eventually convinced him it was worth it to keep him with them but was concerned as Ben became increasingly lethargic, unable to find the energy to do simple jobs. When she tried to motivate him, he angrily declared that nothing he did made a difference and Alf told her he felt Ben might have depression. She felt the troubles were over after she and Ben slept together until she heard he had smashed up the new surfboard he had made Ziggy in a fury. She told him to either get professional help or move out but was shocked when he chose the latter and moved out to the caravan park. Maggie had trouble getting him to talk to her and, when Dean's mother Karen came to town, invited her for dinner as an excuse to spend time with Ben, only to be left upset that he got on better with Karen than her. She turned to drink but Ziggy convinced her to call a depression hotline and then just go to the caravan park to spend time with Ben. She felt they'd made a breakthrough when she arrived for her regular visit to find a note from Ben asking her to wait for him. She worried when Ben disappeared but he returned and explained he had been able to convince the AFP of his story. Roo invited her to dinner without telling her Ben would be there. They got on well and Ben gave her a lift home but was annoyed when she tried to get him to stay the night, later telling her he needed to focus on the case.
When Ben lost his temper during a family meal at Salt, Maggie insisted he needed to get some help, saying she was through with him. Ziggy warned her it could backfire as Ben seemed to withdraw more from the world. Maggie was concerned herself when she learned Ben had discharged himself from the caravan park but he turned up at the farm agreeing he needed help. She accompanied Ben to the hospital where he was diagnosed with depression. Ben was reluctant to take medication and she again confided in Ziggy. She celebrated when the charges against Ben were formally dropped and supported him as he reopened the board shop, with them soon getting their marriage back on track. While supervising an exam, she was bewildered when Ryder suddenly knocked a water bottle out of her hand. After she threatened to stop him taking his last exam if she didn't get a proper explanation, he admitted another student, Blake Golan, had drugged the water so she wouldn't notice him cheating. Maggie reported Blake to the police, giving them the water bottle as evidence, and he was arrested.
On learning Ziggy had been offered a trial with a race track pit crew, Maggie encouraged Dean to let her go, telling him Ziggy would resent him if he made her stay. Ben took her out for dinner at Salt to apologise for the last few months. She sorted through reports with Roo and learned Bella, who had been off school sick for some time, was now failing, having to tell her she might need to repeat Year 11. She arranged a catch-up programme over the holidays but was told Bella was too ill to take part so wouldn't let her into Year 12. Colby spoke to her about getting Bella home schooled and Maggie agreed she and Roo could tutor her over the holidays until he got someone permanent. She went to visit Ziggy at the race track but only managed to distract her. She attended her annual cancer check-up after being in remission for a year and was given the all-clear. Shortly after, Ziggy returned having quit her job. Maggie and Ben watched a news report on the siege at the hospital, having left there minutes before it started.
After the matter had been resolved, she and her family raised a toast to Mason, who had been killed during the siege, and then attended the vigil for Robbo, killed in a car crash on the same day. She and Roo decided to try and find the missing Leah and discovered that her blog had been reactivated. She was with Justin and Tori when they saw the announcement on the blog that Leah was engaged, which ultimately turned out to be a cover for her being kidnapped. She tried to find a way for Bella to be home schooled while enrolled at Summer Bay High but found she didn't qualify so supported Bella's decision to leave school and go to TAFE. She made plans to throw a party for Ben's birthday and after initials doubts he agreed. However, she was shocked when Ben's brother Marco turned up and Ben invited him to the party. Marco warned her that if she caused trouble he would tell Ben they'd slept together: They'd shared a brief liaison twenty years earlier when Ben broke up with her for a time and she'd never told anyone about it. Maggie was concerned when Marco tried to get Ben to invest in the family business but he threatened to spill the beans if she objected so she talked Ben into agreeing. She was concerned that Marco showed no sign of leaving afterwards however and he felt that she'd used him to get back at Ben. She confided in Roo and, on the day they were meant to go to the bank to finalise the deal, confessed the truth to Ben.
Ben was left upset that she'd lied to him while Ziggy wondered if Marco was her father. Even though the dates matched, Maggie insisted she knew Ben was the father. Both Ben and Ziggy started avoiding her and refused to open their DNA test results in front of her: It was left to Marco to reveal the fact that the results confirmed Ben was Ziggy's father. Maggie turned down his attempt to make her go away with him but was disappointed that the results didn't change Ben or Ziggy's opinion of her. However, she forced Marco to leave town by threatening to tell his parents the real reason he'd wanted Ben's investment, that he'd ruined the family business. She convinced Ben to have a meal with her but her attempts to make small talk soon made him walk out. He then collapsed at home and she called an ambulance. It transpired he had increased his dosage of anti-depressants and had a bad reaction after mixing them with painkillers, and Maggie insisted on staying at the hospital with him. However, when he continued to reject her attempts to make conversation, she suggested they needed to rethink their marriage. This led them to them separating. After a short period of continuing to live in the same house, they decided one of them needed to move out and Maggie convinced Ben to use his share of the pier sale money to rent a room at the motel.
She was pleased when Ziggy decided to move back in until Ben helped her realise Ziggy was happy with Dean, at which point she told her not to move back in for her sake. Finding it uncomfortable seeing Ben around town, she decided to go and visit Coco. On her return, she found Ben being friendly with Gemma Parata and tried to demand an explanation. She was horrified to overhear Gemma had spent the night in Ben's motel room, even though Ben insisted nothing had happened. She gave Gemma a serve anyway, then saw Ben comforting her, so decided to apply for a transfer and leave town. She then decided to immediately move to Italy, booking herself on the first flight. However, as she tried to leave, Ben stopped the car, saying he thought they could fix things. Maggie reluctantly agreed to stay one more night and they stayed up all night talking things over and finally reunited.
After they spent a week holed up in the farm house, Ben convinced Maggie to venture out to the Diner. However, she was thrown to learn her position at the school had already been filled and felt the weight of expectations was too much when they ended up having a celebratory lunch at Salt with Ziggy, Dean and Justin. Ben suggested they follow her original plan and move to Italy together for a fresh start. When Ziggy and Coco both turned down an offer to come, Maggie was reluctant to be so far away from them but Ben eventually convinced her. They booked a quick flight from Cairns, meaning they could visit Coco first, and attended a special farewell lunch organised by Alf and Leah before driving out of town together.