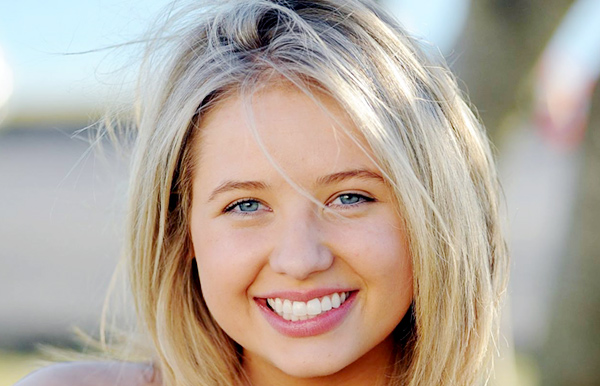 Madeleine Osborne (2013-2016)
Kassandra Clementi
Episodes: 5664–6437
Parent: Tanya Osborne
Siblings: Annalise Osborne, plus one brother and at least one more sister
Occupation: Student, Gym Worker, Waitress
---
Maddy arrived at the caravan park with Spencer, claiming they were a brother and sister who were working their way around the country. They promptly did a runner with some blankets. Maddy was dispirited when Romeo offered her some surfing lessons and she had no money to pay for them. When she told Spencer how she felt, he suggested they could return home but she insisted she didn't want to. They started sleeping rough at the school, where Maddy practised on one of the school violins. When Roo got Sasha to leave them some food and a note offering help, Maddy was reluctant to trust her. Roo gave them a meal and a caravan to stay in after it became clear Maddy was ill. The pair disappeared again and hid out nearby but had to go to the house for help when they found Romeo locked in a shed and agreed to go back to the caravan. Maddy tried to get work at the Diner but backed off when she learned it would have to go through the books. Roo then found that Maddy's parents had reported her missing. She and Spencer admitted they were actually a couple who'd run away because their parents wouldn't let them be together: Maddy had got a music scholarship to an exclusive school but Spencer's parents considered her too low status for him and Maddy's parents didn't want her dating a snob.
Maddy was admitted to hospital with meningitis and Harvey alerted the police. Spencer felt she should go home to be looked after but instead Maddy phoned her mother Tanya and threatened to run away again if she came after her. She made plans to settle in Summer Bay, speaking to Gina about enrolling at Summer Bay High, and Celia gave the couple $1,000 from her gambling winnings. However, Roo invited Tanya to town and, even though Maddy just argued with her, Roo and Spencer encouraged her to go back with her and she reluctantly agreed. Tanya then attempted to send Maddy to boarding school in Victoria so she'd concentrate on her music, prompting Maddy to follow Spencer back to Summer Bay. Spencer's dad Ian followed them down but failed to convince Spencer to return and Roo and Harvey agreed to let the couple stay on condition they went back to school. Alf gave her a violin to practise on which he had bought prior to her departure. On their first day at school, Sasha was assigned to look after them but Sasha's friend Rosie got jealous and told Maddy that Sasha was only hanging out with them out of obligation. Sasha assured her it wasn't true.
Maddy moved into the house when Celia left. She soon began to feel her new arrangement was as restrictive as the old one, arguing with Roo about doing homework and rejecting the violin as part of her old life. Marilyn attempted a mediation which fell flat but Maddy told Roo that she'd never felt comfortable enough with Tanya to bicker with her. She and Spencer convinced Jett to stand up to his bully Tilda Hogan. Spencer encouraged Maddy to sleep with him and Roo told her it was fine if she was ready, only for Harvey to scare Spencer with talk of them breaking up if it happened too soon, resulting in Spencer rejecting Maddy when she told him she was ready. Maddy worried when Roo and Harvey argued as a result. She continued to bicker with both Spencer and Roo, disobeying Roo's instructions to go home after school to do an assignment in order to go to the beach with Spencer and Sasha. There, she witnessed a confused Rosie kiss Spencer before Roo arrived and dragged her home. Alf threatened to throw her out if she didn't start respecting Roo and sent her home to help with the lunch when he found her with Spencer on the beach. After initially defending her, Roo repeated the threat. Maddy apologised to Spencer and asked him to run away again if she wasn't allowed to stay but he refused. Maddy realised Alf and Roo were bluffing but agreed to follow their rules.
When Spencer's brother Chris visited and they went away together, Maddy found herself at a loose end. Jett suggested she joins the surf lifesavers and Alf helped her get a free membership, giving her training on the beach. She refused to leave when Spencer returned and wanted to go back with Chris, telling him he had to do what was best for himself, and Spencer decided to stay. Chris then began stirring up trouble between them, convincing Maddy that Spencer felt guilty about abandoning their parents and then letting them both think the other wanted space, until Harvey realised the truth and he and Roo brought Spencer and Maddy back together with a family picnic. When they confronted Chris, he backed off and admitted he didn't want to go home without Spencer, who convinced Chris to stay in Summer Bay.
The pair then had to come with Chris wanting to hang out with them all the time before receiving the news Gina had died. Maddy played the violin at the funeral in tribute. Maddy suggested she and Spencer have their first time on his birthday but they couldn't go through with it. Although they tried to get past the resulting awkwardness, Maddy felt they only loved each other as friends and decided to end the relationship. Sasha tried to cheer her up by getting her to join her at a self-defence class but when Spencer saw the pair of them joking he felt it showed Maddy didn't care about him. Maddy told him she was upset but Spencer felt they should stay away from each other. Sasha and Rosie did their best to cheer her up but Spencer continued to be cold towards her, prompting her to reconcile with him. She began training with John to avoid spending time with Spencer and, when Spencer realised, he called time on their relationship again.
Maddy became jealous of Spencer spending time with Sasha and Rosie and worried that he and Rosie were an item, despite Roo pointing out that Spencer was allowed to move on. She decided she wanted him back but when she went looking for him Chris said he'd spent the night at a friend's. When she heard that both he and Rosie had stayed over at Sasha's and saw Spencer hug Rosie on the beach, she felt her suspicions were confirmed. When she quizzed Spencer, he told her Rosie was pregnant but Maddy still worried Rosie would mistake his friendship for more. The pair awkwardly joined up to say goodbye to Chris when he decided to head home. She tried to walk home from school with Spencer but he ignored her when Sasha and Rosie joined them and Roo warned Maddy she couldn't rely on Spencer to stop her being lonely. She booked a counselling appointment with Natalie to make Spencer feel sorry for her but when she admitted the truth they agreed to stop playing games.
Despite their good intentions, Maddy was left feeling like the odd one out when Spencer invited her to join him and Sasha at the Diner. Looking to make some new friends, she befriended classmate Holly Chapman and defended her when Spencer and Sasha told her Holly was busying Rosie. However, she was concerned at how seriously Holly was taking her crush on Zac, genuinely believing they could be together. Nevertheless, she continued to defend Holly when Sasha threatened her in the Diner but then witnessed her insulting Rosie. When Holly claimed Zac had assaulted her, Maddy realised she was doing it in revenge for him not returning her affections and Roo convinced her to make a statement to Bianca. Holly angrily told her that no-one would be her friend now they knew she was disloyal.
She tried to rebuild her friendship with Spencer and Sasha but overreacted to Spencer suggesting they should move on, then accused him of liking Sasha when she noticed him looking at her appreciatively. She confronted Holly for lying to the press about Zac but Holly taunted her about Spencer's lack of interest. Zac was cleared but Bianca was demoted for making a statement to the press defending him against orders. Having apologised to Spencer and Sasha for jumping to conclusions, Maddy roped them, along with Zac and some other students, into joining her in a protest to get Bianca reinstated. She was prepared to abandon the idea when Bianca told her to forget it but Irene and Leah talked her into going ahead. Maddy floundered when talking to the press but Zac came to her rescue and the protest was successful.
She was pleased when Spencer spent time with her until Holly showed her a video of him kissing Sasha. After telling the pair she knew, she tried to prove she was fine with it by having breakfast with them but was too upset and decided they couldn't spend time together anymore. Sasha, along with Roo and Harvey, convinced her to go to Rosie's farewell party, but when they began talking about Sasha and Spencer's relationship Maddy got upset and left, after telling Sasha that Spencer would drop her as soon as things got serious. Marilyn and Rosie encouraged her to apologise and she left Sasha a phone message, but ended up saying she'd never be able to forgive her if she slept with Spencer. She then went to the house to apologise only to find that they had slept together. She refused to talk to Spencer but did put on an act of still being friends with the pair while they said goodbye to Rosie. It took a few words from a visiting Sally to calm her down.
With Sasha having moved to Broken Hill, she began to rebuild her friendship with Spencer. Sasha then returned and Maddy blasted her for her behaviour. She and Spencer bonded further over Pippa's illness but she noticed he was upset at the thought of Sasha leaving again. She engineered a reconciliation between them despite her own feelings. She began training with Casey and found he was secretly drinking vodka. She got drunk with him at the gym and ended up in a row with Roo. Roo ordered her to stay away from Casey but she was annoyed that Roo didn't trust her and stayed out all night at a club with him. The next day, she joined him on the beach but refused to drink with him and was annoyed when he tried to kiss her. She stormed off and when she came back she found out he had collapsed from alcohol poisoning and summoned John and Brax.
She got on better with Chris now she wasn't dating Spencer, causing further conflict with Sasha. She agreed to look after Pippa when she returned to school but failed to track her down at lunchtime, unaware she was playing truant, and was blasted by Sally. She comforted Casey when he again missed out on a chance to get back with Tamara, prompting Sasha and Spencer to try and warn her off. Frustrated, she went to Casey's caravan and tried to seduce him. Casey was initially willing but backed off when he realised her heart wasn't in it, prompting her to run off in tears. She refused to discuss the matter until she discovered Roo thought Casey had assaulted her and put her straight but rejected Casey's attempt to rebuild their friendship, thinking everyone was right about him.
At Heath and Bianca's wedding reception, she snubbed Casey and threw herself at a stranger, Josh Barrett. She left with him and his friends and nearly had drunken sex with Josh but was stopped by Casey, who convinced her he was looking out for her. As Casey was driving her around to sober her up, Josh's brother Andy, with Josh as a passenger, forced them off the road. Casey carried Maddy from the burning vehicle but was knocked unconscious when the car exploded. Maddy recovered and walked to get help before locating Alf and Roo. When she saw the Barretts around town, she told Brax but stopped him attacking Josh and felt sympathy for Josh when she overheard Andy threatening him into keeping quiet. After confiding in Sasha, she stopped Roo throwing Josh out of the Diner and learned he had tried to stop Andy. She continued to spend time with him and tried to convince Brax the accident wasn't his fault. She took Josh to apologise to Brax and Casey, after which they shared a kiss.
She was frustrated when everyone assumed Josh was to blame after Spencer attacked him. With Josh sleeping on the beach after falling out with his family, she tried to arrange for him to stay in a caravan but Alf refused so instead she went to Brax for help. However, Josh didn't feel able to stay there so instead she smuggled him into her room. They were caught out by Marilyn and begged her to keep it quiet. However, she told Alf and Roo and Alf threw Josh out of the house. Maddy promptly ran away and helped Josh hide out at Mangrove River High. She returned home after Josh went to the court on hearing Brax had confessed to accidentally killing his father and Roo agreed to be more accepting of Josh. She then received the news that Josh had been shot while protecting Brax and ran to hospital to check on him.
Since Mangrove River High burnt down around the time they stayed there, Maddy and Josh found themselves under suspicion. Maddy told the police Josh was with her the whole time but asked Josh if he was responsible. Josh broke up with her and she realised Roo had spoken to him, but was unable to stay angry when they received the news Harvey had gone missing at sea. She then found Josh had disappeared from hospital. She had to go to school rather than look for him where she was assigned to look after Oscar MacGuire, who was just starting. She tried to get him to stay at school but he ended up in a fight with Matt Page. Maddy then learned Josh was hiding out at Ricky's place and got back with him in exchange for him going back to hospital. After he was discharged, he went to stay at her place for a while.
Maddy did her best to be friendly towards Andy when he re-entered Josh's life, as well as helping Oscar and Evelyn fit in, but this resulted in Josh accusing her of seeing him as a project. She tried to defend him when Jade Montgomery bullied him in class and talk him out of leaving school but became frustrated by his refusal to stand up to Andy. She reluctantly accompanied Evelyn to a party being thrown by the Mangrove River teens, where things thawed between her and Josh. However, Andy spiked her drink, causing her to act out of control and dance with Matt. Josh looked after her when he realised what was going on but she was furious when she came down and realised what had happened and that Josh hadn't told her. She kept the incident from Roo but confided in Ricky who took her to the police; however, Josh covered for Andy. Maddy forgave him when he told Andy he wanted nothing to do with him. Afterwards, she attended Harvey's memorial.
Maddy made plans to go to the Bay Meets the River music festival with Josh, claiming they'd be sleeping in separate tents. This was a lie and during the night Josh asked Maddy to sleep with him for the first time; after taking a few moments to consider, she agreed. They said their goodbyes back in town and she headed home with Alf and Roo to find Harvey waiting for them.
She sneaked into the school with Josh, Spencer and Sasha after hours and helped Spencer loosen up when he became self-conscious about his bipolar. She was unhappy when Josh began spending time with Andy again but told him she wouldn't get between them. When Andy revealed he was looking for a job, Maddy convinced Casey to give him a trial at the gym only for it to be vandalised by Sean Green, an old acquaintance who Andy had made a statement against. Maddy talked Josh out of going along with Andy's plan to get rid of Sean. Sean then tried to kidnap her as leverage but she was rescued by Kyle and reunited with Josh once Sean was arrested.
She filled Spencer in on the fact Roo and Harvey's marriage was on the verge of collapse and roped Marilyn and Sasha into organising a girls' night to cheer Roo up. She was upset to learn Roo and Harvey were divorcing and leaned on Spencer rather than Josh when they said goodbye, resulting in her and Josh arguing. She was annoyed when Sasha tried to use Josh as her Mangrove River poster boy for her school captain campaign and met with Matt, Josh and Jett to decide how to pay her back. Maddy suggested organising a debate between Sasha and Tamara to show up Sasha's lack of policies, only to get kicked out of the meeting by the others, who were interested in something harsher. She was annoyed with the trio when they dumped Sasha in the middle of nowhere so she'd miss her speech, but made up with Josh after Sasha turned up.
She asked Alf if Josh could stay at the house when Andy wanted the caravan for himself but Alf insisted he stay on the couch. She helped convince Kyle to put on a concert for Gina's memorial and asked him to give her guitar lessons but he cancelled because he was too busy. She caught Sasha breaking into the office to get Matt's address when he dropped out of school and realised Sasha cared about him. Maddy convinced Roo to go and see Colleen after realising she was just lonely. Spencer began hanging around her and Josh and when she and Josh tried to take advantage of Alf being on an all-night fishing trip he came home to find them making out on the couch. Maddy tried to tell Spencer they needed some space but he kissed her. She kept it from Josh but told Spencer to stay away from her. She tried to help Josh study for an exam but failed to dissuade him from taking a copy of the answers that Evelyn was handing out. The whole class ended up being punished when Zac caught them. When Josh overheard her talking about the kiss with Spencer, they got into an argument and Oscar comforted her. However, she let Josh stay over with her when he found out Casey was his half-brother, which resulted in Alf finding out they were sleeping together and banning Josh from the house. Marilyn organised a mediation session which just left everyone embarrassed and Alf eventually accepted they were old enough to do what they wanted.
She accompanied Josh to a dinner with the Braxtons but they ended up going on a picnic with Kyle and Phoebe instead. She was shocked when Josh considered leaving town with Andy and got Kyle to talk to him. She tried to encourage the burgeoning romance between Spencer and Evelyn. When she tried to spend time with Josh after training, Alf insisted she go home and study. Maddy brought Josh home for dinner without asking but Alf learned she hadn't handed in an HSC assignment and insisted she go and do it. Instead, she sneaked out and spent the night in Josh's van before convincing him to stay off school with her. She got into an argument with Alf when he found them at the surf club and was disappointed to learn he'd already spoken to Roo. When her behaviour got too much for Josh, she admitted she'd been acting out because she missed Roo and wanted her to come home, and apologised to both Alf and Josh. She resolved to be less self-absorbed, with resulted in Alf running her into the ground during a training session.
After Tamara left, Maddy tried to take up her idea of a mid-year dance and put together a committee, but put her foot in it by asking Bianca to arrange for Spencer to have time off work, not realising she and Heath had separated, then had the idea rejected straight out when Bianca learned how much money it would cost. She decided to organise a house party instead but Alf refused her permission. Marilyn arranged for them to have the party at the surf club but Maddy was upset when Josh said he was too busy studying to go and told Spencer she thought it was selfish, which Josh overheard. Although the party went well, Maddy didn't enjoy it without Josh. Even though she didn't believe his explanation, she made her peace with him.
She tried to spend time with Josh but he claimed he needed to do something with Andy, so she was upset to find him on his own at the Diner. When she went looking for him to talk it over, she found him making jokes at her expense with Sasha. Sasha explained Josh was having a hard time studying, so Maddy arranged a study group with the two of them, Spencer and Evelyn, but her techniques for memorising things failed to help Josh. She realised Evelyn had a crush on Josh and told him not to encourage her. Maddy finished her exam early but learned she'd failed the exam, as a result of missing questions and not going into enough depth. She tried to blame Zac and ended up falling out with Josh, who was upset that she didn't seem bothered he'd passed. She messed up an attempt at apologising and then accused Evelyn of being after him, but Evelyn told her it was Maddy that Josh loved. She met up with Josh on the wharf and made up with him.
When Roo returned home, Maddy told her she wanted to move in with Josh in a caravan but Roo refused. She stayed out with Josh to avoid Roo but returned home to find Roo unconscious and rushed her to hospital. Maddy lent on Spencer rather than Josh with Roo in hospital but needed Josh's support when Roo was suspected of having bacterial meningitis and had to have fluid drained from her brain. She was annoyed when Alf and the others hid how serious Roo was from her, but when she realised how urgent it was to find where Roo had been she was the one who found her passport, allowing her to be given the correct anti-virals.
She met with Sophie to discuss improving her grades at school but instead was told she would have to repeat a year. She got upset, rejecting Sasha and Josh's offers of comfort, but later apologised to Josh. She tried to get her friends' support in challenging Sophie's decision but Evelyn told her it was her own fault and Josh took Evelyn's side. Spencer told her he'd seen the pair hugging and she was concerned when Oscar told her Josh was at their place, then learned he had been beaten up by Andy's associates. However, she was still worried by his and Evelyn's closeness and accused them of going behind her back. Evelyn tried to deny it, but Josh admitted he had cheated. Maddy spent a few days hiding away at home but when she returned and found Josh and Evelyn were together she ended up in an argument with Evelyn in class, ostensibly about the text and characters acting like they'd done nothing wrong. When Zac supported Evelyn, Maddy dropped out of school. She then started spending time with Oscar, refusing to discuss her decision with Roo, and slept with him, leading to an awkward encounter with Evelyn the next morning. When Roo questioned her, she insisted she liked Oscar and he made her feel good but admitted she didn't have romantic feelings for him and told him they should go back to being friends.
She was determined to find work and asked Spencer to put a word in for her at the gym. However, when she spoke to Casey she realised Roo had told him not to employ her and was furious. Casey then changed his mind and gave her the job. Her bubble was burst slight when Casey showed no interest in her ideas and she was left doing menial tasks but she was determined to stick at it. She made her peace with Oscar and, on learning he was being bullied at community services, kissed him in front of the other workers in an unsuccessful attempt to give him some street cred. She was shocked when he then turned up at the gym in a dishevelled state and started exercising excessively. She took him out to lunch to try and talk to him about it but he remained silent. She went to see Hannah to tell her what was going on and also asked Andy to keep an eye on him.
She spent an evening watching horror movies with Spencer, after which he asked her to get back with him. She made it clear it wasn't going to happen and Spencer retaliated by accusing her of still wanting Josh and telling her Evelyn had spent the night at Josh's. She ended up trading insults with Evelyn at the gym and was delighted to learn she and Josh had never slept together. She began spending time with Josh and he confided in her about his problems with Andy. She turned down Spencer when he asked her to the school formal and when she heard Oscar was thinking of asking her said she'd say no to him as well; however, when she heard Josh and Evelyn were going together, she announced she was going with Oscar. She then quickly invited Oscar to go, saying she'd only said no in the first place because she hadn't wanted to go at all, but when Spencer accused her of playing with Oscar's feelings she was forced to accept he had a point. At the formal, she largely ignored Oscar and questioned Josh's absence, before realising she was being unfair and sharing a dance with Oscar. She was confused when Evelyn dragged Oscar away because of something that had happened with Josh and Casey.
The following morning, she found Josh upset on the beach, mourning Casey's death. She comforted him and took him back to her place where he slept with her. She assumed it meant they were getting back together but instead he told her it was a mistake and not to tell Evelyn, turning her away when Evelyn later asked her to talk to him. At Casey's wake, Evelyn, having been told what had happened by Josh, slapped her and announced what had happened to everyone, resulting in her getting a brutal character assassination from Alf. Maddy felt that everyone was against her and was only comfortable around Oscar, even though it made her a target for Evelyn's scorn. Against Roo's advice, she spent all her savings on an expensive dress for John and Marilyn's wedding, neglecting the chores she was meant to do to get the wedding ready. When Roo refused to let her have a glass of champagne at the reception, she took a bottle and got drunk outside, getting into an argument with Roo. She then stole Roo's credit card and used it to go shopping. Oscar found the card and forced her to return it and pretend she'd found it. She confided in Phoebe, who helped her hide the things he had bought, but when she lied to Oscar about having confessed he told Roo, who insisted Maddy pay back the money.
She was rejected by Oscar when she kissed him and started looking up expensive dresses on the internet. When she heard the gym was being sold and she could be out of a job, she stole from the petty cash and had items delivered to her at work. When Brax bought the gym instead and asked to see the accounts, she added $500 onto a towel bill to try and cover for the missing money. Andy noticed the discrepancy and she admitted the truth; he agreed to keep quiet if she returned the money. Maddy tried to trick Roo into giving her the money but stopped short of stealing from the Diner and told Andy she couldn't get it. Andy agreed to return the money himself and have her pay him back but he was caught and she was fired by Brax, having to confess to Roo. She considered getting another job but after spending the day working at the caravan park and finding a surprising confidante in Evelyn she decided to go back to school.
When Maddy heard that she could do a bridging course to join her friends in Year 12, she went to a movie night with Oscar to celebrate but fainted. At the hospital, she was told she was pregnant but left without having any further tests done. She refused to discuss it with Roo and hid it from Alf but confided in Oscar, telling him it was Josh's. She decided to keep the baby but when she saw how happy Josh and Evelyn were, she didn't feel able to tell him and considered leaving town so he wouldn't find out about the pregnancy. However, Oscar sent Josh to see her and she told him. She then told Alf but began to worry she would end up like her own parents. With Josh now single, she began to hope they could renew their relationship, despite Oscar's warnings. She told Josh not to quit school to support them, but when Roo told her she looked too far gone for Josh to be the father she refused to have an ultrasound to confirm it. She ended up rowing with Roo and Hannah over it but when Oscar offered to go with her she admitted the baby could be his. She also admitted it to Alf but told him she was worried about losing Josh; she stopped Oscar telling him and suggested he keep quiet and let Josh think the baby was his, earning herself a serve from Evelyn. When Oscar proved unhappy with the arrangement, she asked him to come round but instead he told Josh, who refused to have anything to do with Maddy until she had an ultrasound.
Roo returned and took Maddy for a scan, with Josh and Oscar waiting outside for the news, but instead Nate told her she was not pregnant. She had to break the news to Josh and Oscar but worse came when it turned out the false positive result had been caused by a mass on one of her ovaries. She had the ovary removed but when she went to get the results of a biopsy, with Alf, Roo and Spencer supporting her, she learned she had cancer. Her initial reaction was to run out of the hospital but when Oscar came round she told him what was going on and together they went back to see Nate, who advised her to start chemotherapy straightaway. She delayed it, shutting herself away in her room making a scrapbook of her life. When Oscar tried to talk to her about it, she ordered him away but he came back and told her she was strong. Nate warned her chemotherapy could leave her infertile and suggested she have a healthy part of her ovary removed and frozen. She felt awkward letting Oscar know the details but relied on him for support and was boosted by a visit from cancer survivors Irene and Marilyn. She avoided Josh but was pleased when Oscar bought her a teddy bear prior to the procedure. When she finally spoke to Josh, they acknowledged they had once loved each other but she told him to move on. She went to hospital to start treatment but then ran away, leaving a farewell note for Oscar.
She answered when Spencer called her phone but told him she was where she needed to be. Eventually Oscar found her in the city playing her violin in the rotunda. She refused to go home with him so he insisted on staying with her. She continued to ignore the reality of the situation even when they ran out of money and had to do a runner from a restaurant and sleep in the park. She sold her violin to afford a hotel room for them but resisted attempts to get her to go home and delayed recharging their phones. Oscar then received the news that Hannah might never walk again after being in a bus crash and decided he had to go home. Maddy initially refused to go with him but then turned up at the train station just as he was about to leave and admitted she was scared.
On her return, she agreed to have treatment. Alf, Roo, Marilyn and Spencer accompanied her to her first chemotherapy session but she was disappointed when Oscar was late because of bus troubles. Roo took her to hospital when she had a fever and she wondered why Oscar had been avoiding her. When he came to see her and questioned if she was only spending time with him because she was sick, she kissed him. She told Roo they were together and assured Oscar that she loved him. She was delighted when Oscar arranged a candlelit dinner for them on the wharf but had a nose bleed straight after, resulting in Roo and Oscar going back to treating her as if she was fragile. However, when Oscar told her she needed to plan for the future, she decided to go back to school. She surprised Oscar by meeting him in her school uniform but on her first day she found herself behind and had to be taken home when she fell ill. Oscar then came to the house and broke up with her. She accepted his honesty but was reluctant to see him, so struggled with her catch-up assignments without his help. Roo arranged for Spencer to help out but Maddy still had a panic attack at the thought of going back to school. Spencer convinced her to go but she felt humiliated when he argued with Oscar about the break-up in class.
Maddy felt awkward around both Spencer and Oscar, only letting Alf and Roo support her as she continued with her appointments. Evelyn arrived at the hospital to comfort her when she learned the chemotherapy wasn't working. The doctors wanted to discuss a different treatment with her but she chose to hang out with Evelyn instead; however, things got awkward when Oscar and Matt turned up and she left. Oscar tracked her down and revealed that the town was organising a Colour Run as a surprise to show her they supported her. She was reluctant to attend despite Oscar's insistence but ultimately turned up as the race was about to start and decided to walk the course herself, gaining a new resolve to fight her cancer in the process, and thanked Spencer and Oscar.
Although she wasn't well enough to go on the Anzac Day trip to Canberra, she impressed Alf by knowing that her great-grandfather had died in World War I and they arranged to attend the dawn service together. She convinced Spencer to visit his father after he'd been in a car crash and decided to tell her own mother about her cancer. She invited Tanya to town for a visit before breaking the news. Tanya invited Maddy to come and live with her again; Maddy could tell Roo didn't want her to go and worried about Tanya's controlling side but decided to agree. Roo left behind after hearing Alf was in hospital in the city. She and Oscar met with Tanya but she told her she was still deciding, using Alf's condition as an excuse. Oscar reminded her that family was more than blood and she told Tanya that Summer Bay was her home.
She said farewell to Spencer when he went back to his parents' and arranged to stay with Irene for a bit while Roo visited Alf in the city. Chris was put out to find her and Irene watching romcoms and having manicures but they managed to put it aside and watch a Jackie Chan movie with him. She helped Matt smooth things over with Josh and Evelyn after his time in alcohol rehab and they began studying together. She enthusiastically welcomed Alf back to town but her bubbly behaviour caused him to snap. She then overheard Nate saying he had PTSD. She told Alf that his PTSD was the same as her cancer and neither of them were weak for seeking help.
Evelyn convinced her to join her, Josh and Matt on a camping trip where she ended up having to share a tent with Matt. When she realised Matt thought she had feelings for him, she assured him she didn't, but felt patronised on learning that Evelyn and Josh had been trying to set them up and the other teens had all been discussing it behind her back. After initially ignoring their calls, she went and blasted Josh and Evelyn, accusing them of only doing it because they felt sorry for her having cancer. However, she was touched when they surprised her at a chemo session with a study date. Nate told her the chemotherapy was working and she arranged a party with her friends at the house to celebrate. She spent the evening chatting with Oscar and admitted to Roo that she still liked him. They worked together to bake a cake for Josh's 18th birthday but the conversation left them both thinking the other only wanted to be friends.
During a study date, Matt told her and Oscar that they had feelings for each other. After a chat on the beach, they kissed and attended Brax's memorial as a couple. Oscar got drunk and acted in an eccentric manner at a party; the next day, he apologised, saying he thought Maddy would like him better as a bad boy, but Maddy assured him she liked him how he was. When she found a condom in Oscar's wallet, she dropped hints about staying the night but felt rejected when he sent her home, worrying he didn't want her. After talking it over, they decided to wait a while. When Matt made sarcastic remarks about their shows of affection, she offered to arrange blind date for him. She attended Jett's farewell party and led the teens in giving him a present basket.
When Matt deliberately messed up the blind date Maddy had organised, he admitted to her that there was someone else. She saw him give Charlotte a flower and was amused at the idea of him having a crush on a teacher, until he revealed that they'd slept together. She threatened to talk to Charlotte if Matt didn't end things, but Charlotte threatened Maddy into keeping quiet. She told Matt and also confided in Andy, encouraging Matt to be angry when Charlotte dumped him. She was present when it was realised that Oscar and Matt were both still inside Leah's burning house and was relieved when they both made it out okay and moved in with her family at the caravan park house. She disappointed Oscar by announcing she intended to take a gap year and go travelling, but when she went to a uni open day she found herself drawn to nursing. She met Roo's new boyfriend James Edmunds, who managed to impress her with his knowledge of her likes and dislikes. She took a soul mates quiz in a magazine with Oscar but he got all the answers wrong; however, she reassured him that she loved him.
Maddy joined Matt and Oscar in a failed attempt to get Josh and Evelyn back together; her suggestion to strand them both somewhere was rejected and Matt's plan for him and Maddy to prepare a romantic meal for Oscar to bring them to failed when they argued before they even got there. She and Oscar made plans to reconsummate their relationship and slept together in Matt's caravan. She was confused when Matt later used the incident and others to bully her; he apologised but refused to give an explanation. However, she forgave him when he arranged an Ed Sheeran concert to get Zac and Leah back together. Roo revealed James had invited her to move in with him and she wanted Maddy to join them; after talking it over with Oscar, Maddy agreed. However, she heard James on the phone telling someone not to call him and was suspicious when she found he had two phones and when he kept putting off telling his parents about them, but before she could tell Roo James told her one of the phone was for business and his parents were coming to visit. When James again made up an excuse for his parents not visiting, she searched his phone, but was mollified when she found a photo of an engagement ring and concluded he was going to propose. However, she was hurt when they nearly got married without her.
She was an enthusiastic confidante for Evelyn during her relationship with Tank. Evelyn confided in her that she'd had unprotected sex with Tank and Maddy took her to get the morning after pill. She was disconcerted when Tank gave her a suggestive wink; however, she agreed to keep out of the relationship and reminded Oscar that they had had unprotected sex when they weren't even dating. When Oscar claimed that was different, Maddy thought he was calling her easy but Matt reassured her and she and Oscar made up. Oscar threw a surprise party for her 18th; she was less delighted with the gold bracelet he bought her but wore it anyway. Her support of Evelyn and Tank evaporated when Tank and his friends trashed the party. When she learned that James was married and Roo was still seeing him regardless, she tried to warn him off then decided to move back in with Alf. She was the first to notice Evelyn had run away with Tank and bonded with Oscar over the people they thought were closest to them choosing someone else. She made up with Roo when she and James broke up.
Maddy got a trial shift at Angelo's but was stunned when Kyle made a drunken pass at her after she told him she'd do whatever it took to get the job. Ricky told her she could report him for sexual harassment and Roo and Matt encouraged her to do so but she accepted the explanation that he had family problems and decided to carry on working there. She was annoyed when she learned Oscar had applied for a scholarship in Perth and expected her to follow him, feeling he didn't take her nursing ambitions seriously enough. She stopped Matt having a go at Charlotte and he admitted he had feelings for someone else; Maddy realised it was her. She walking away from Matt and shut down Oscar's attempts to discuss a Perth move but accepted his apology gift of a nursing textbook. On Roo's advice, she told Matt that she was flattered but loved Oscar. When she feared her cancer had returned, Matt accompanied her to hospital when she turned out to have an iron deficiency and they held hands a bit too long when they got the good news. Oscar found out about Matt's feelings and Maddy insisted she was committed to him but continued to spend time with Matt, telling him she wasn't sure she could cope if he wasn't there, and gave Oscar a serve when he punched him.
Despite this, she claimed to be keeping away from Matt. She joined the formal organisation committee run by Asia Chalker only for Matt to join as well. Oscar also joined and was annoyed that Matt and Maddy kept siding against Asia but afterwards he and Maddy made up and she agreed to go to the formal with him. However, when Matt said he was going to get over her by hooking up with other girls during schoolies week, she told him not to. When he questioned her, she admitted she had feelings for him but said nothing could happen. However, she proceeded to spend most of a schoolies party with him and ignore Oscar, earning them both a rant from Asia, who called her a tease when she ended up on top of Matt during a limbo competition. When Maddy managed to turn a discussion with Oscar about formal outfits into an argument, she admitted to Alf she was confused by her feelings. She went to see Matt to tell him her decision but before she could speak he told her he was going to back off.
She prepared to go to the formal with Oscar but walked away from him when Asia told her they had kissed. However, when she told people, they all pointed out to her that her feelings for Matt were the real threat to the relationship. When Oscar tried to convince her they should stay together, she retorted that the two of them would never have worked long-term and he was pathetic to think so. She felt guilty when Oscar subsequently went missing and was believed lost at sea. When the search was cancelled because of bad weather, she went looking for him herself, with Matt going with her, but they became bogged down and were forced to spend the night in the car. The next morning, she kissed Matt but told him to wait until Oscar was found before talking about it. When he was, she and Oscar talked and accepted their relationship was over, after which she told Matt she liked him.
She recognised that Matt was trying to distract everyone with humour when the news of Denny's death broke. A drunken Irene caused her to tear her dress at Zac and Leah's wedding reception and Matt took her to get changed. Oscar walked in on them and gave them permission to be together. They shared another kiss in the house, shortly before they learned Charlotte had killed Denny.
They began sleeping together in his caravan, causing awkwardness about her having to share a house with Oscar. Matt convinced her to move into the caravan and they admitted they loved each other, but she soon began experiencing culture shock over the lack of facilities, sleepless nights because of the noise and the fact she had to share the caravan with Matt's "pet" possum, and insisted they look for somewhere else. She put in an optimistic bid for the flat above the Diner, only for the agents to rent it to Roo instead. Roo invited the couple to move in her with her but Maddy turned her down when she realised Matt wasn't keen. However, Matt changed his mind but Maddy soon found herself playing referee between him and Roo and convinced Roo to treat them as flatmates.
When Oscar confided in her that his family were considering being tested for the BRCA gene, she told him that while she was cared her own cancer would come back it was better than not knowing. She bribed him with beer to do some cleaning but he shrank her handwash only clothes in the machine. When their bickering carried on into orientation week, they received a lecture from Evelyn after which they made up. She blew her rent money on a dress, expecting Roo to cover it, and Matt dropped her in it. When Hannah was found to have the BRCA gene, Maddy confided in Matt about her own fears of her cancer returning. She tried to get him to study and was aghast when he instead decided to drop out of uni. However, her attempts to talk him out if it were halted when a sex tape he and Charlotte had made was posted online and he became prime suspect for her murder. Preoccupied with supporting him, Maddy turned down a request from Phoebe to speak at the Pink Hope fundraiser.
She kicked out a bunch of customers in Angelo's who had been taunting Matt then sought to find a future for him. When he mentioned he was interested in cars, she spoke to Andy about getting him an apprenticeship at the garage. She was initially furious when Matt assaulted one of his taunters but rapidly forgave him. When Matt continued to receive abuse online, Maddy made a post defending him but found herself targeted by the trolls instead, and worried that she was being followed while she was walking alone at night. Roo convinced her to call the police and tell Matt but she learned there was no chance of a conviction. With both her and Matt depressed, Josh and Evelyn convinced them to go to a hotel in the city with them, which improved their mood.
She attended the hospital fundraiser at the caravan park only for it to be hit by an explosion; Maddy's arm was trapped for a prolonged period and she was taken to hospital. There, she was distraught to hear that Oscar and Hannah had died. She asked to be discharged but the pain in her arm was getting worse: After a scan, Tori told her that the blood supply had been cut off and the tissue was dying, meaning the only way to save her life was to have the arm amputated. She initially went into denial but Roo convinced her to consent to the procedure and afterwards Matt assured her that nothing had changed. She had trouble adjusting however and was upset that she had to miss the funeral, sending Matt away and breaking up with him. Both Roo and Matt told her not to give up on the relationship but instead she ran away from the hospital. She checked into a motel, then visited Oscar's grave and left a photo of the two of them there, but was unaware she had an MRSA infection which caused her to collapse in her room. She was found by Alf, Matt and Roo and taken back to hospital in time.
Maddy was visited by Tanya, who suggested she go and live with her in the city for rehab, and admitted to Matt that she was considering it. On her discharge, she got frustrated when Matt, Josh and Evelyn wouldn't let her do anything for herself. Roo admitted that she had failed to do the proper safety checks and said she was to blame for the accident, but Maddy quickly realised it was more a case of Roo blaming herself. She told Tanya that Roo needed her around and, when she learned she was going to sue Roo for medical expenses, put a stop to it by telling her to stop hurting people she loved. Despite realising she couldn't live with Tanya again, she decided to go to the city for rehab and then go travelling afterwards, and asked Matt to go with her. He agreed and she told Roo their plans. At their farewell, she noticed Matt showing reluctance to say goodbye to Leah and leave his job at the garage. Having said subtle goodbyes to Alf and Roo, she left with Tanya first thing in the morning, leaving a note behind for Matt saying she knew he wasn't ready to leave.