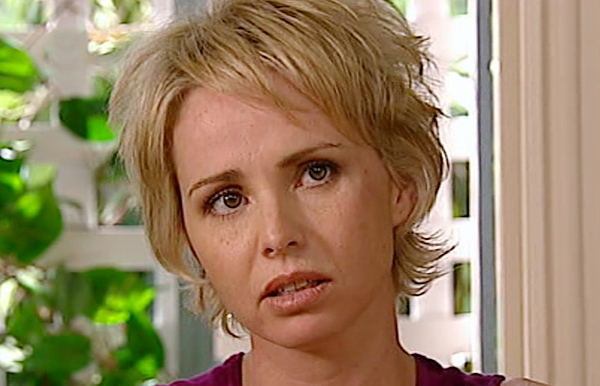 Kelli Edwards (2002)
Alyssa-Jane Cook
Episodes: 3229–3270, 3334–3360
Spouse: Jason Edwards (separated)
Children: Braydon & Riley Edwards
Occupation: Baker
---
Kelli was the woman who bought Alex Poulos' van. She was setting up her own catering business, Kelli's Kakes, and planned to use the van as transport. Alex found her attractive so arranged for Leah to give her a contract to make cakes for the Diner. Spending time with her, he found out she was a single mother with two young sons, Braydon and Riley, and she said their father walked out on her. Alex played on her assumption that VJ was his son until Leah forced him to reveal the truth. Leah was shocked when Kelli assumed she was a single mother, giving her the cover story of Vinnie being away on business when in reality he was in prison. Kelli spent the night with Alex but felt uncomfortable afterwards, not sure if he was up to being a father figure to her sons, and told him she wanted a break from their relationship.
Kelli continued supplying cakes to the Diner and Leah and Alex were shocked when she was accompanied on one of her runs by her husband Jason, who had actually been in prison.When he learned Alex had been in a relationship with Kelli, he threatened her into quitting her job at the Diner. She placed a message in one of the cake boxes asking Alex for help but he failed to see it.
Jason beat Kelli up when she suggested their marriage wasn't working out then took her to hospital. Charlotte realised what had happened but Jason took Kelli home before she could follow up on it. Charlotte took Alex with her to Kelli's house and they took her and the children away from Jason to stay at Leah's place. Kelli and Alex shared a kiss but decided they were better off as friends.
Kelli felt Jason was trying to scare her when she received mysterious phone calls and a piece was cut out of one of her cakes while she was out of the room. Leah offered to let her do her baking at the Diner so she could feel safe. Braydon and Riley disappeared while out with Kelli and Alex and were found eating lollipops, which Kelli again suspected was Jason's work. When Alex was beaten up trying to argue her case and Jason insisted on access to his sons, Kelli moved out of Leah's. Not long after, however, Jason stole some computers from the Drop-In Centre. Kelli reported him to the police and he was jailed. Kelli and Alex seemed set to renew their relationship until she realised he still loved Brodie and walked away for good.