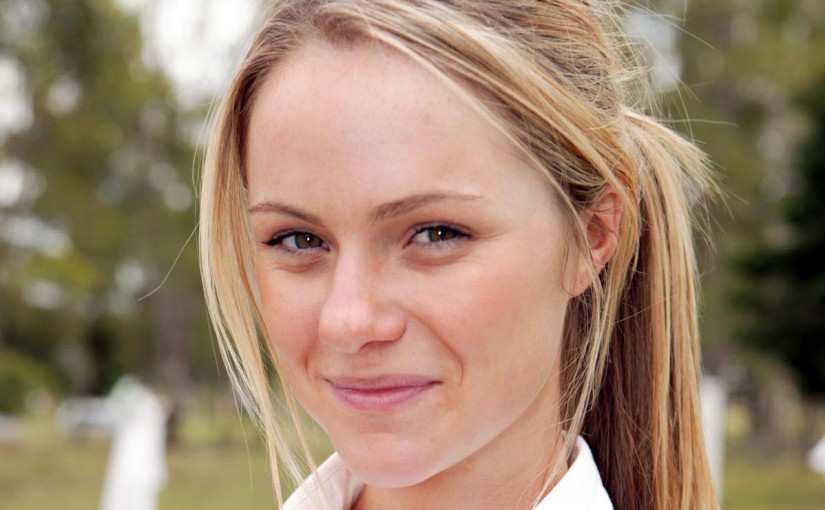 Claudia Hammond (2009)
Alexandra Park
Episodes: 4830 – 4894
Occupation: Farm hand
---
Claudia was first seen at Martha's farm, enthusiastic for the part-time farm hand job that Martha had advertised for in town. She grew up on a farm just down the road and claimed to be a really hard worker. Though Martha said she was expecting the applicant to be male and older, she agreed to a trial run. Later in the day we discovered that Claudia went to primary school with Geoff Campbell, who teased her about her always having bubblegum in her hair! When Nicole arrived and saw Geoff lending Claudia a hand, she became jealous but was relieved when Martha said nothing was going on between them. Going by the attention Claudia had been paying Geoff throughout the day, however, it looked like she was in fact keen on him.
When Claudia became upset over her ex-boyfriend, she texted Geoff and said she needed to talk. With his phone confiscated, he wagged classes and went to the farm to speak to her. There, she spoke about Lachie, whom she met when she was in year 8. They'd been going out ever since but had broken up two weeks ago, after their fourth split in six months. Lachie wanted to patch things up with Claudia but told her something that he did when they were going out, not making her feel any better. The two of them had grown apart and Claudia didn't think she could ever talk to him again. Geoff explained how he felt him and Nicole had also grown apart. She thanked Geoff for skipping school, soon leading to them sharing a kiss. Later in the day Martha walked out and saw Claudia talking to a male. Claudia clearly stressed out, it was obvious that Lachie had come back again to talk to her. From a distance, Martha watched as the two kissed.
Claudia turned up at school to see Geoff and he took her back to a caravan where they slept together. The caravan caught fire and Claudia and Geoff only just managed to escape. In hospital Geoff went to visit her but found her ex Lachie with her and was devastated when Lachie hit him and warned him to stay away from his girlfriend. Geoff refused to talk to Claudia and pished everyone away but Claudia finally caught up with him and asked him to meet her in the Diner. He just missed her but they caught up with each other and both apologised and reuinited.
Claudia and Geoff seemed to get on well over the next few weeks and she was a big support to him when Irene was arrested and jailed. However, she then told Martha that she was worried that she was pregnant and Geoff was the father. Martha persuaded her to talk to Geoff and together they took a test which turned out to be positive. Geoff decided to tell Annie, Miles and Kirsty while Claudia went home to tell her parents. But while Annie eventually accepted the news, Claudia returned with her bags; her parents, who had strong views on sex before marriage, had kicked her out of the house. She moved in with Geoff, Annie and Belle but when she mentioned she was considering an abortion, Geoff left town, leaving a note saying he needed to think things over. When he returned, he told her if she decided to keep the baby he would stand by her but if she had an abortion he would break up with her. She accepted his offer and they began making preparations to be a family.
Claudia was again at Geoff's side when Irene's release from jail led to the revelation that she was drinking and her hitting Annie. When Belle moved in with Aden, Geoff and Claudia took over her room, having managed to get through a series of arguments that sprang up when Claudia's parents again refused to speak to her. Soon after, Lachie reappeared, wanting Claudia back and believing he was her baby's father. Claudia insisted it was Geoff's baby and told Geoff she hadn't slept with Lachie for months before they broke up but when Geoff and Lachie's rivalry led to a dangerous clash in a rugby match and Lachie being hospitalised, Claudia admitted he was the father. Geoff angrily told her to move out and Claudia asked Martha if she could stay with her at the farm but Martha would only agree if she contacted her parents. When it became clear Claudia had nowhere else to go and was considering an abortion again, Irene persuaded Geoff to let her stay on at the house, in a separate room to him, until she got herself sorted.
Claudia continued visiting Lachie in hospital and pretended they were getting along fine but instead he was taking his fear at being paralysed out on her and belittling her. Geoff was shocked to witness one of his tirades and stepped in to defend Claudia and told her she could stay with them for as long as she wanted. Claudia was deeply affected by his generosity and, when Lachie learned he would make a full recovery and expected them to be a family, she told him that while she wouldn't keep him out of his child's life they would never get back together. She went home and packed her bags, telling Geoff she'd realised she needed to stand on her own two feet: She was going to go and see her parents then go and stay with her cousin in Dubbo and be a nanny to her children. She thanked him for everything he'd done for her and apologised for the way she'd treated him before leaving.