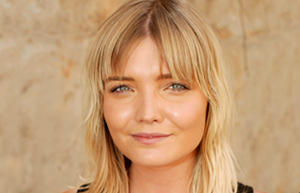 Mink Carpenter (2010, 2011)
Matylda Buczko
Episodes: 5000-5028, 5420-5429
Parent: Jill Carpenter
Sibling: Romeo Smith
---
Mink caused some slight confusion when she turned up at the caravan park and told Miles she was looking for a boy that looked like her. The confusion was only slightly lessened when Romeo entered the room and Mink told him to say hello to his big sister, since no-one else in Summer Bay even knew that Romeo had a sister. Despite this, Romeo happily took her on a tour of the town but was uncomfortable on seeing that she had recently had the word "Killer" tattooed on her hip. He told her that he'd lost his job as a surfing instructor because of a run-in with John and Mink's bad first impression of John was further reinforced when she saw a newspaper article where he took an unsympathetic attitude to the recently discovered asylum seekers. When Ruby and Romeo got into an argument with John at the surf club during which John called Romeo a layabout, Mink responded by punching him. Although John shrugged off the incident, Romeo was annoyed with Mink, asking her if she wanted to go back inside and dragging her away when she tried to have a go at John again. Although both Alf and Miles were unimpressed, Miles agreed to Mink staying at the house for a while.
Romeo next took Mink to meet Xavier and they ran into Gina at the house. On learning Mink was a professional surfer, Gina spoke about surfing herself in her youth but Mink was unimpressed and made everyone uncomfortable by saying she'd just got out of an "institution", her father was dead and her mother had gone crazy. The teens retired to Xavier's room where Xavier was annoyed that Romeo had told Mink about Hugo leaving him the money from the people-smuggling operation. Mink dismissed their plans to use it to do good; instead taking a wad of cash to get some food at the Diner, but the plan was halted when they discovered it had been torched in the race riot, leading Mink to consider Summer Bay wasn't going to be as dull as she thought.
After failing to get the pair to spend any money, Mink agreed to go to the beach and the surf club with them. When Gina tried to use the weak pretext of a trip to the city to stop Xavier spending time with her, Mink confronted Gina at her house, pointed out how little Gina knew about her and accused her of not liking her because she reminded Gina of her younger self. Xavier was unhappy about the conversation but Mink told him her mother had abandoned her after she'd gone to juvenile detention for killing her husband. Romeo told Xavier that his stepfather used to beat their mother and Mink hit him with a cricket bat during one beating, causing him to fall and hit his head on a table. They couldn't afford a lawyer and Mink told the police she meant to do it so she went to jail. Mink, however, told Xavier that it was actually Romeo she'd been protecting when she hit him, since he used to take the beatings for their mother.
When she saw Xavier and Ruby chatting on the beach and getting close again, she told Romeo that Xavier had grown on her then made a point of interrupting the pair's privacy and dropping awkward comments about how Xavier had been talking about Ruby. She then sneaked into Xavier's room and took the box containing the money. When Romeo and Xavier tracked her down, she revealed she had used it to buy new wetsuits for them and hire out a convertible. The boys weren't impressed and forced her to get refunds for everything (except her wetsuit, which she'd already worn).She got into an argument with Xavier in which she said he was as dead as Hugo. She later went to his place to apologise and return the money. When he called her a predictable fake, she responded by kissing him.
Mink made fun of Nicole for going back to school as a mature student, provoking an angry response from Aden. She asked Romeo to join her on the surf tour as her manager and dismissed Gina's suggestion he go back to school. Gina tried to convince her to go back as well but she replied that ex-criminals don't go to school. She was upset when Romeo decided to go back, since he'd dropped out of school while she was in juvenile detention only to go back when she needed his help. She watched from a distance as Romeo and Xavier went off to school together then collapsed in tears. Romeo later saw her crying on the beach but didn't approach her.
She stirred up more trouble between Ruby and Xavier by telling Ruby that they'd kissed. She ended up in another fight with Xavier but later went round to apologise, only for him to doubt her sincerity. Ruby had a go at her for messing with people's lives and, after Alf gave her a talk about changing, she approached the pair in a depressed state, telling them she was worthless and they shouldn't bother about her. Xavier later overheard her arguing with Romeo, saying she'd been branded a killer even though she was no more one than Romeo was. The truth came out: It was their mother Jill that had killed her husband to protect Romeo and both Romeo and Mink had agreed that Mink should take the blame. Mink was horrified that Xavier knew, feeling the truth would now come out and her time in juvenile detention had been for nothing, and decided to leave town as soon as possible.
Mink met with Dave Morgen, whose company wanted to sponsor her wetsuit. However, she was annoyed that he wanted to make use of her history and present her as a bad girl turned good. She showed him her tattoo, which he suggested might need to be airbrushed out of photos, then threw an orange juice over him and told him his company's wetsuits were terrible. Romeo was angered and Mink claimed it was his fault for not being her manager. However, Xavier began to suspect she sabotaged her chances because of low self-esteem and she admitted she didn't think she deserved a lucky break. She told Romeo that a girl stabbed her with a fork shortly after she went to detention and she was left lying in a sickbay with no-one visiting her, prompting her to decide she had to rely on herself. She had a farewell meal with Alf, Miles and Romeo at the Diner and told Romeo she didn't regret taking the fall instead of him, knowing he'd never have survived jail, but he was worried about the effect it had had on her.
When Ruby was nice to her, Mink was horrified to realise Xavier had told her she was innocent and was further horrified when Gina approached her to offer advice and she realised she knew as well. She angrily confronted Xavier, telling him he couldn't mess with her life. When she went to his house to have another go, she was met by Gina, who agreed Mink was like a younger her: Gina had had to toughen up to look after three children, just as Mink had to survive in prison, but if Mink didn't let go of the act and let the real her come through she would just hurt herself. Mink broke down in tears and Gina comforted her. Although Mink was embarrassed afterwards, Gina's words struck home. She stayed for dinner with Gina and Xavier and they had a pleasant evening. Afterwards, she said farewell to Alf and Nicole before going to school to say goodbye to Gina and thank her, although she once again turned down Gina's attempt to get her to enrol. Romeo was disappointed that she was leaving just as they were starting to reconnect, but she told him she needed to be on her own for a while to sort herself out and left to catch her bus.
Mink returned to town at the end of the following year, turning up at the Walker farm just as Romeo and Indi were arguing about Indi doing a modelling job for the development she was interning with. She was taking part in a surfing competition in the area and arranged to stay on the Walkers' couch. She chided Romeo and Indi for getting married without inviting her and also renewed her acquaintance with Xavier. She ate a large meal at the Diner then got Indi to pay for her, also bringing home a large cake for the family and leaving Indi to pay. After overhearing Romeo and Indi talking about the fact that their finances were finally in good order, she told Romeo that she had money troubles and needed to borrow at least $2,000.
Indi refused to part with the money and Mink was left feeling aggrieved when Indi was given a free spa day by her employers, turning down an offer to go with her. She asked Xavier if he still had the money from the people smuggling operation, joking that if he had she'd seduce him to get some. She went to the Diner with Xavier and Sasha, where she picked up on the attraction between the pair and told Sasha that Xavier was all right. Realising how bitter she was, Romeo told Mink he'd get her the money by the end of the week so long as she didn't tell Indi.
Mink tried to encourage Romeo to be a professional surfer instead of just playing at it and accused Indi of holding him back. She told Romeo that some guys she owed money to were holding her boards as surety and once she got them back she could pay Romeo back from her winnings in the competition. Romeo paid off her debts and he, Sasha and Sid, who was acting as a first aider, went to the competition. However, Romeo learned from another competitor, Cody, that Mink had been a washout on the tour and everyone thought she was a drunk. As the competition began, Mink simply lay on her board doing nothing and, when she finally tried to catch a wave, she was knocked off her board and Romeo had to save her from drowning. Sid insisted on taking her to hospital where Romeo accused her of drinking but tests showed no alcohol in her blood. She admitted to Sid that she'd been diagnosed with Meniere's Disease, meaning her balance was affected and she was unable to surf.
Learning the truth, Romeo asked her to run his surf school with him. Mink apparently agreed but then packed her bag, leaving Romeo a farewell note. Indi saw her as she was leaving but failed to talk her out of going and Mink walked away from Romeo for good.
*During her 2011 stint, Mink was credited as Mink Smith, like her brother, without any acknowledgement or explanation.