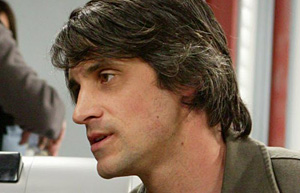 Murray Buchanan
Ben Tari
Episodes: 4715 – ; 4745 – 4756
---
Murray was first seen when he came to The Diner to meet up with Belle. He told her he worked for the council and that he had discovered evidence that the council was allowing a new development to be built on land where toxic waste material had been buried. He managed to convince Belle that he was telling the truth and recruited her to help him. He took her to The Development Site and suggested she take some photographs.
They distributed leaflets warning against the dangers of developing on the site but were late in turning up to the meeting. They arrived in time to make their speech but the Developers countered their argument that they had refused to do soil samples by producing evidence that they had done them and that the soil was uncontaminated. Belle was furious but Murray convinced her that this only proved the Developers had something to hide. Their next step was to stage a protest at the Development site but Murray failed to show up and Angelo unearthed evidence to suggest he had been paid off. Belle confronted him at his house and he told her that he didn't show at the protest because he had soil samples retested himself and they came back negative, he insisted he was retiring from the council and that he hadn't been paid off.
A few weeks later Belle managed to get hold of his number and rang him but Murray wanted nothing to do with her and hung up. We saw him then make another phone call telling somebody that they had a problem before ringing Belle back and agreeing to meet her. On hearing her story he agreed to help her, insisting that he hadn't been paid off and offering to help her by delivering the medical consent forms to the hospital. Not sure if she could trust him, Belle refused and we saw Murray meet with Tim Coleman who told him to get hold of the consent forms and warns him that he's in it up to his neck.
Later Belle's car was run off the road and Murray turned up at the crash scene. He asked Harper to let him look in the car for something and Harper refused but Murray helped himself to them anyway and by the time Belle came round, the forms were missing. Angelo warned Murray he was watching him and Murray went to see Belle and convinced her that he hadn't taken the forms. He told her though that the waste was being moved that night and Belle suggested that they go and watch the site over night. They sat in the car and eventually saw Tim Coleman and his cronies moving the barrells of toxic waste. Belle took some photos and gave Murray her camera to hold but then received a phone call from Angelo saying that Murray couldn't be trusted, that the money transferrined into his account had come from The Developers. Belle asked for her camera back but they were disturbed by Tim Coleman and as her car wouldn't start Belle ran for cover in the bushes and hit her head.
She was rescued by Angelo but was desperate to get her memory card back and Murray had gone missing. He later put the memory card in her bedroom and phoned Angelo to tell him what he had done before going underground.