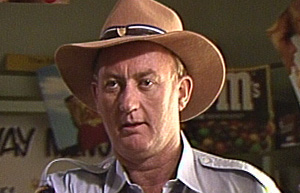 Sergeant Bob Barnett
Rob Baxter
Episodes: Pilot – 348
Occupation: Police Sergeant
---
First seen arresting Bobby and then later came into the General Store to tell Bobby there'd be no charges bought against her and begging Ailsa for a pie.
He interviewed Carly and Bobby after the handbrake was released on Martin and Lance's car causing it to crash into Walter Bertram's and was partly responsible for Nico being sent to a mental institution. Feeling guilty, despite not having a choice he organised a stakeout at The Pappa's farm to find who had poisoned the cow but whilst they waited, the real culprit was burning down the community hall. When Steven presented him with a photo of Sam Barlow that Nico had identified as the cow poisoner he had a go at them for obtaining the photo without permission but went to interview Barlow anyway.
He was set up by Alf and Ailsa as a potential love interest for Celia but she made a fool of herself by getting drunk and became to ashamed to face him. He gave his agreement for a school concert to be held but then received a letter from the summer bay nutter warning that there would be trouble if the concert went ahead. When somebody broke into the church hall to hold the dance he was faced with everybody in the bay saying they were guilty and so couldn't charge anybody.
His next task was regarding The Barlows again when Sandra alerted him to a domestic dispute and he turned up in time to see his old friend Sam beating his wife Kelly. Barnett tackled Sam but Sam somehow managed to get his gun and a shot was fired. Kelly was later revealed to have been the victim.
It was a long while before Bob was seen again when he rang Alf to tell him that Brett Macklin had been found in Melbourne with baby Martha. He then got involved with Carly accusing Gary Samuels of being her rapist. He questioned Gary but refused to accept taped evidence of him threatening Carly. He did agree to re-interview him therefore giving him an alibi for another rape in the city. A guy was caught for the city rape and when Barnett showed his picture to Carly she admitted it did look a lot like Gary and Gray was off the hook.
His next task was to investigate the spate of burglaries in the bay and Gary Samuel's apparent murder. It was later revealed Gary had killed himself in an attempt to frame Carly for his murder. Meanwhile Bob asked Celia to look after his son Craig while he went away.
He returned and was involved in investigating another spate of robberies, this time by Dodge Forbes and thanks to Celia carrying out a 'sting' operation, Dodge was arrested. He investigated the fire at Celia's store that killed Phillip Matheson and a spate of burglaries and attempted arsons that followed.
He was not seen again on screen after episode 348 but was mentioned by the new Sergeant Chris Hale as still being around a year or so later