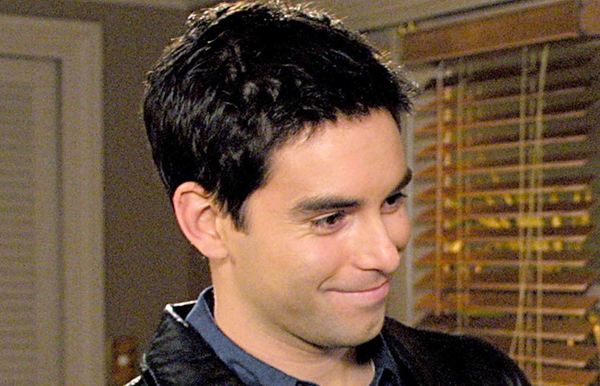 Aidan Bradley (2001)
Ben Morley
Episodes: 3096-3114
Parents: Bill & Margaret Bradley
Sibling: Shauna Bradley (adoptive sibling)
Occupation: Software designer
---
Aidan was one of Shauna's adoptive brothers, who arrived in Summer Bay to visit her. He was slightly bitter that Shauna had had little to do with her adoptive family since finding Ailsa and Duncan but they soon settled down into a friendly rapport. Despite having just got out of a relationship, Aidan was quickly taken with Hayley and asked her out. The relationship didn't go down well with Noah, who still had feelings for Hayley, or Irene, who felt Aidan was a bad influence on her. Aidan took Hayley out for a picnic where they kissed. He dismissed the importance of uni since he had got a good job without a degree but nevertheless took Hayley to a uni open day. However, Irene was annoyed when she found the pair kissing in Aidan's car afterwards.
Aidan took Hayley, Alex and Brodie to a pub to watch a band play, where Brodie was arrested for being underage. Aidan pointed out he didn't know how old she was but the fact that Hayley, who had previously been anti-alcohol, was happy to drink with him raised concerns. Aidan told Hayley he had applied for a job with a software company in Yabbie Creek and was having dinner with the owners, and wanted her along as his date. However, Aidan began to demonstrate a controlling side towards Hayley. He bought her an adult-looking dress, telling her he thought she should try a new style. When she tried to go abseiling with people from the Drop-In Centre, Aidan dragged her away, not wanting her to have cuts and bruises at the dinner, but managed to convince her that there was nothing wrong with him wanting to protect her.
The final straw came when Aidan not only gave Hayley a dress and his grandmother's ring to wear to his business dinner, but told her what she was supposed to say. Aidan went to the meal ahead of her and seemed to be impressing his prospective employers when Hayley turned up, deliberately late, supported by Noah and Gypsy. She had ripped the dress he had given her to shreds and done her hair and make-up in a deliberately trashy style, and proceeded to publicly break up with Aidan, who had claimed they were engaged, in front of the software people. Hayley felt bad however when Shauna pointed out that Aidan might have deserved to be dumped but not to have his career messed up. Having failed to get the job, Aidan visited Hayley to say goodbye, still unable to understand what he had done wrong.