Emmerdale asks 'Who killed Craig?' as it kicks off special week of episodes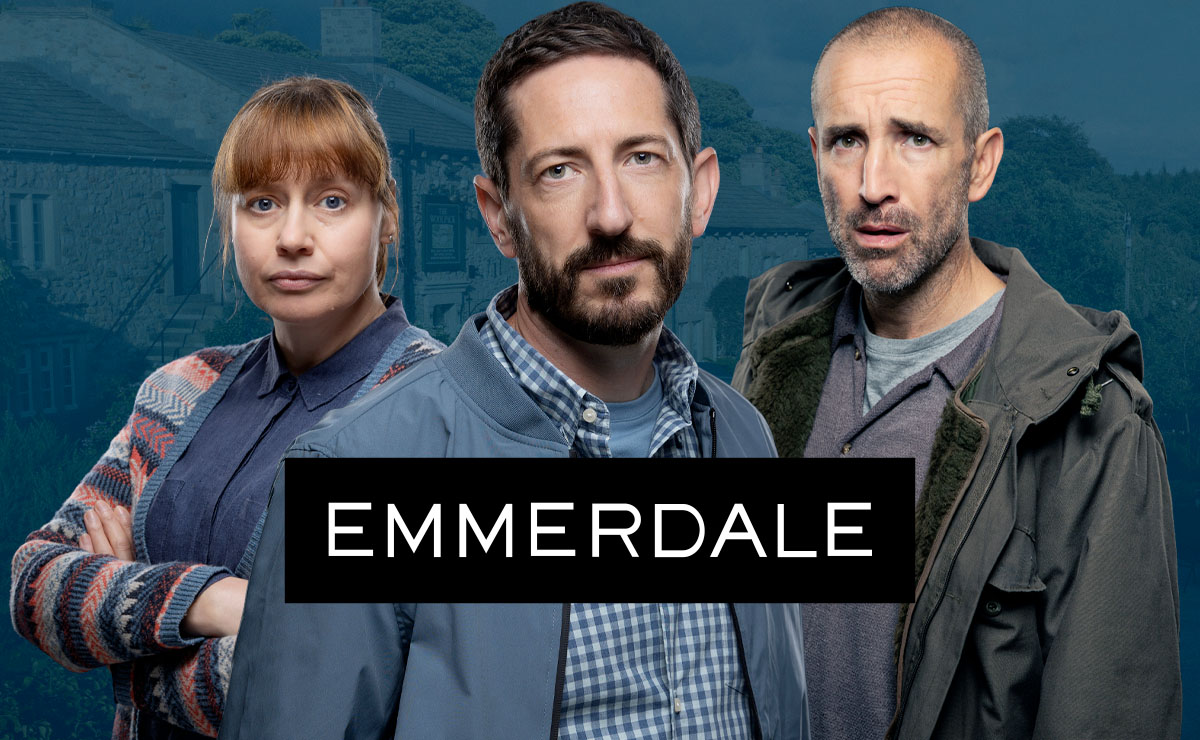 Monday 30th October sees Emmerdale kick off a special week of episodes, as Lydia holds a Dingle court in The Woolpack, aiming to uncover who killed Craig.

The past few weeks have been a living nightmare for Lydia (Karen Blick), after she was assaulted by her childhood friend Craig Reed (Ben Addis). Having covered it up for several weeks, it was only recently that Lydia was able to come clean to her family about what really happened, leaving husband Sam (James Hooton) devastated.
However things could be about to get a lot worse for the family, when Craig is found dead!
Next week's episodes begin with a horrified Billy Fletcher (Jay Kontzle) finding Craig's bloodied body amongst the fields at Home Farm, not long after Sam and Cain (Jeff Hordley) had tied Craig up in a remote barn.
On hearing the news, Lydia rounds up the Dingles for a lock-in at The Woolpack with a difference. Announcing to the shocked group that Craig is dead, Lydia is determined that one of them must be responsible.
As Lydia plays Miss Marple, she will hear each family member's account of the day. But it will soon become clear that they're all hiding secrets, as viewers see what really happened during a series of flashbacks.
"In an unmissable special week for Emmerdale, we focus on soaps most loved family, the Dingles, as Lydia attempts to find out who killed Craig," producer Laura Shaw explains. "Expertly and innovatively directed by Gary Williams, the infamous Woolpack becomes centre stage for the group of Dingles gathered to reveal their alibis… or no alibi as the case may be!"
"Stepping out of the usual Emmerdale style, a series of flashbacks will let the viewers in on the lies each person has told and the secrets they are hiding. The week will truly keep everyone on the edge of their seats with each day more and more explosive secrets revealed that promise to have huge repercussions, shatter lives and cause fireworks in the Dingles bigger than ever seen before."
Knowing that Sam and Cain had gone after Craig, Lydia begins her questioning with their whereabouts.
The focus later moves on to Belle (Eden Taylor-Draper), who certainly hasn't had a dull day. As Belle recounts her version of events, she reveals that boyfriend Tom had proposed to her following a romantic meal.
But Belle doesn't give a true account of the entire day—what is she hiding and will the Dingles believe her?
Recent returnee Aaron (Danny Miller) then comes under the spotlight. Aaron has been lashing out since he was returned to the village against his will by Cain and Caleb (Will Ash), and it's become very clear that he's constantly on the lookout for a fight, not caring if he gets hurt.
Aaron soon manages to shift the focus onto Charity (Emma Atkins) however, which makes her nervous.
As we see what happened the previous day, Charity and Chas (Lucy Pargeter) are discussing the Craig situation when conversation then moves onto another subject… one which Charity decides to hold back the details of…
It's then Caleb and Nate's turn in the hot seat, as they recount their version of events, but what is Caleb hiding?
Even an emotional Mandy is hiding a secret, as she keeps something back from the family about what occurred.
Marlon also misses out a piece of very crucial piece of information as we see what really happened during his day.
When all alibis have finally been set out, Lydia remains convinced that one of them is not telling the full story.
Finally, unable to bear his guilt any longer, Sam comes clean. There's more to his version of events…
---
James Hooton (Sam) spoke to EverySoap and other media about the episodes, during a press event earlier this month…
How do this week of episodes differ in their style?
It was great how it was filmed, Gary Williams was just amazing with us all and got us through quite a massive block of episodes, mainly centered around the Dingles in the the Woolpack environment.
But what's different about this, I suppose, is the flashbacks. The spotlight is on various individuals throughout various episodes, and it centres around the idea that all 12 Dingles in the room are concealing some kind of secret which may or may not lead to Lydia discovering who actually killed Craig.
They're each hiding something from the group when they recount their stories.
And there was an overhead camera used?
Yeah, I've not seen any of those shots yet but I'm led to believe that's a homage to the 1950's film 12 Angry Men. There was this sense that we were doing things slightly different.
We'd got quite ahead with the filming schedule over the several days we were in the Woolpack, and the last day pretty much centred around this overhead camera, sort of focusing on each individual before their flashback.
It's been an interesting departure from our normal filming regime, but not being technically minded, I had no clue what was going on! So I'm really looking forward to the end result.
How was the atmosphere with all 12 of you filming together that intensively?
It was good. There's been various cases where, in an environment like the Woolpack, a large swathe of the Dingle community has been together, but not quite in this sort of way. So it does break the mould slightly.
The concept, as it was laid out to us, was quite an interesting one. We had a total of seven days in the Woolpack, and it can be quite long days at the best of times in there. So the fact that we're a group that tend to get on well with each other helped.
We had various tactics to get through our working day, Mark Charnock came up with an interesting game called '1 to 20' which kept us occupied, and we had as good a laugh as was possible during the filming process.
It obviously is quite a heavy subject matter, but you've got to find ways of getting through the working day. I think we've got what Gary wanted us to get out of these eps. So hopefully we've balanced a bit of knockabout humour and having a laugh with getting the job done to the best of our abilities.
With everyone holding something back, it's going to spin off stories for each character isn't it?
Yeah, which I find very interesting. It's not something that we've done in Emmerdale before. I'm not privy to how all these story strands pan out, but I think it's it's quite an innovative way of drawing an audience into what is quite a harrowing storyline.
How was Sam feeling when Lydia finally told him the truth about what happened to her?
I think it was a mixture of things. Sam was devastated, thinking that his wife didn't love him any more and she was going to leave him. And then there was this question mark over whether she'd had an affair or not. So when it came to pass that he found out she'd actually been raped, it's obviously a shock and all of the emotions that come along with finding something like that out.
But, essentially, whilst he's a bit lost at some points, he just wants to make sure his wife's okay and just to salvage her sanity and ability to move through it. And his own I think, which in part is what leads to Sam and Cain taking things into their own hands and kidnapping Craig.
He always wants the best for his wife. He loves her beyond belief and is extremely loyal, sort of to a fault almost. But he doesn't always follow the requests that she's given him, because Lydia was quite clear that she didn't want mob law to rule and have us exact our own revenge against Craig. And there's a dilemma as to whether Sam goes beyond her requests or not…
Unable to bear Lydia's upset any longer during the Dingle court, Sam eventually reveals that there's more to his story…?
Yes, I think we come to realise that Sam is concealing further information that could lead to a conclusion as to what's happened about Craig.
So, will the audience know for sure what happened to Craig by the end of these episodes?
They will definitely know, yes!
What do you think makes the Dingles such a successful soap family?
I don't know… lack of personal hygiene? Incestuous relationships? I think when the Dingles first came into the show in 1994—it was before my time, I joined January '95—they were sort of billed as this underclass, outsider family. And that's how they started out.
They became gradually integrated within the village, and like any sort of bacteria or virus, they sort of spread throughout every annal of village life in and around Emmerdale. Consequently we've been involved in several deaths, marriages, births and everything else in between.
I don't know what the winning formula is for a family, but I think with each one of us, the character breakdown that we all received upon our audition was sort of quite pronounced. There were certain character traits within each individual Dingle that, I think, makes them a unique family.
These Dingle courts are becoming quite common, do you think their morality of self-governing is something that sets them apart from other families?
I don't know about that. I mean, in the old days we used to have like a strange old Dingle bible and a gavel, which was actually some form of soup ladle!
Within this immoral village in which we all dwell I think there is some kind of moral code, and the Dingle code is often put forward as this code by which the family generally live by and break at their peril. It's left up to the audience to decide, I suppose, whether the Dingles have a moral throughline or not.
Do you think this will change Sam and Lydia going forward?
I think anyone in real life would be ultimately changed on some level from an ordeal such as this. God forbid anyone has to go through such circumstances.
Given the nature of the Craig's death, and everything that happens that we can't talk about this time, there's also a question mark as to whether Sam and Lydia can prevail and get back to any kind of sense of normality. But you would hope that their bond and strength as a couple is enough to enable that to happen over time.
So you're hoping for Sam, Lydia and Samson to get through this?
Absolutely, because they are a strong family unit, and despite the perils and problems that come with their lives, I think that their love is what binds them together. So you would essentially hope that love prevails over time.
Spoilers in your inbox every weekend!