Emmerdale Spoilers – Gail to undergo surgery to save son Oscar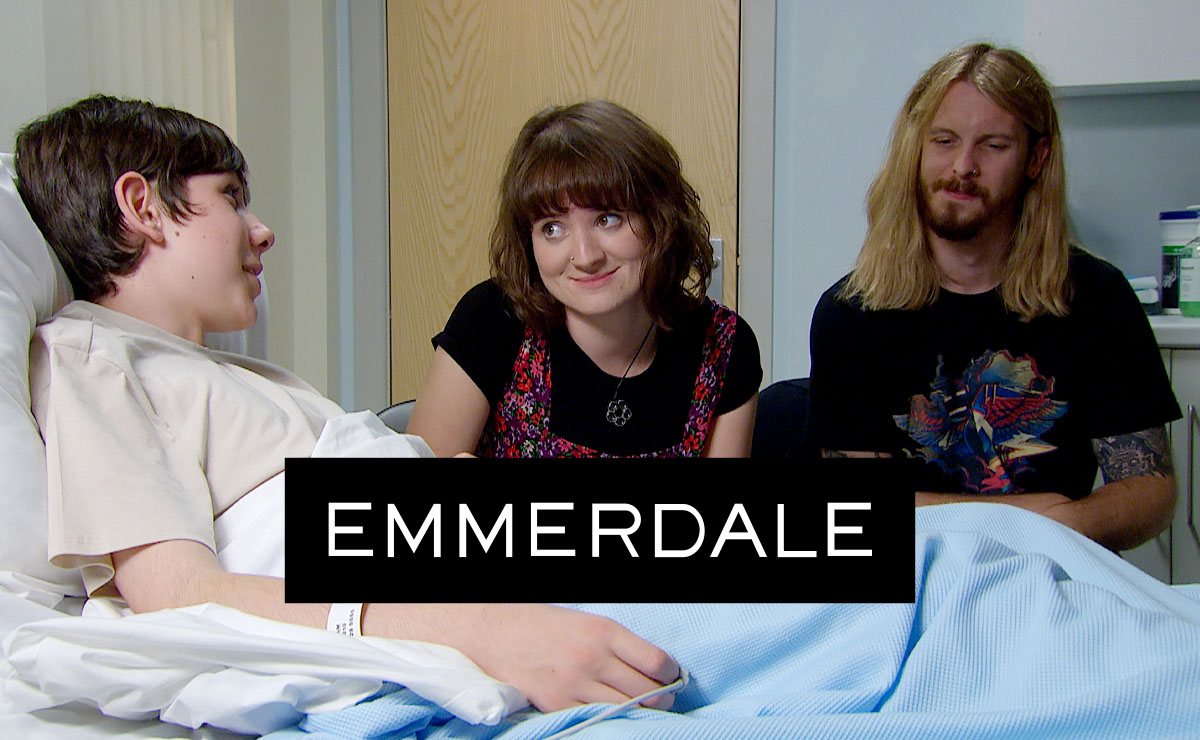 As Emmerdale's Gail prepares to donate life-saving bone marrow to biological son Oscar, actor Rachael Gill-Davis talks to us about the storyline.
Viewers have recently been hit with the revelation that Gail Loman (Rachael Gill-Davis) and Ryan Stocks (James Moore) had previously had a child together, that they give up for adoption in their late teens.
Gail was stunned when she received a call from the adoptive mother Sophie (Martha Cope), who had tracked her down on social media, in the hope that she would be able to help her now 13-year-old son, Oscar (Harley Hamilton).
Oscar has been diagnosed with a rare type of aplastic anaemia, and requires a bone marrow transplant. Sophie was crushed that she herself wasn't a match, and was hoping that either Gail or Ryan would be willing to get tested.
Gail had initially kept the news from Ryan, and also kept the fact that she was still in touch with him from Sophie, but she eventually came clean to her stunned boyfriend.
Ryan found the news difficult to deal with, and though Gail agreed to meet with Oscar, Ryan wasn't ready. He later admitted that with his own disability, he was worried about what Oscar would think of him, and whether it would cause him further disappointment in his biological father.
Both Gail and Ryan agreed to get tested, and next week Ryan is devastated to learn that he isn't a match. He confides his disappointment in Marlon (Mark Charnock), but is relieved when Gail rushes in to say that, against all the odds, she and Oscar are compatible.
Gail and Ryan go to see Oscar at the hospital the next day, Ryan still anxious about meeting his son for the first time. Gail and Oscar hit it off again, but Ryan holds back, feeling like he's the odd one out.
The ice is broken however when the conversation turns to music, and Ryan is relieved that he's found some common ground as a way in. Sophie however isn't as thrilled as she watches the bond building betweeen Oscar and his biological parents…
Back at The Woolpack, Marlon points out to Gail that she may need to tread carefully around Sophie in what could turn out to be a very tense situation.
The next day, Ryan supports Gail as she's wheeled into surgery, both hopeful for success and that they can be a part of Oscar's life going forward.
---
Rachael Gill-Davis spoke to EverySoap and other media about the storyline, during a recent press event at Emmerdale's Leeds studios…
How does Gail feel about Oscar coming back into her life?
I feel like Gail is absolutely made up, but then there are those moments where she does recoil back. In one of the recent episodes, she says that she was a clueless, potless space cadet with a toxic mother forever on her case. So I don't believe that she felt supported at the time. However I do feel that is always her motivation going forward. She wants that family that she hasn't had. So I think she's absolutely made up. But there is that complex nature of giving him up as well, and probably a bit of guilt in there.
How is her relationship with Ryan at this moment in time?
I can't imagine that they argue very often. Obviously, they did have that four year hiatus where they didn't speak and she went off with a guy called Spud. But I think that she's constantly motivated to have that family, as I said before, and she'll do anything to make sure that they're both back on track. I know a lot of people didn't trust her initially, but I believe that she's got a good heart. And that's why it didn't take long for her to open up to Marlon. So I know her heart's in the right place, she loves Ryan. I've watched Emmerdale as well for like, 20 years, and I think Ryan's character as a whole is quite strong. He's very strong willed and a support for Gail, who is probably more on the ditzy side, and wears her heart on her sleeve.
What did you think about all the speculation and fan theories when Gail first returned?
As Rachael, I quite enjoyed it! Because I knew something that they didn't, in a way. It's always good watching it and wondering 'What gave them that idea in the script?' or 'What choice did I make at that point to make it look like it might be going in a different way?'. I found it really interesting to see the different perspectives, because she went off the radar for four years. No-one trusts a character initially do they, definitely not in a soap. When Marlon was trying to get rid of her, everyone was going 'Sack her' and 'Get the pitchforks out' and I was going 'Oh no! She's lovely!'
How does Ryan feel when he learns he's not a match, and is it an easy decision for Gail to make to agree to the surgery?
I think he's obviously gutted that he's not a match because it's something else that he feels like he's let Oscar down with. For Gail, it's the first time that she's been able to do something for her son. You know, it's been 13 years, she's not done anything, so there's an immense amount of guilt. This is the first time where she can actually do something, so I don't think she thinks twice. And she's obviously elated that she's a match because it's really rare. It's against all odds, really!
Whilst she's happy that she can help Oscar, she must be scared for him too?
Yeah, definitely. I can't even imagine the shock that you would have if a child came into your life, who you'd hoped was happy throughout those 13 years, and then to find out that he's ill. You just hope it's going to work. She's petrified at the aspect she could lose him all over again.
Is there any fear for herself undergoing the procedure, or is she determined to get on with it for Oscar's sake?
I think there's probably a tiny bit of fear, but I think the overriding factor is to help her son. That's her motivation. I don't think it's that forefront in her mind.
Is she hoping for a relationship with Oscar going forward?
I definitely think she wants a relationship. She's more equipped now and I feel this is the first time in her life, from what I've seen in the scripts, where she's actually had stability.
Will the relationship with Oscar's adoptive mother Sophie become quite tense as a result?
I think so. That's what's so great about how they've written it as well, because you see both sides. Sophie, she might be quite a strong character but she's just as frightened to have her son taken away from her when these two young, (kind of) trendy parents come back into his life.
It's been four years since Gail's one-episode appearance in 2009, were you surprised to get the call back?
Completely! I had kind of put it to bed in a way. I was doing another job and got a text on my break saying that they wanted to meet me and I was like 'Oh my days, this is amazing.'
As a fan of the show, was there anyone in particular that you were looking forward to working with when you returned?
I remember just being absolutely buzzing that I was working with Marlon, definitely, and Charity as well. All of them really! It was on my bucket list to have a Dingle baby, so I've kind of cracked it. I've watched it since Chris Tate and the whole poisoning/framing Charity thing.
And to go straight into The Woolpack…
I know, it's like I can't escape hospitality in some ways! But yeah it's amazing working in The Woolpack. When you've seen it on screen as well, it's just like, 'Oh my days I'm actually working at The Woolpack'…
Did you know from the start about the existence of a secret child for Gail and Ryan?
Yeah, I think it was our first meeting that I knew that she'd had this child and it took a bit of time for the storyline to start. It was quite tough keeping it on the down low, because I was obviously so excited for it.
How has it been working with Harley Hamilton, who plays Oscar?
He's absolutely brilliant, and what guts to have at 13, I definitely couldn't have done it! The first day of filming, he came on and was just so professional, he's really great!
You mentioned a Dingle baby being on your list, is there anything else you'd like to see for Gail going forward?
Loads of Dingle babies! No, I think with the mention of her toxic mother that it'd be interesting to see a bit more about where she has come from. We're all products of our environment, and I feel like everything's on the surface with her. Underneath she's probably not the same as what she presents.
Spoilers in your inbox every weekend!