Next Week's Coronation Street Spoilers – 16th to 20th January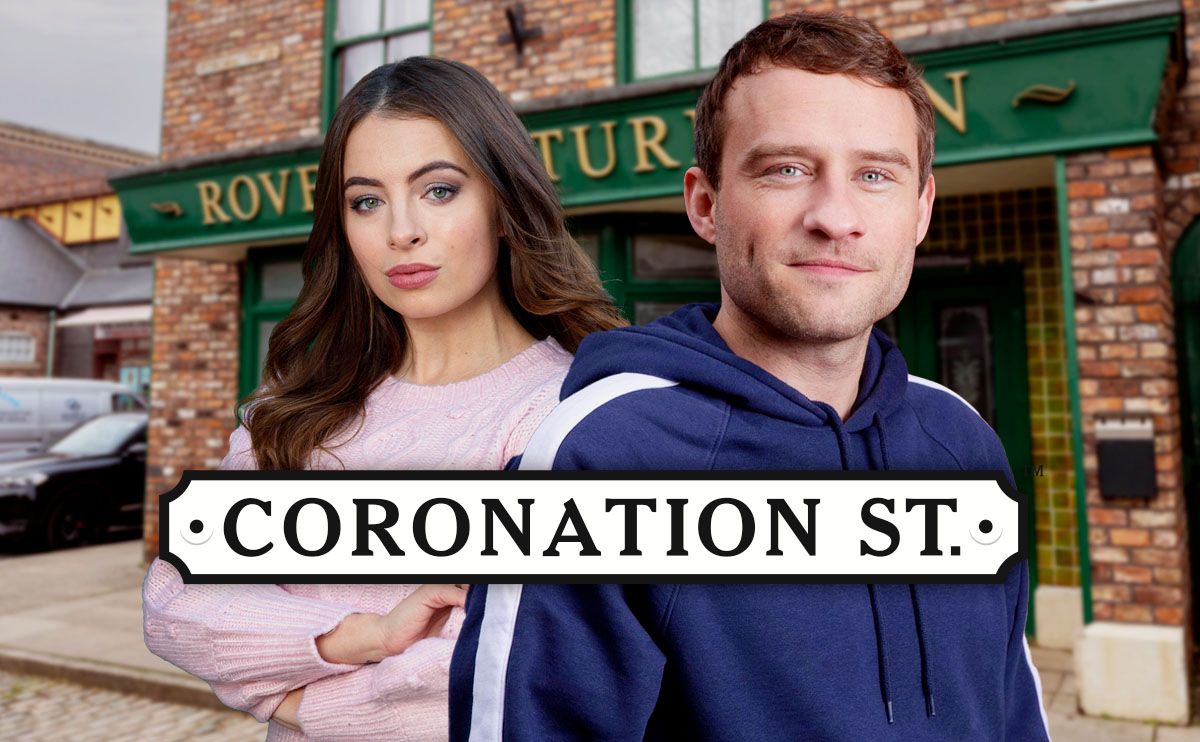 Coming up next week on Coronation Street, Billy sees red when Mike and Esther claim that Summer was extorting them, and Daisy gets more gifts from her mystery admirer.
Daisy (Charlotte Jordan) is mortified next week when a case of mistaken identity threatens to ruin the reputation of the respected DJ Teativo (Joel Quinn).
Since Daisy flirted and exchanged numbers with the DJ at an event at Chariot Square Hotel—in the hope of both securing his services for her wedding to Daniel (Rob Mallard) whilst simultaneously making him jealous—Daisy has received a bunch of flowers from someone named Justin.
Daisy naturally assumed that Justin is DJ Teativo's real name, and whilst she was able to quickly remove the card and regift the flowers to Daniel, she isn't so lucky when a second bunch arrives at the Rovers next week.
Reading the card as he walks into the back room with the flowers, Daniel asks Daisy if she'd mind explaining exactly who 'Justin' is.
Daisy sends a message to the DJ, asking him once and for all to stop sending flowers.
In the meantime, the pair begin to put together a list of wedding guests, and it becomes apparent that most of Daisy's list comprises of fellow influencers, as she explains she's lost touch with a lot of her childhood friends. Having never quite understood the appeal of the socials, Daniel explains to Jenny (Sally Ann Matthews) that he's planning on tracking down some of Daisy's old schoolmates to invite them to the wedding as a surprise for her. Whilst Jenny thinks that it's a lovely idea, will Daisy agree….?
Later in the week, Daisy's frustrated when yet another bouquet from Justin arrives at the Rovers. Figuring that the DJ clearly hasn't got the message, she decides to hit him where it hurts by publicly shaming him on her social media, in the hope of warning other women against him.
When DJ Teativo later calls in at the Rovers and demands she take down her libellous post, Daisy's horrified to discover that he isn't Justin after all…!
Who is Justin?
Whilst Daisy may not realise it, she has actually already met her mystery admirer.
Viewers will remember a young gentleman that Daisy spoke to in the hospital before Christmas, as she was awaiting the results of her scan during her breast cancer scare.
The man was played by former Hollyoaks actor Andrew Still, and whilst Corrie didn't credit his character with a name at the time, Andrew's resume on his management's website reveals that he is playing the recurring role of Justin, a fact that was reported on by media outlets at the time.
As Daniel went to get Daisy a cuppa, Justin struck up a conversation with an anxious Daisy, observing that all the waiting around for results isn't easy. As Daisy asked about him, Justin explained that he was there with his mother who had an advanced cancer, and there wasn't much the doctors could do for her.
As Justin began to get upset at the injustice of it, a tearful Daisy put a supportive hand on his shoulder to comfort him, before she was then called through to receive her results.
With Daisy getting the news that she was cancer-free shortly afterwards, the man she met in the waiting room has likely disappeared from her mind. But Daisy has clearly made quite an impression on Justin…
---
Elsewhere, both Aaron (James Craven) and Billy (Daniel Brocklebank) are concerned when they can't get hold of Summer (Harriet Bibby), unaware that she's being held captive by Mike (Tom Lorcan). After Summer discovered a shocking secret about the man she was planning to become a surrogate for, Harriet had gone to Mike and Esther's (Vanessa Hehir) house to confront him, only for Mike to lock her in the nursery without her phone or insulin.
Aaron calls round to the Hargraves' house in his search for Summer, and learns from Mike that she's apparently out shopping with Esther. Aaron takes his word for it, but something doesn't seem right…
Later, when Mike heads back into the nursery, he's shocked to find Summer unconscious on the floor. Shortly afterwards, Esther returns home to find Mike leaning over an unresponsive Summer, and demands to know what is going on.
As Esther calls an ambulance, Mike claims that Summer was planning to back out of the surrogacy and he'd been forced to hold her in the room in the hope that she'd change her mind.
Aggie (Lorna Laidlaw) is on duty at the hospital when she sees Summer brought in, but is confused when she hears Mike and Esther giving a false name for the teen. Aggie calls Billy to let him know, and when he and Paul arrive, they demand answers from the Hargraves.
Billy, Paul and Aaron are furious when they later learn that Mike and Esther have claimed Summer was lying about being pregnant in order to extort money out of them. When Todd and Paul head back to the hospital, they're shocked to find Mike at a scared Summer's bedside.
"Initially it's complete shock, he just can't believe exactly what has gone on," Peter Ash explains. "Then as usual with Paul he tends to rise with anger pretty quickly. When Mike comes back into the hospital to try and speak to Summer again, that's the moment where Paul snaps and decides to go after him. He just snaps and lets his anger get the best of him."
Mike legs it, with both Paul and Todd in hot pursuit. Back at his house, Mike is almost at the front door when Paul and Todd confront him.
But when Mike questions Paul's relationship with Summer, Paul sees red and pushes Mike, who falls over and hits his head hard on the front step. As Mike lies there unresponsive, Paul worries that he might have killed him!
"Paul's really worried to be honest," Peter continues. "He even says I didn't mean to knock him out, it was just a flash of anger. It came at the moment where Mike insinuates that Paul's feelings for Summer could be almost inappropriate, and obviously because Paul had to deal with the grooming he suffered from when he grew up that really makes him see red.
"Paul just snaps and that's the moment where he pushes him. But when he realises he's gone too far it's terrifying, because that could be him back in prison and his life nearly over."
Can Paul count on Todd to back him up though, considering their past?
"Things are smoother now than they used to be," Peter says. "Todd was the reason Paul and Billy broke up so things haven't been easy but the fact that the three of them all still care for Summer and take on the 'dad role' I think that's helped smooth things over and there are maybe less hard feelings.
"But the last thing I think he'd expect is for Todd to cover for him, a year or so ago Todd would happily have pushed him under the bus."
Whilst it's one of the more unusual family situations on the show, Paul is keen to praise the actors he gets to co-parent alongside whilst on the cobbles.
"I really enjoy it, Dan and Gareth are brilliant," he enthuses. "We have great fun working together, I'm really lucky to be working in that kind of group of people. It's nice because we all bring out a different kind of dimension to fatherhood, which is really interesting. They've all got different parenting techniques but when they come together, despite everything they've been through, I love it because they come together for Summer. She becomes the most important thing which I think is really nice."
---
Monday 16th January (Episode 10852/53)
Aaron and Billy are worried when they can't get hold of Summer.
Mike unlocks the nursery door to find Summer inside unconscious – his plan has gone badly wrong.
Tyrone and Fiz are horrified to discover Hope has been listening to a John Stape cassette.
Amy reveals that Jacob has gone, but Nick fears that Damon has got to him.
Jenny is impressed at Stephen's kindness.
Wednesday 18th January (Episode 10854/55)
When Mike tells the police that Summer was extorting them, Paul takes things too far.
Teddy's memory starts to return.
Nick is wary when Damon suddenly seems on side, and soon learns the truth about the businessman's dodgy history.
Daniel vows to track down Daisy's old friends and invite them to the wedding.
Fiz and Tyrone get a new pet.
Friday 20th January (Episode 10856/57)
Stephen kills again.
When Daisy gets another bouquet of flowers, she points the finger at the wrong man. Who is her admirer?
Gemma decides on a new business idea.
Fiz and Tyrone begin to regret their new pet.
Spoilers in your inbox every weekend!