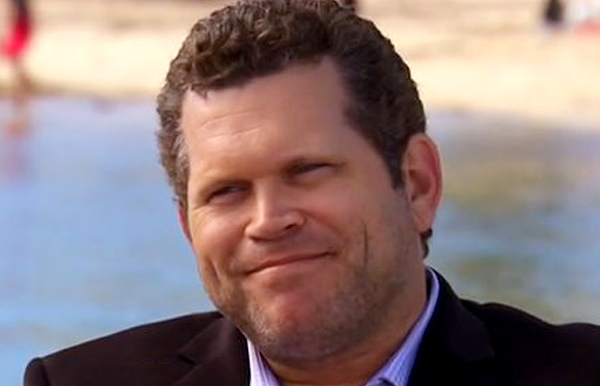 Winston Markman (2012, 2013)
John Batchelor
Episodes: 5638, 5650–5657, 5818–5835
Occupation: Businessman
---
Winston was first seen when Marilyn signed up for internet dating. She met Winston, her first date, for lunch but found his conversation boring: He was a rich businessman who felt the need to regale her with the details of the many uses of cardboard boxes.
A few weeks later, it transpired that Winston was an old school friend of Harvey Ryan. When Roo was desperately searching for someone to be best man at their wedding, Lottie put her on to Winston, who she remembered used to turn up at their house with expensive gifts. Harvey however was horrified at the prospect of seeing him again: He had protected Winston from bullies when they first met and been trying to get rid of him ever since. Their reunion led to a drinking session and a scuffle, which ended with Winston encountering Marilyn again. Roo was willing to let him know his services weren't required but Harvey decided to accept him in the role.
Winston came up with extravagant ideas for a bucks night, including a trip to the Maldives and sumo wrestling. When he tried to invite John and Liam, he realised the reason Harvey was reluctant was he had no friends. Winston instead "kidnapped" Harvey and took him to a bar in the city where he'd arranged for some old school friends to meet them, including Harvey's best friend Gary Reed, who he'd flown over from India. Winston ended up back in Harvey's bad books when he played a joke by putting his leg in a plaster cast and Harvey's resulting outburst contributed to Roo calling off the wedding. Winston pleaded Harvey's case to her, saying he was the only person willing to be friends with him at school, and the wedding went ahead, although Winston managed to delay the ceremony by having a panic attack and fainting. At the reception, he tried to ask Marilyn to dance but Gary got in first and Winston was left dancing with Colleen.
Winston returned to town the following year when Sally was looking to raise funds for medical treatment for her daughter Pippa. Harvey arranged for him to buy the Blaxland but he insisted on coming to pick it up in person, then admitted that his business had gone bust and the boat had taken up all his remaining money. He got on well with Pippa and put his efforts into romancing Marilyn again, taking her for a romantic dinner on the pier. However, recently widowed John was also interested in her and he and Jett interrupted the date. When John bought Marilyn some flowers, Winston borrowed money from Harvey to buy her two bunches and, when Jett sent Marilyn some earrings from John, tried to top it with expensive champagne. He got Kyle to arrange a romantic dinner for them at Angelo's but Marilyn admitted she wasn't interested in him like that.
He advised Dexter over resigning to save April's job and broke up a fight between Spencer and Josh. Unaware of his situation, Marilyn tried to help him arrange a round the world holiday on a luxury cruiser. Winston heard that a company he'd invested in had had a patent accepted, meaning his shares had rocketed in price and he was now rich again. He decided to go on the holiday and convinced Harvey to go with him, although he couldn't resist winding John up by letting him think he was going with Marilyn. Before leaving, he gave the Blaxland back to Alf.
A few weeks later, it was reported that Harvey and Winston had gone missing in a cyclone while sailing between Bali and Hong Kong. Winston and the boat were found quickly, but Harvey had been washed overboard and would remain missing for some time before his eventual return.