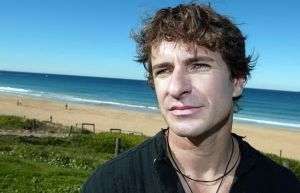 Henk Van Minnen/Henk Van Patten (2007 – 2008)
Damian de Montemas
Episodes: 4481 – 4497, 4501, 4502, 4534, 4535, 4557-4568, 4586, 4587
---
Henk came to the Bay as the best man for Brad Armstrong's wedding. It was clear from the start that Rachel was completely against the idea because of something that had happened in the past. Sure enough, he arrived in town and it wasn't long before Rachel opened up to Leah about what happened. Eight years ago, shortly after splitting up from his wife, Henk took Rachel on a holiday to Fiji. His marriage ended because his wife discovered that he had been using illegal drugs, and Henk clearly wasn't coping with his life. While in Fiji, Henk sexually assaulted Rachel, something which he deeply regretted afterwards.
As usual, Henk soon caught Martha's eye and it was the same afternoon that she kissed him on the beach. However, Martha soon apoligized and Henk told her that he wasn't in the Bay to find anyone. The next morning, Rachel saw Henk coming out of the Diner flat and immediately got the wrong end of the stick. But Martha explained that Henk had simply moved in with her during his stay in the Bay.
A few days later, a drunken Henk tried to get Rachel to forgive him, but she told him that it just wasn't that simple. That evening, Cassie found Henk outside the door of the Diner flat and helped him in. Whilst he was asleep on the couch, Cassie kissed Henk on the cheek but moments later, he pushed her away.
In the morning, Cassie wasn't pleased that they'd be working together, as Henk had offered to cover a shift for Martha. However, whilst in the storeroom, they ended up kissing. Henk then walked out of the storeroom and later told her that they couldn't be together.
With the preparations for Sally and Brad's wedding in full swing, the hens and bucks party got well underway and ended with Henk dislocating his finger. Rachel soon came to his aid and gave him some drugs for the pain. And not long after, Cassie and Henk ended up kissing again. Later on, Rachel and Martha were shocked to find Cassie and Henk together in the Diner flat. And it wasn't long before a shocked Rachel told Cassie that she couldn't be with him.
Rachel then told Brad about what happened in Fiji, which ended with him punching Henk and sending him down the stairs inside the Diner!
Whilst in the hospital, Cassie told Henk that even though she knew what happened with him and Rachel, she still wanted to be with him. But Henk was completely against the idea, and so was Brad. And after asking Dr. Young, Henk was moved to another hospital.
A couple of days later, Henk returned to the Bay to pick up his belongings from the hospital. Cassie saw him while he was in town and tried to convince him that they could work, but Henk wasn't so sure. He then left the Bay and an upset Cassie.
The next day, Cassie visited Henk's flat in the city and told him that they needed to finish talking. Henk told Cassie that he wasn't moving to the Bay, so Cassie suggested that she stay with him in the city after finishing her HSC exams.
A couple of weeks later, Henk returned to the Bay again. Cassie was overjoyed at his return, but Henk didn't seem so enthusiastic. He then told Cassie that it was over between them because he just didn't feel it could work. Once again, he left the Bay.
However, that wasn't the last we saw of him. After being involved in a car accident and facing a court case, Cassie was ecstatic to find Henk on her doorstep again. But it wasn't smooth sailing, that's for sure.
Just days after his return, Cassie found out that she was pregnant. She told Henk the news, to which he was extremely happy, and Henk then popped the question. Cassie accepted his proposal and everything seemed to be going well for him. However, the next day, whilst in the city, Henk received shocking news – he was HIV positive.
Returning back to the Bay, Henk asked Martha to persuade Cassie to have a blood test. Martha made up a story about it being for the Surf Club's insurance policy, which Cassie just about believed. Having had the test, Cassie received a phone call from the doctor saying that they wanted her to come in and discuss the results. A worried Cassie agreed and an also worried Henk accompanied her to the medical centre.
When in the doctor's room, Cassie received news that she too was HIV positive. Shocked, she ran out of the room and into the path of an oncoming car.
Whilst in the hospital, Cassie briefly spoke to Henk but soon told him to get out.
Days later, Ric told her that he found a note saying that Henk had left the Bay. But, he returned once more to talk to Cassie. He asked her about how everything was going and she told him that she was doing okay and wasn't on any drugs yet. They then kissed for the last time before saying goodbye to each other.