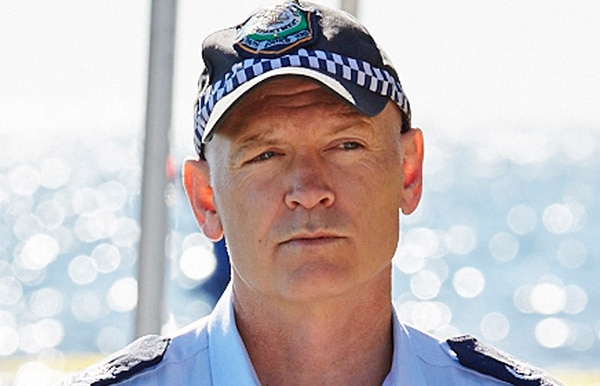 Senior Sergeant Mike Emerson (2012-2016)
Cameron Stewart
Episodes: 5518–6400
Occupation: Police officer
---
Mike Emerson was made the senior sergeant at the Yabbie Creek police station around the middle of 2012, apparently being appointed above station sergeant Georgina Watson, who had been in charge since the start of the year. He found himself working with Xavier during the latter's attachment to the station and was first involved with Summer Bay during Jett's arrival in town. He investigated Jett's theft of $200 from Colleen's caravan and later mugging of Marilyn, eventually learning Jett's mother Liz had died of a drug overdose and he had kept quiet about it. He released Jett when Marilyn withdrew the complaint, but soon after had to break up a fight between him and bully Jayden Post. He then found Xavier using police computers to research Jett's history. He let him off the hook but warned him to keep his private life away from work.
Emerson's next involvement with Summer Bay came after the fatal shooting of Danny Braxton. Although Brax tried to make a false confession, Casey admitted he had shot Danny to stop him killing an innocent bystander. Emerson arrested Casey again when he missed a bail sign-in and investigated his claim to have been kidnapped by half-brother Kyle, warning he would face further punishment if he couldn't prove it. After giving evidence at Casey's trial, he arrested Kyle for the kidnapping. During the same period, he dealt with the cot death of Heath's son Rocco and the behaviour of violent husband Neil Flemming.
Early in 2013, Emerson arrested Adam and Jamie Sharpe, after the Braxtons had them confess to the murder of Adam's wife and the attempted murder of Heath, and Nelson Gregory, after Tamara made a statement implicating him in her brother's death. He also dealt with the fact Maddy had been reported missing by her parents. He told Brax that the police were looking for Ricky in connection with Adam's affairs and subsequently became involved in Ricky's attempt to frame Casey and Kyle for armed robbery on Adam's orders. He arrested Adam after he tried to kill Brax in hospital and joined Heath in getting the information out of him needed to save Brax.
The rest of the year saw him investigate Holly Chapman planting drugs on Zac, arrest Brax when he confessed to the murder of Johnny Barrett, question Josh and Maddy over the arson attack on Mangrove River High, close down the sanctuary lodge cult, clear Heath of a false assault charge from Jade Montgomery after Tamara gave him an alibi, and unsuccessfully pursue Andy for drugging Maddy.
After bringing Casey in following a fight at Salt, Emerson's next major case was the hit and run on Tamara. After evidence emerged that Zac's car was involved, Emerson went to examine it but Andy and Hannah tried to hide the evidence. Zac admitted he thought he was driving but was too drunk to remember and was charged. Oscar revealed he had been driving but Emerson refused to take him seriously until he had Sasha write his confession up in the paper. Afterwards, Emerson took Oscar's statement and dropped the charges against Zac.
Emerson questioned Andy over drug dealing before being called to the scene when Casey was murdered. Kyle simply told him someone had shot through the window and Emerson was unaware that Jake Pirovic was involved, or even that he had been released, until he found him badly injured in the aftermath of a car crash which Brax and Andy claimed to be innocent of causing. Emerson held Brax in custody when he tried to kill an unconscious Jake, then arrested him when Jake was killed shortly after he was released. He released Brax again when Ricky explained he had abandoned his revenge on finding out she was pregnant. Emerson did manage to question Andy, the real culprit, but after Josh gave him an alibi the investigation was suspended.
Emerson questioned bully Tyson Lee over VJ's disappearance, returned Ellie Page to her aunt after father Gray took her without permission, investigated Spencer's altercation with internet predator Keith Potts and tried to stop Kat running unauthorised spot checks on Brax while he was out on bail. He charged Nate after Billie framed him for trying to assault her but dropped the charges when Chris wore a wire and got Billie to admit she was lying. He later arrested Tank Snelgrove after a bomb hoax at Summer Bay High.
He investigated Trystan Powell's death after he was run over and killed by Charlotte King but found no evidence to back up Kat's theory that Charlotte had killed him deliberately, despite learning he was an associate of Gunno. He then found himself investigating Denny's murder and, although he pulled Kat back from arresting Charlotte without evidence, he was finally convinced of her guilt when one of her hairs was found on Denny's body. Not long after, he found himself investigating Charlotte's own murder before turning the case over to Dylan Carter.
Kyle went to him for help when he was threatened by Isla Schultz and Dave Rogers, but ironically Emerson ended up arresting Kyle after finding him at the scene of an armed robbery committed by Isla. He later found out about Dylan and Kat's relationship after overhearing them arguing with Ash and Phoebe, so referred the matter to Superintendent Joyce, resulting in Kat being taken off the investigation into Charlotte's death. Not long after, it was mentioned that Emerson had been transferred to the city.