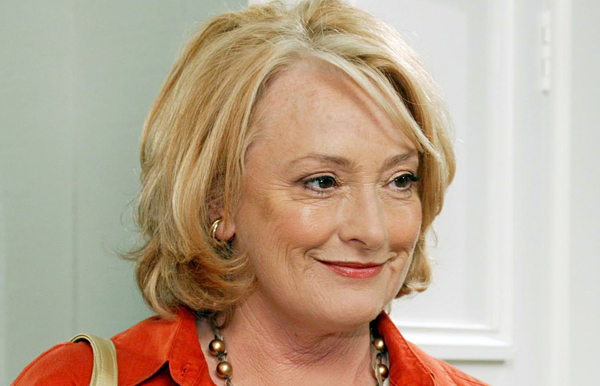 Katherine "Kitty" Landsdowne (2006; 2007)
Geraldine Turner
Episodes: 4162; 4200-4219; 4379-4380
Children: Amanda & Kelli Vale
Occupation: Actress
---
Kitty is Amanda's mother and has an uncanny ability to appear whenever money is needed. Arriving in the Bay shortly after Amanda moved into her mansion Kitty claimed she was ill with cancer. However Kitty's biggest lie was yet to be revealed and it was soon revealed that Kitty was hiding something huge- the identity of the result of Amanda's teenage pregnancy, who Kitty had informed Amanda had been stillborn, Belle Taylor. Kitty soon found herself stretched to hide the truth from both her granddaughter and daughter. Telling Belle her birth mother had died saw Kitty sink to yet another low and though Belle was devastated by the news, she took comfort in finding her grandmother.
After the fire at Jack and Martha's wedding things really started to get interesting, with Belle in hospital for minor burns and Amanda insisting she accompany Kitty to her appointment with a cancer specialist, Kitty found her lies hovering in uncertainty. Insisting Amanda didn't come in with her allowed Kitty the chance to keep up the pretence of illness but by doing this she found herself face to face with Belle who promptly introduced her to her friends in the Bay including one Morag Bellingham.
On a mother-daughter walk, Morag spotted Amanda and Kitty together and once Kitty had left asked Amanda exactly how she knew the woman she had been with. As Amanda informed Morag that the woman in question was her mother, Morag with great confusion revealed how Belle had introduced Kitty as her grandmother. Amanda keen to discover the truth set off home and searched through Kitty's bag only to discover a picture of a young Belle Taylor.
Confronting her mother the awful truth was finally revealed, Belle was Amanda's daughter and Kitty had sold her. Allowing, Kitty justified, Amanda to pursue her acting career. Amanda promptly threw Kitty out of her house, not before discovering that the cancer was also a lie. Kitty went straight to Belle's house to try and reconcile with her granddaughter but Amanda's subsequent arrival meant that the meeting turned into an argument and instead Kitty departed.
Kitty made her return just before Amanda's wedding and Amanda welcomed her back with open arms. Kitty's motivation was made immediately clear- she was having a severe financial crisis thanks to her manager (and lover) conning her out of a lot of money. Kitty needed a lawyer, a home and money-fast.
Kitty was shocked to find her youngest daughter Kelli was staying with Amanda, recalling how Kelli had only a short while ago reiterated to her mother her deep resentment towards Amanda due to a car crash when they were teens. Kelli wasn't best pleased to see her mother and she wasn't the only one who had problems with her return- Belle struggled to understand how Amanda could forgive her.
Kitty soon discovered what Kelli was up to after she overheard a conversation between Kelli and Ethan and confronted Kelli. Kelli's response was to offer her mother $80,000 the remainder of her insurance payout from the accident, which after some hesitation (and a bit of convincing from Kelli involving heart medication) she finally accepted. Leaving Amanda a note saying she had to go, it looked as if Kitty was irredeemably condemning herself to the list of Home and Away baddies.
Thanks to h&a girl