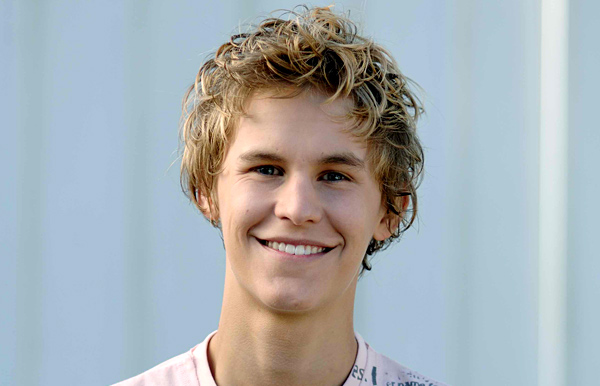 Lucas Anthony Holden (2005-2008)
Rhys Wakefield
Episodes: 4020–4574
Parents: Tony & Kate (deceased) Holden
Step Parents: Rachel Armstrong
Siblings: Jack Holden; Harry Holden (half)
Occupation: Student
---
Lucas moved to the bay in mid-2005 with his father and brother, moving into the house next door to the Hunter's. After the Holden's survived an attempt to be be chased out of town by an irate father whose daughter Jack had killed on a previous posting.
Lucas soon became friends with Ric, Cassie and Matilda. After auditioning for Colleen's production of "Rex and Summer", Lucas landed the lead role alongside Matilda. They began to fall for each other, but whenever they went to kiss, fate intervened. After two toe-curling halves of differing styles, Matilda and Lucas finally shared their first kiss in front of all of Summer Bay.
Lucas' relationship with Matilda was unusually stable for a Home and Away pairing over the coming months, their only problems coming when they got into too much fun, trashing Jack's car in a game of Dare and then paintballing Amanda, who was tearing Matilda's family apart.
After receiving an offer on their houses with Josh's Project 56 scheme, Beth and Tony decided to move in together meaning that Matilda and Lucas would be living under the same roof.
Lucas found it difficult to settle at the Hunters and a period of rebellion followed including lots of drinking, falling in with a bad crowd and being found in bed with newcomer Lee Morton. It was later revealed that nothing had happened with Lee and after a heart to heart with Beth, Lucas admitted he was having difficulty adjusting and went back to the quiet non-rebellious Lucas we had grown used to. It was too late for his relationship with Matilda though and the two split for good.
After the explosion at Jack and Martha's wedding Lucas supported Matilda during her battle with bulimia as a result of the scarring she received in the explosion. Convinced they were going to get back together Lucas was devastated when she fell for new guy Dean at a retreat. However Lucas quickly became convinced that Dean wasn't what he seemed and after seeing Dean in an embrace with another man, Lucas spilt all to Matilda only for her to accuse him of being jealous and not believe him. The truth eventually did come out though and after some help from Dean of all people, Lucas and Matilda shared a kiss but both admitted that there was nothing there anymore and agreed to be friends.
With Matilda growing closer to her ex Ric, Lucas began spending more time with Belle who had just been dumped by Drew in favour of her mother. The two shared a kiss and after agreeing to take things slow became an item.
Drew's recent revelation that he still loves Belle and her seeming feelings for him have led to heartache for Lucas who was over the moon when he finally lost his virginity by sleeping with Belle. However he was publicly humiliated when Drew's vengeful girlfriend Lisa announced what had been going on between Drew and Belle, breaking Lucas's heart.
Lucas took the betrayal pretty hard, refusing to forgive either Drew or Belle. When Belle found a story he had written and entered it in a writer's competition, Lucas won but refused to forgive or thank Belle for what she had done. Eventually though he was persuaded to head off the the writers course, returning on news of Beth's sudden and shocking death.
With Belle and Drew forgiven, Lucas turned his attentions to helping his father and step family through their grief but a shock was in store for him in the form of Naomi Preston, the girl he had been seeing on the writers course. Turning up unannounced in Summer Bay, having taken a teacher's job at Summer Bay High, Naomi was stunned to find that Lucas was not, as he had claimed, a uni student but one of her pupils. Naomi ended things with Lucas but he refused to see it from her point of view, trying various ways of getting her back and confiding in Ric and Tony.
What he didn't know was that a grieving Tony, had, only a few days earlier slept with Naomi and when Lucas did find out the truth via a letter Tony left for Naomi he was furious. Announcing the news at a dinner table, in front of a devastated Matilda and Kit he then went on a drink binge and wound up in hospital having his stomach pumped. Though he made a full recovery, he still refused to forgive his father over what had happened and things got so bad that Tony decided to move out.
After a talk with Ric, Lucas attempted to build bridges with his father but they clashed over their attempt to bond over a boat. When Lucas took the same boat out and sank it he was furious when new boy Geoff Campbell told on him causing further arguments with his Dad. He became increasingly jealous when Geoff was taken on as the star of the footy team that Tony was coaching, widening the rift between father and son. Lucas tried out for the team in order to impress his Dad but when he viciously tackled Geoff and Geoff still outshone him Lucas stormed off the team after accusing his Dad of wanting Geoff as a son.
Asked by Sally to help Annie Campbell with her studies, Lucas agreed to tutor her but wound up in trouble when she disappeared only to be found asleep on his bed. Lucas seemed further tormented when he was found seemingly stalking Naomi but it was revealed that he was researching her as a subject for his book and he was finally able to get closure by writing it.
Lucas was involved in rescuing Annie from the Campbell farm and reluctantly agreed to Geoff moving in after seeing him genuinely devastated at having nowhere to go. He struck up a strange relationship with Mr Fisher as he helped him with his writing and in return Lucas helped bring him up to date with modern technology.
He was surprised when Lisa came round to apologise for humiliating him over Drew and Belle's affair and confided that she was scared of her boyfriend before kissing him. She dumped her boyfriend and began a relationship with Luc but her ex refused to let her go and believing she was in danger Lucas went to her rescue, stealing Ric's car keys. As Denni attempted to force them off the road his car crashed and both he and Lisa were killed, devastating Lucas. He turned to his writing in an attempt to overcome his grief.
The summer was a quiet time for Lucas as he supported his friends through their trials and tribulations before eventually having farewell drinks at Noah's and saying a tearful goodbye to Tony before getting on a bus and heading out the bay, to Uni in the City.