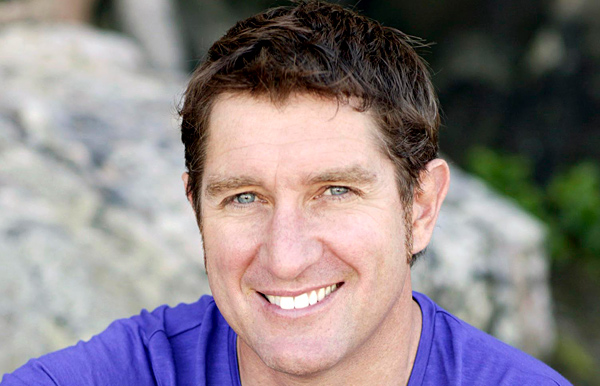 Anthony Holden (2005-2010)
Jon Sivewright
Episodes: 4020–5138
Siblings: Gina Austin
Marital Status: Kate Holden (deceased); Rachel Armstrong (2009-present)
Children: Jack, Lucas and Harry Holden
Occupation: Teacher, Summer Bay Super Bods Manager
---
Arriving in the Bay in Episode 4020 with his sons Jack and Lucas it was pretty obvious from the start that Tony was destined to get together with next door neighbour Beth Hunter. After finally asking her out and a few subsequent, successful dates, the two became an item.
When their houses were threatened with demolition during the Project 56 debacle Tony and Beth decided it would be a good idea to move in together and even though the plans fell through they continued with the plan and Tony and his youngest son Lucas moved in with The Hunters.
Initially a PE teacher at Summer Bay High, Tony lost his job during staff cuts in Brad Armstrong's first week as Principal but has been given a job by Amanda, running the Gym.
Apart from a few rebellion issues with Lucas and being at Jack's side in just about every major crisis there's not really very much more to say about Tony as he hasn't really been given much in the way of storylines until Beth decided to take a trip overseas.
On the day she was due to return, Kit was on the way to the hospital in labour and Tony sat at home waiting for Beth. When eventually he gave up waiting and headed the hospital he was stopped by a police roadblock at a major car crash. Approaching Jack at the scene and realising something was up, Tomny broke through the Police barriers only to find Beth, being taken away, the only fatality of the crash.
Devastated, Tony broke the news to Beth's daughters and continued to stay strong for them but inside he was crumbling. When Kit and Matilda used Beth's money to buy the Gym for him, Tony's grief became too much to bear and new girl in town Naomi Preston seemed to be the only person he could talk to. Distraught he ended up in her caravan and after a copious amount of vodka he slept with Naomi, only to find out two days later that she was his son Lucas's ex-lover.
Vowing to keep the truth from Lucas, Tony wrote Naomi a letter only for Lucas to find it and announce the news at the dinner table to a devastated Matilda and Kit. With Matilda and Lucas both going off the rails as a result and Lucas ending up in hospital, Tony tried desperately to keep the family together. Matilda and Lucas however, refused to be under the same roof as him, leaving Tony no choice but to move out temporarily into Irene's. Lucas and Matilda eventually forgave him and he moved back home.
Tony struck up a friendship with Rachel as she struggled to cope with the breakdown of her marriage but just when it seemed there might be something between them, Rachel set Tony up on a date with Nurse Julie Cooper. The date ended badly when it became clear that Tony's heart wasn't in it and Julie was later attacked. Tony was asked to account for his whereabouts during Julie's attack and was given an alibi by Jazz Curtis whom he had met on the beach and spent the night with. They began seeing each other, making it clear that there was no strings attached but it finally ended when Jazz showed her true colours and Tony admitted that their casual relationship wasn't what he wanted.
Tony had taken over running the school football team and took an interest in talented Geoff Campbell eventually helping his secure a scholarship and giving him a place to stay when his grandfather threw him out. Tony's actions did not go down well with Lucas who had taken an instant dislike to Geoff but the boys eventually managed to get past that to become friends.
With Lucas leaving the bay to go to Uni, Matilda moving in with Ric and Jack now married to Sam, Tony began feeling a bit lonely at the Holden house and resumed his friendship with Rachel Armstrong. He was there to support her when Reverand Hall turned out to be the Summer Bay Stalker and attacked her but it was only when new guy in town Roman Harris took an interest that Tony worked up the courage to ask her out. She accepted and they had a tentative first date in the city ollowed by a second date which seemed to be going well until interrupted by Irene with the news of Dan Baker's death. They agreed to take things slow and despite Jazz returning to the Bay and attempting to split them up, their relationship continued to develop.
When Sam died, Tony was very upset but his attention soon turned to supporting Jack. He tried to protect Jack from the police investigation and discouraged him from seeing Martha. When Martha was charged with murder, everyone rallied around to prove Morag's theory that Sam took her own life and Tony, along with Jazz, went to try and find the thug who she paid to bash her. Despite Tony and Jazz stumbling across an undercover cop and getting themselves arrested, the truth about Sam was uncovered and no charges were laid against Martha and Jack.
Following the ordeal, Jack and Martha got back together but this caused a rift between Tony and Jack as he felt they were rushing into it. Tony was hurt when Jack left a note saying that Tony shouldn't make him choose between him and Martha as he already made up his mind.
Tony then decided to concentrate on himself and his relationship with Rachel so asked her to marry him over dinner at the Diner. Rachel was initially shocked but when they talked things through and Tony explained that it wasn't a spur of the moment decision, she accepted his proposal. The two of them were very happy and celebrated their engagement with Irene, Leah and Belle.
Soon after, Tony was troubled by the anniversary of Beth's death and he tried to keep his feelings from Rachel. After Rachel discovered why he was so distant, the couple joned Matttie and Ric on the beach to remember Beth. Tony tried to help Mattie deal with her problems and reassured her things would be OK as she was strong like her mother. Following the memorial Tony didn't want to talk about Beth and pushed Rachel away. We later found out this was because he was worried about what a Mattie thought about their relationship. However, when Mattie gave them her blessing Tony was over the moon. He explained why he behaved the way he did to Rachel and they then set a date for the wedding.
Finding out that Jack and Martha were having a baby triggered Rachel's desire to start a family. Tony was apprehensive as he needed to have a vasectomy reversal first. He went to see the doctor about the procedure but the doctor said that due to previous complications he was unlikely to have any more children. When Tony told Rachel she was devastated and Tony tried to give Rachel a way out of their relationship as he knew how much she wanted children. Because of this Tony called off their wedding on the answering machine which upset Rachel. They eventually talked things through and decided they wanted to be together no matter what and that they would go ahead with the vasectomy reversal to try and have a family.
Just before the operation, Mattie told Tony that she had been offered a place at University in Perth. Tony told her he was proud of her and encouraged her to follow her dreams. He then gave her a necklace that Beth had wanted to give her before she went to Uni. When Mattie left the bay, Tony told her that he will always consider her his daughter and that if she needs anything he would be there for her.
Tony's operation went well but as soon as it was over he was devastated to learn that Martha had breast cancer. Tony then did all he could to support Jack and Martha and gave Jack some valuable words of wisdom as he struggled to deal with what was happening to Martha.
In the lead up to the wedding, Tony found out that his operation was a success and they could start trying for a baby. However, Rachel seemed very stressed before the wedding which worried Tony. On the morning of the wedding, Tony was devastated when Rachel disappeared. He, along with Leah, Jack and Martha, searched frantically but she was nowhere to be seen. When Leah found an email from Hugh on Rachel's laptop, Tony had to concede that she had probably run of with Hugh. Tony then left the bay to get away from everything that reminded him of Rachel.
A week or so later Tony found out the real reason Rachel disappeared and he returned to the Bay. After an emotional reunion with Rachel, she quizzed him about where he went but Tony was not forthcoming with information. The next day a woman called Bridget turned up looking for Tony. We then found out that they slept together when Tony was in Broken Hill. When Rachel found out she was devastated and Tony temporarily moved next door while he tried to patch things up with Rachel. After a few weeks they reconciled and he promised that nothing like that would ever happen again.
When Joe, the baby she and Kim nearly adopted, returned to Rachel's life, Tony was worried that she would get too close. Joe had bone cancer so Rachel wanted to do all she could to help him and Tony's fears were realised when they ended up looking after Joe while Dane went to look for Lee. However, Tony soon began to enjoy looking after him and said that it would be good practice for when he and Rachel started a family. When Dane returned and took Joe up to Queensland, Tony was there to support a very upset Rachel. A few weeks later Dane returned to the bay and said that Joe had died. Initially Rachel blamed Tony but later apologised for the pushing him away. Tony then told her that he wanted to have a family with her more than anything and that one way or another it would happen.
Tony then began to feel the pressure to have a baby and went out on a fishing trip with the boys to escape from it all. When he returned Rachel told him that she was pregnant and they were both ecstatic. The next day they went for a scan and found out that everything with baby 'peanut' was fine so they told Leah and Jack the news, along with Colleen who had already figured it out for herself.
Towards the end of the year, Tony's nephew Xavier turned up in the bay for Schoolies week. However, it seemed that Xavier was involved in drugs and went some dope was found on him Tony took him back home to his mother.
Xavier's problems paled into insignificance when Tony went searching for Jack after Martha became convinced something was up with him. He was devastated to find his oldest son shot dead and in the aftermath struggled to cope, shutting Rachel out and showing no interest in the baby. He reacted furiously to Martha's news that Angelo was to blame and physically attacked him, forcing him to tell the truth.
He remained distracted though and Rachel became convinced he was having an affair but after some pushing by Martha he admitted he had been fixing up Jack's boat in an attempt to work through his grief. He was supported by his sister Gina's decision to let her sons Hugo and Xavier remain in town and became embroiled in their problems but he did pause long enpugh to finally tie the knot with Rachel despite some last minute doubts.
He was furious when Angelo returned to town but w encouraged by Rachel to put his anger aside for the sake of their baby. At first he seemed to be doing well, even befriending Angelo but it soon became clear that he was really after revenge. Taking Angelo to Jack's resting place on his birthday Tony tried to kill him but was stopped just in time, leaving Rachel furious with him and Tony shaken.
Tony was stunned to catch Hugo and Martha kissing and even more stunned when he found out Rachel already knew they had feelings for each other but when Alf told him Martha's happiness was the most important thing he gave them his blessing. He agreed to let Aden and Geoff try out for the town football team he was coaching but they caused him nothing but trouble as first Geoff seriously injured an opposing player and then Aden tried to throw a match after doing a deal with a bookie. Tony agreed to keep the matter quiet but threw Aden off the team, only to change his mind the next day when Irene, Alf and Rachel all pled his case and he learnt Aden had only been trying to buy an engagement ring for Belle. He put the incident behind them by taking Aden out for an impromptu bucks night and it was while he was looking after a drunken Aden at his place that Alf rang to announce Rachel had gone into labour. Fortunately Tony made it to the hospital in time for the birth of baby Harry.
Their introduction to parenthood proved a mixed blessing, however, as Tony's ease with Harry only served to make Rachel feel inadequate. Tony tried to support Rachel when a patient whose baby had died accused her of negligence and when Harry was subsequently kidnapped, he spent the night sitting up for news, refusing to accept anything had happened to him. He and Rachel were relieved when Harry was returned but things continued to desintegrate. Rachel became so protective of Harry that Tony scarcely got a look in and snapped at him when he returned to football coaching. Then Tony became jealous of her friendship with Andy, another single parent, especially when he saw him holding Harry, and refused to let Rachel take Harry with her when she went to see Andy.
Although Rachel distanced herself from Andy, there was very little improvement, although they did manage to spend a day alone together until they both realised they missed Harry. He set Gina up with a job at Summer Bay High and was bewildered when Rachel objected to his actions. They ended up spending a day on the farm and falling asleep while Martha looked after Harry. Rachel seemed increasingly paranoid, accusing Tony of going behind her back when he asked Leah for help with Harry. When Rachel accidentally suffocated Harry when she fell asleep while looking after him, Tony was wracked with guilt that he'd let things get so far and even more so when it was discovered Rachel had post-natal depression. He told Rachel that he'd lost too many people close to him and persuaded her to get help.
He was initially uncertain about her desire to return to work part-time, feeling the pressure would cause her more stress, but eventually agreed, even though it meant looking after Harry at the gym and experiencing a nightmare first day for the new set-up when inconsiderate customers and an unhelpful delivery guy contributed to Harry's constant crying. However, he decided to keep the difficulties to himself rather than worry Rachel. He noticed Gina's attraction to John Palmer and was somewhat amused and bemused by the affair. He encouraged Gina to stay away from him but Rachel convinced him to let her make her own choices.
When Rachel quizzed Tony about their finances, after he'd taken money from their savings to tide things over with the business, he was forced to admit the gym wasn't doing very well. Despite not being entirely happy about his and Gina's relationship, Tony accepted advice from John and advised Xavier to stop giving them a hard time. When the business was vandalised the night of the school formal, Tony admitted he hadn't paid the insurance and didn't have the funds to rebuild. Having already laid off most of his casual staff, Tony decided his only option was to sell up. John offered to buy three quarters of the business, with Tony staying on as manager, and although he was uncertain about the two of them working together Tony agreed.
Tony had a minor involvement in the fallout from the people smuggling business, trying to support Gina and Xavier in the aftermath of Hugo's apparent death. He took Alf out on a fishing trip to bring him out of himself after the race riot. He continued to clash with John, who kept buying new equipment without consulting him, and began to contemplate selling his share, but they seemed to meet an agreement where Tony would be in charge of the day to day running and all decisions on the business side would be joint. Tony later told John that they were losing customers who blamed him for the race riot and persuaded him to visit Hazem to sort things out. He even persuaded John to attend the Diner reopening. When he learned about Leah's panic attack at the event, he suggested she take up self-defence to regain her confidence. Meanwhile, further personality clashes brought an end to his and John's truce, especially when John organised a promotion without telling him, and Tony ended up selling his share of the gym.
After a few days out of work, Tony applied for a job as PE teacher at the school and, despite their difficulties working together in the past ever since they started a lemonade stand as children, Gina agreed to employ him. He endured a difficult first day when one of his class, Corey, insisted on disrupting a sex education lesson but managed to put him in his place by putting him in charge of the class and being equally disruptive. He also ended up in an argument with Liam, who he wrongly believed was at fault in an argument with Martha. He and Gina clashed early on when he wanted to start boxing lessons at the school, although he supported her relationship with John despite his personal dislike for him and tried to persuade Xavier to give them a fair go. However, he felt guilty when his advice to Gina and Xavier resulted in the pair not talking and decided to help Xavier deal with his anger by giving him boxing lessons which only put Gina's back up even more. He then had dinner with Martha and Xavier and began to realise Martha wasn't as over Hugo as she claimed, prompting him to persuade Gina that she needed to let Xavier come home. When John criticised his teaching methods, which he was worried would upset his plans to teach boxing to underprivileged children, he ended up challenging him to a bout. Despite opposition from both Rachel and Gina and calling the fight off several times, they made it into the ring but failed to swing a single punch.
Tony had a mixed reaction to the news of Hugo's survival, worrying that the people after him might threaten them but told Rachel that he believed Hugo had changed. He was relieved to find him safe and more or less well at Martha's farm and, when Hugo received a message from 'Killer' revealing he had taken Xavier, Martha and Gina hostage, offered to smuggle him past the police guard. Despite promising Rachel otherwise, he secretly accompanied Hugo to the meeting, where, having briefly been knocked out during Hugo's attempt to ram 'Killer', he recovered in time to club 'Killer' unconscious. A few days later, Tony and Rachel were again summoned to the farm after Hugo was shot by crooked Detective Eaves. Having apparently been won over by Rachel's argument that Hugo had placed them all in danger, he considered staying away and putting Rachel and Harry first. In the end, he took Rachel to the farm house on the agreement that they leave if it looked like it was too dangerous and then managed to knock Eaves unconscious as he was about to shoot Charlie and Angelo.
A dinner at Miles' place turned into a disaster when Jill turned up with John. Despite his insistence he was only there as a friend, Tony considered him to be cheating on Gina and took him down the beach for a "chat", where he started a fight. The scuffle left them both with a few bruises, mainly to their dignity. Tony began making plans to set up a female boxing school, roping Xavier in first to hand out fliers and then as his assistant and made arrangements with Alf to use a barn on Martha's old farm. He ran into opposition from Rachel, who was worried about the danger of injury, but began to see the positive side of things when April spoke about the advantages of learning self defence.
Tony was disappointed when no-one turned up to his first session, until
he realised he'd put the wrong date on the fliers. Sid noted he was fine
with boxing and Tony suggested he talk to Rachel over dinner but Rachel
dismissed their arguments and it led to another argument. When several
girls turned up on the date advertised, Tony was committed to continuing
with the scheme. He was somewhat bemused to learn John had moved in
with Gina and accepted Dexter's offer to be his assistant despite his
not knowing about boxing. He gave Xavier advice about what to tell April
when Ruby kissed him and accepted a donation to the boxing programme
from Penn.
When Rachel's old friend Daniel Lovallo arrived in
town, Tony seemed slightly uncomfortable around him but, after talking
with Sid about how unhappy Rachel seemed to be in her current work,
encouraged her to consider the job offer in Boston he made. However,
when Rachel began to warm to the idea, Tony was horrified at the idea of
leaving Summer Bay and, when they attended the trial run opening of
Angelo's restaurant, he was worried to overhear her saying that she was
considering it. After Daniel had told him Rachel needed the job for her
own self worth, he told Rachel he had family in the Bay and felt close
to Jack there, with even the thought of being nearer to Lucas and
information on jobs in the States that Rachel gave him not swaying him,
and was angry when she accepted the job. Miles encouraged him to talk to
her but when he got home he found she had booked plane tickets for her
and Harry and insisted he wasn't going to lose another son. Rachel
eventually understood his reasons and offered to stay, but he decided to
support her and the family left town together.