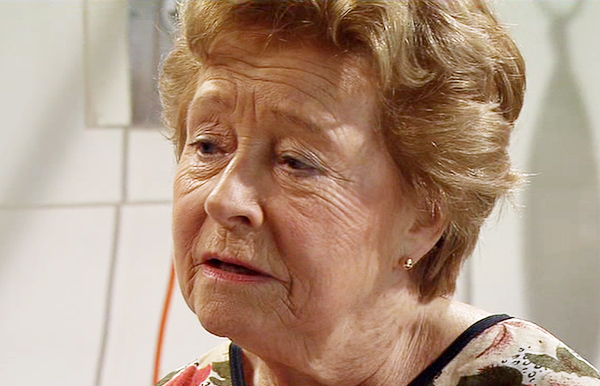 Evelyn Grey (2005)
Wendy Playfair
Episode: 4090
Marital Status: Clem Grey (deceased)
---
On Flynn's last day at the Northern District Hospital, Dr Derek Young asked him to look at Evelyn, an elderly patient who he was struggling to diagnose. As Flynn examined a cheerful Evelyn, she told him that her husband Clem had died 45 years previous and since then she has lived on her own, a fair way out of town. They had only been together for 10 years before his death, and he was away in the war for a lot of time, but the 2 years they'd spent together in their home were the happiest of her life. They'd never had any children as Clem was too sick most of the time, and although Clem had told her she should remarry once he'd gone, she'd never wanted to – something which gave Flynn food for thought with his own life nearing its end. She explained that although she had her pets for company, she always looked forward to coming into the market and having a chat.
Flynn then took Derek aside and gave his diagnosis for Evelyn – loneliness. Derek was confused as she seemed to be in genuine pain, but Flynn pointed out that loneliness is painful. Evelyn had been in several times over the last year, and there was never anything physically wrong with her. He explained to Derek about one thing they're not taught at medical school – that being a doctor is about more than writing a prescription, sometimes chatting to someone for 10 minutes is all the medicine they need.
As Flynn later left the hospital for the final time, he observed Derek and Evelyn sat together in the waiting room having an animated conversation about Clem's sporting career, and he departed knowing that some of his wisdom had been passed down.