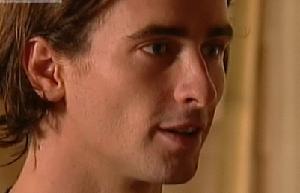 Patrick Curl (2001)
Kip Gamblin
Episodes: 3052-3060
Occupation: TAFE student
---
Patrick and Gypsy went on a date which led Gypsy to believe that he was the best thing to happen to her in a long time. Sally was surprised when Gypsy hadn't told him about the baby. Gypsy eventually told Patrick. He said he would be there for them both.
Gypsy and Patrick went on a date, however Gypsy's mind was elsewhere and when they went for a walk the following day, Gypsy told Patrick about the baby's father being in a relationship at the moment, but if that relationship ended, she would leave Patrick for Will. Patrick understood and they parted on good terms.
Later in the year, Sally urged Gypsy to get in contact with Patrick again, however Gypsy turned down her suggestion.
Kip Gamblin later played Scott Hunter and our interview with Kip can be read here.