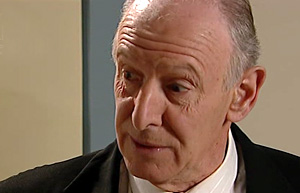 Dr. Carlingford (2001; 2002)
Alan Faulkner
Episodes: 3136; 3142; 3154; 3158; 3222; 3243; 3257; 3290; 3328; 3337
Occupation: Doctor
---
Dr. Carlingford was Charlotte's senior at Northern Districts Hospital. He was a stickler at the rules and had a go at her in front of a hospitalised Jude. When Jude had a go at them their was some joy amongst the trainee doctors. Dr. Carlingford again had a go at Charlotte when he found visitors for Jude outside the normal hours which prevented him doing his rounds.
When he found out that Charlotte was going out with Steve Kent his attitude to her changed. Steve's father had been a famous doctor and Dr. Carlingford was impressed with Charlotte's choice. However when Charlotte said that she couldn't accept Steve's proposal and he turned violent, Dr. Carlingford told him to go away.
Dr. Carlingford returned in 2002, first warning Charlotte about her persuit for better hospital security. He then told Charlotte that a bout of sickness, due to her pregnancy could lead to her contract at the hospital not being renewed and that her future motherhood could jeopardize her future career in medicine.
After Charlotte has miscarried, Dr. Carlingford showed a more sympathetic side, showing concern for Charlotte's health after the recent dramas. However, after Charlotte returned to work and Dr. Carlingford had a go at her for going against his order in the Kelli Edwards case Charlotte quit and Dr. Carlingford was never seen again.