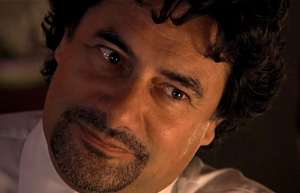 Lou Baines(2007)
Lani John Tupu
Episodes: 4402-4415
Occupation: Businessman
---
When the Rocket Club began having financial difficulties, Cam Reynolds turned to Lou Baines as a potential investor. Lou paid a visit to the club where Cam told him about Martha and offered to have her dance for him. However, Martha had just received the news of Beth's death and didn't turn up.
Cam persuaded Lou to come back the following week and he met with him, Martha and Cindy. During the discussion, Lou repeatedly groped and touched a disgusted Martha but Cam persuaded her to put up with it because they needed Lou's help. When the two men were alone, Cam made it clear to Lou that if he invested in the club he and Martha would be able to get better acquainted.
When Lou came round to finalise the deal, a reluctant Martha agreed to dance for and flirt with him, then made a quick exit to her dressing room once he'd signed the contract. Cam gave Lou permission to follow her and he tried to force himself on her. After a few seconds of ignoring Martha's screams, Cam rushed into the room and pulled Lou off her. Lou angrily tore up the contract and stormed out of the club.