Who is Ebony, and who kidnapped Ava? Is Robbo really Beckett Reid?
UPDATED! We've updated this story with info on the dramatic showdown set for later this week, as shots are fired as Justin and Willow come face to face with Ava's kidnapper.
Just before Home and Away went off air for two weeks for the Commonwealth Games, we were treated to a rare and action-packed mid-season finale, just a little over 9 weeks after the show returned from its Christmas break.
It's no surprise that the trial of Robbo (or is that Beckett Reid? Or Ryan Shaw?) played a big part in Tuesday's finale, after his escape from prison in the 2017 season finale resulted in Kat tragically losing her life.
However, if, like us, you were expecting 'Guilty' or 'Innocent' to be the final word before the mid-season break, you were in for a shock when a number of Federal Police stormed the courtroom, just as we were on the cusp of finding out the verdict!
Not only that, we were left with one other million-dollar question, as Ava's mysterious disappearance turned out to be neither a vengeful Dean, nor a case of Ava wanting to escape the stresses of daily life in the Morgan household.
The final moments introduced us to Ava's captor, while a jam-packed promo left us with even more questions surrounding her kidnapping, as we were introduced to the Bay's newest villain – Ebony!
Join us as we explore all the clues we've got as we try and piece together the key questions: Who kidnapped Ava? Who is Ebony? and just what is Robbo's real identity?
---
Who kidnapped Ava?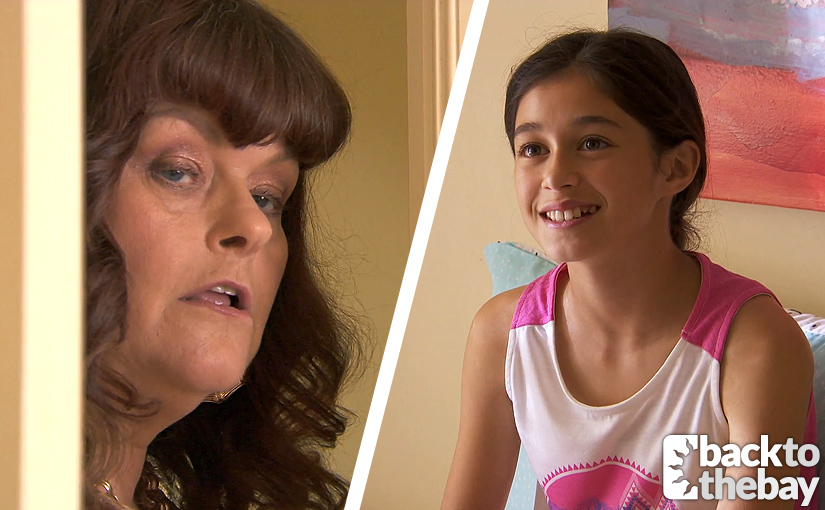 To start with one of the burning questions, who is the mysterious woman who has abducted Ava Gilbert (Grace Thomas)?
Whilst Justin was quick to blame Dean for his daughter's disappearance, after he made what could be seen as a veiled threat towards Ava the previous day, it soon became apparent that he wasn't involved.
The mystery thickened when we saw Ava in the house of a middle-aged lady played by Genevieve Lemon, credited only as 'Hazel'.
As the sun is setting, and with a frantic Justin pleaing that he just wants to know that she's safe, the mysterious woman enters a bedroom where Ava's sat, and tells her: "I just heard from your dad, he has to work late, so we thought you might be able to stay the night here, if that's okay?"
Ava doesn't seem too startled by the turn of events – but this peculiar character, whilst seemingly friendly, certainly isn't somebody we've seen before. However, if we were to reveal to you that her full name is actually Hazel Easton, then you may start to get an inkling of what's going on…
Viewers may recognise the surname as being the same as Boyd (Steve Le Marquand), the biker thug who Willow owed money to when she first turned up in Summer Bay…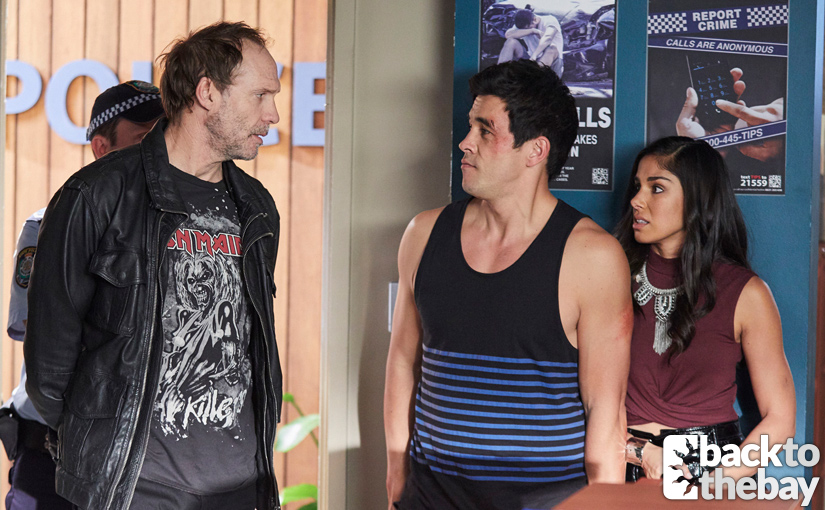 In true Morgan fashion, Justin was quick to make an enemy of Boyd, receiving a beating in the process, so it's perhaps no surprise that the family haven't heard the last of him (or, as it seems, members of his own family).
Who gets shot in Home and Away?
We're in for a dramatic first week back, as the kidnapper's identity is revealed and Justin attempts to meet with them and get Ava back safely.
Colby already believes something untoward has happened, after Hunter and Olivia stumbled upon Ava's backpack while searching for her. With no signs of Ava's DNA in the surrounding area, it suggests the bag was thrown from a car, rather than dropped by Ava herself.
Everyone's worst fears are confirmed tomorrow, with TV Week reporting that Raffy comes home to find a ransom note on the Morgans' doorstep, demanding $25,000 for Ava's return.
In a triple episode this Thursday, Justin attempts to meet with the kidnapper, but things don't go quite as smoothly as hoped.
Colby, who we've just found out is battling his own demons with regards to another missing girl, comes to the Morgans with a risky plan to bring Ava home. Tim Franklin, who plays Colby, told TV Week "Justin is a broken man, just trying to keep himself together for his daughter's sake. The plan is dangerous, but he'll do it by any means necessary".
Willow offers to be the bait for the plan, and heads to the bush prepared to make the exchange. Meanwhile, Colby, Justin and the police are waiting in the wings, hidden away ready to pounce when the kidnapper arrives. However, Dean throws a spanner in the works when he arrives on the scene, in an attempt to impress his ex.
Just in the knick of time, Dean manages to get out of sight, leaving the coast clear for a car to pull up and the kidnapper to step out. According to TV Week, it's "a familiar face" who Willow recognises, and Tim hints that it's someone who "has an old grudge to settle". As we already know, this is likely to be Boyd, wanting revenge for Willow and Justin's past actions.
As the police go to pounce, Dean gets there first, and tackles the kidnapper to the ground. Yet he doesn't manage to keep him there, and after the kidnapper hits Dean in the face, he gets up and sprints to his vehicle – seconds later, the car is hurtling in Dean's direction!
In frantic scenes, Willow runs forward to help Dean, Justin attempts to get Ava out of the way, and suddenly a lot of lives are in danger.
Colby, in the heat of the moment, pulls out his gun and a shot rings out. Tim tells TV Week that he's been "put in a situation where the ones he loves are in great danger" and "there's only one choice he can make. Perhaps he doesn't want a repeat of what's happened in his past. Will someone be shot?
Who is Ebony?
Episodes to air after the break will also introduce us to another new character involved in the kidnapping—Ebony, played by Cariba Heine.
In a dramatic promo which aired in some regions after the finale, Ebony is seen with a wealth of photos and information on Justin, Brody, Ava, Tori, Willow, Colby and Dean, commenting that she will "make every one of them pay", with Hazel also stating that they should burn them to the ground.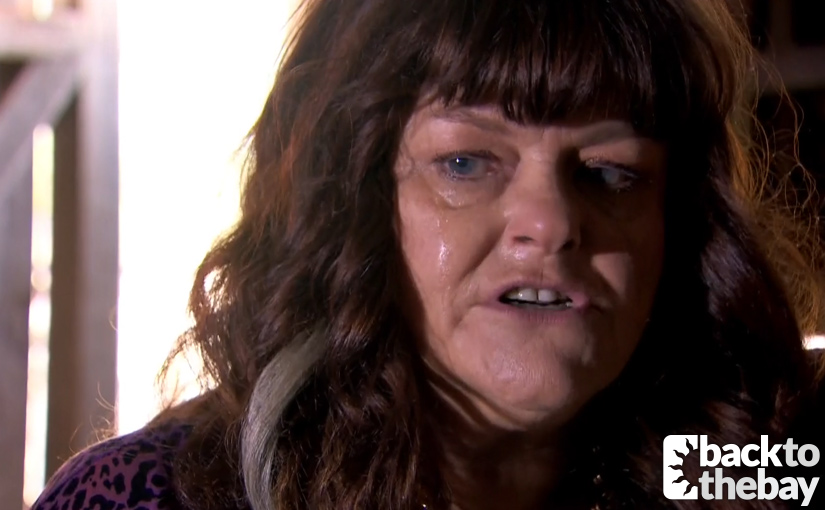 As the search for Ava intensifies with news coverage and police searches, Ebony is seen seemingly concocting a series of elaborate plans to reel in those on her list.
Whilst we don't know much about the Bay's newest villain, her connection with the Easton family means she's likely looking for revenge after the way Justin treated Boyd – and that can't end well.
---
Who is Beckett Reid?
The whopper of a cliffhanger leading into the transmission break was of course the mysterious interruption of Robbo's (Jake Ryan) trial. Just as the jury were about to deliver their verdict as to whether Robbo was guilty of the crimes of Beckett Reid, as well as the murders of Dennis Novak and Dylan Carter, federal agents stormed the courthouse with a warrant and bundled Robbo into a waiting van.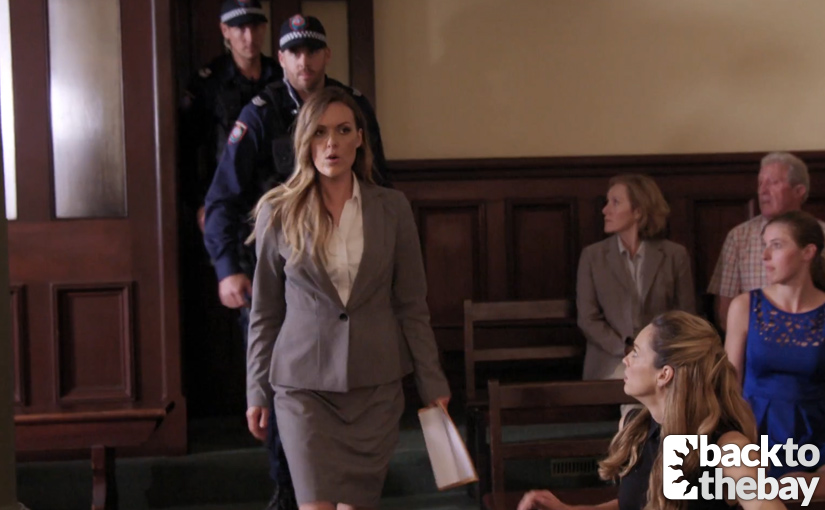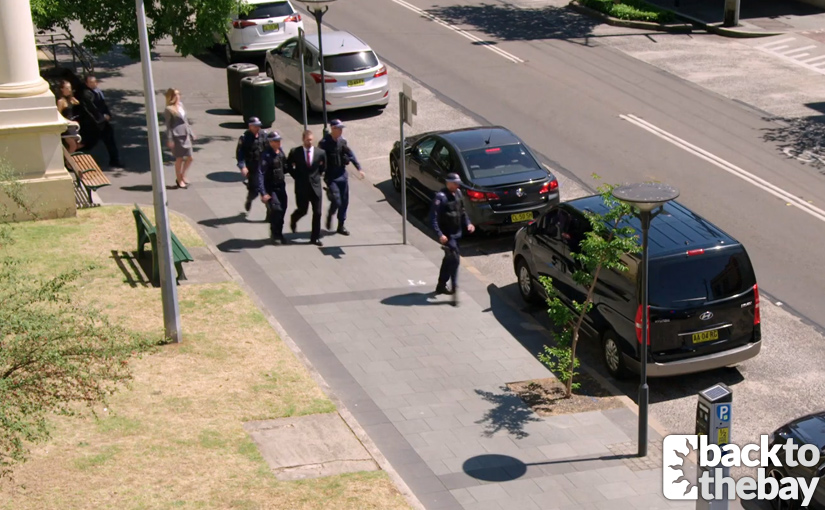 When Tori asked what was going on, a woman who had previously been posing as a Coastal News reporter told her to forget she ever knew Robbo.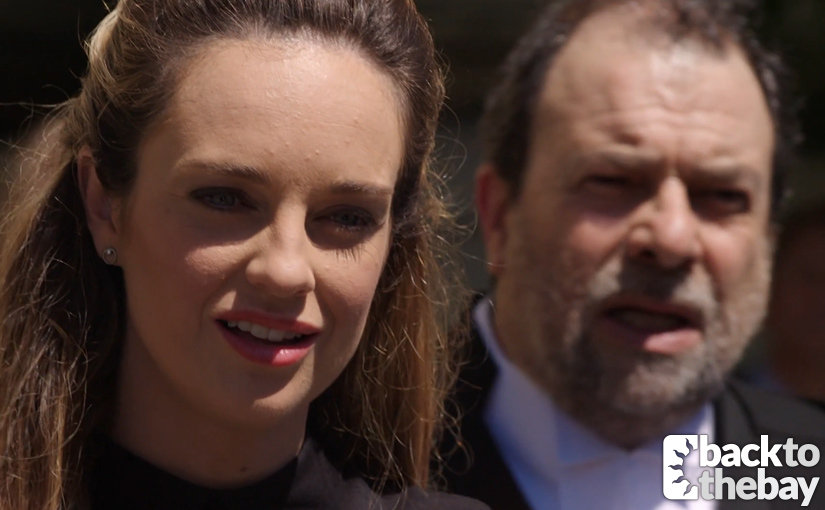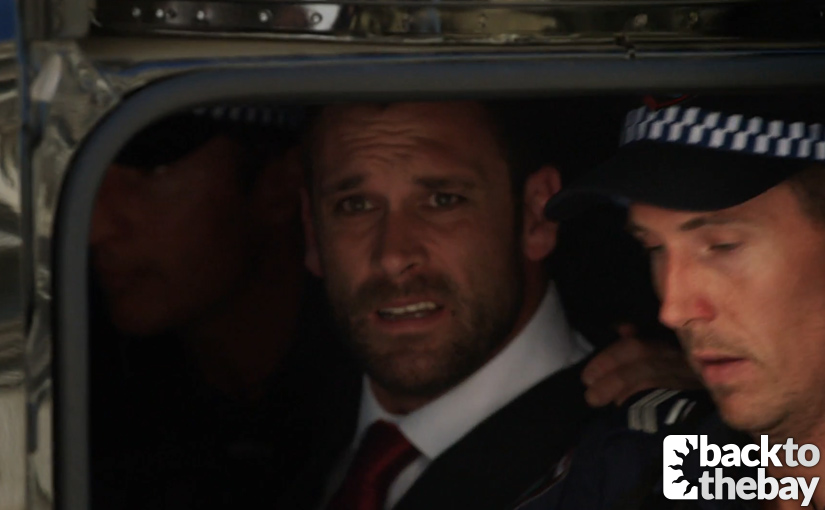 With the storyline having started back in July 2017, it seems that viewers may finally be about to get answers as to who Robbo really is—with him recently recalling his name as being Ryan Shaw, and that he had a wife and two kids who died—and where the mysterious Beckett Reid fits into the equation.
A small number of viewers had speculated whether Robbo could have actually been an undercover police officer in an elite unit, and upcoming scenes seem to indicate that this is a distinct possibility.
In a trailer for the next episode, we hear Constable Murray telling Colby that the officer searching through files in Yabbie Creek Police Station is "someone very high up the food chain", who's "wiping Robbo from the system".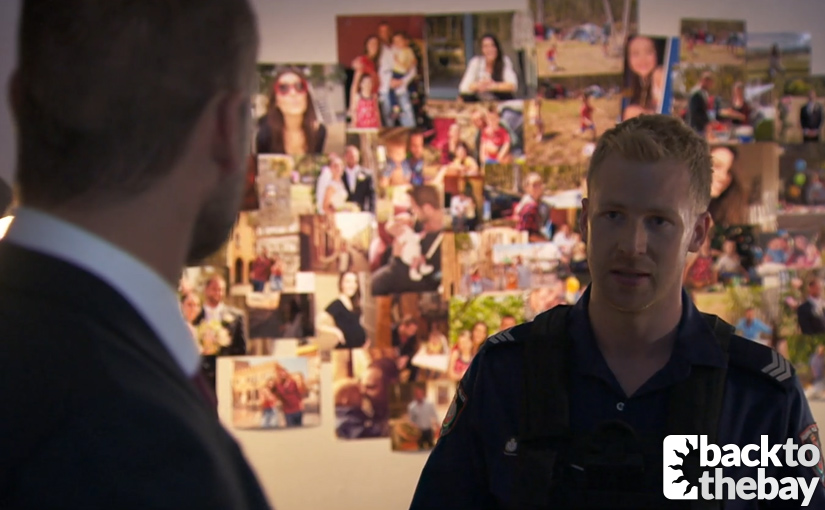 Meanwhile, another officer tells Robbo that "no matter how rough remembering is going to be, you have to do it. We started this, we have to finish it", as one of countless photos of Robbo pinned to the wall appear to show him in police uniform.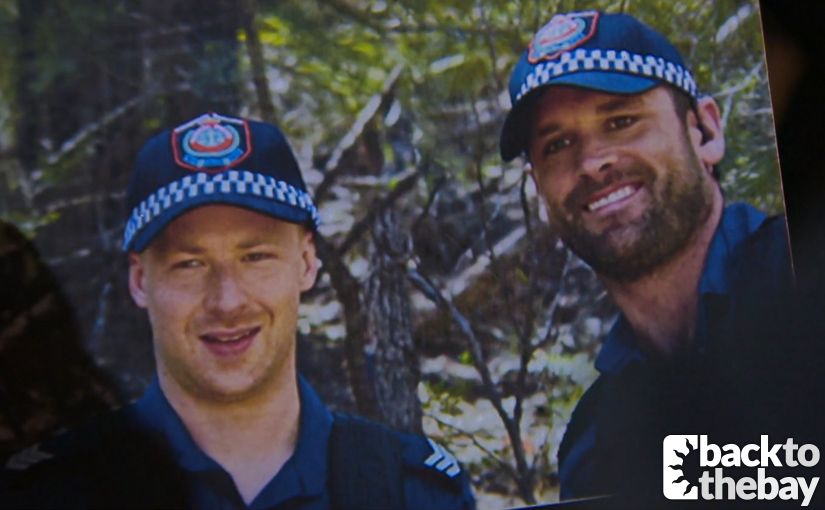 Whoever Robbo is, it looks like we're just a couple of short weeks away from knowing the truth, and his memory is set to return in the second episode back after the Commonwealth Games break.
Whether the rest of Summer Bay will find out Robbo's true identity any time soon, that remains to be seen…
However, Robbo fans need not worry too much – whatever (and whoever) his true identity is, it doesn't look like it's the end. We've got plenty more Robbo spoilers in an upcoming article, exploring all the other exciting storylines coming up later in 2018. Subscribe to our newsletter below, or join our social media channels, to be the first to find out when it's published.
Home and Away returns on 16th April 2018. To see our previews of the first episodes back, visit the Upcoming Australian Episodes page.
---
Visit Summer Bay!
If you're already suffering from Home and Away withdrawals and are in Sydney anytime soon, why not take the time to visit the beautiful Palm Beach (Summer Bay) yourself – you may even be lucky enough to spot some filming and take some snaps with cast members!
The Official Home and Away Tour departs from central Sydney four days a week, and costs just $99 per person. For more information, and to book tickets directly through the official tour provider, click here or on the button below.
Spoilers in your inbox every weekend!