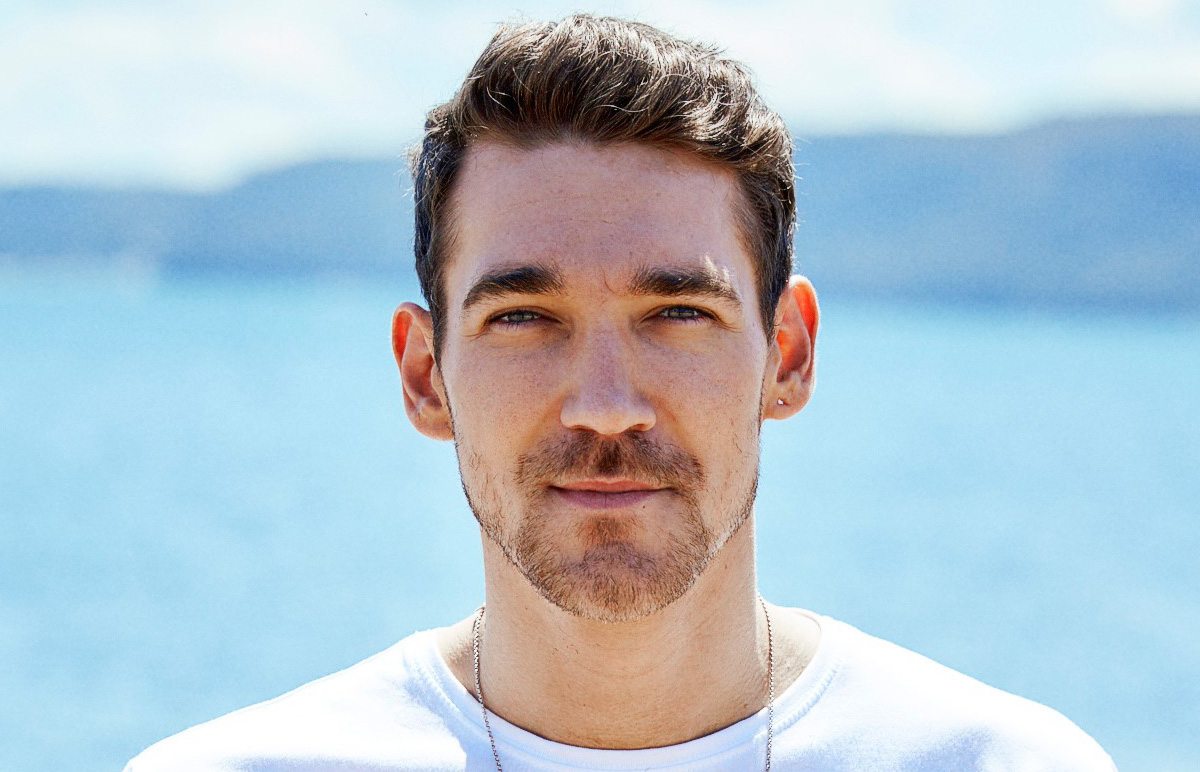 Alexander Delaney (2022-present)
Luke Van Os
Episodes: 7759-present
Parents: Alexander Snr. (deceased) & Yvette Delaney (née Sanderson)
Siblings: Jasmine & Rose Delaney (both half)
Occupation: Paramedic; Bartender
---
Xander arrived in Summer Bay looking for his half-sister Jasmine, turning up at the beach house and introducing himself to Irene. He had only learned of Jasmine's existence when his father's will was read out. Jasmine's first response was to send him away so he went to meet his other half-sister, Rose, who he had grown up with. Jasmine eventually agreed to speak to him but quickly became uncomfortable when he told her about the close relationship he'd had with their father and he and Rose wondered whether it was worth staying in town. However, when Rose told him the story of their father abandoning Jasmine as a child, he agreed they should stay. They met Jasmine and her boyfriend Cash for brunch but Jasmine found the talk of their father awkward and took refuge in her bedroom. They later went for a walk and he and Jasmine bonded over him working with the ambulance service and her as a nurse. Jasmine asked them to stay in town so she could get to know them and Xander told Rose he was considering settling in Summer Bay permanently. With Rose and Jasmine arguing, Xander tricked them into playing volleyball against each other with him as umpire, which ended with Rose getting a ball to the face and then revealing she had enquired about a transfer to the area, with Xander confirming his decision to move there.
He applied for a job at the ambulance station in Yabbee Creel but didn't get it, and Logan was unable to find him a position at Reefton Lakes. Jasmine decided to take him to the station anyway but on the way they came across a car crash involving Logan and another driver, Millie. With the ambulance twenty minutes away, Xander carried out a needle decompression on Millie himself. He discovered the body of her friend Jo Harding, who had been in the car with her, and broke the news to her at the hospital. Millie accused him of wasting time on her instead of looking after Jo but relented when Jasmine defended him. Xander continued to visit her in hospital after she refused to see her family and learned from Jasmine that Logan had been accused of speeding. When Millie went missing, Xander went looking for her with Jasmine and resuscitated her after she'd tried to drown herself out of guilt, telling her the other driver was at fault. His help at the crash site saw him get a job at the Yabbee Creek station but he was concerned that Millie and Jo's family were planning to sue Logan. Millie then recalled that she caused the crash by taking her eyes off the road to look at a text but refused to tell the police and threatened Xander over the fact he had once had an AVO taken out against him: He had got involved with a woman who claimed to have an abusive ex but had actually been using him to make the ex jealous and accused Xander of harassing her when she and the ex reunited. When Logan was charged with dangerous driving occasioning death, Xander first tried to get Millie to confess then went to Cash and Rose and told them what Millie had told him, leading to her confessing.
He collected Jackie, a woman who had collapsed in pain, from the surf club and clashed with locum Dr Bolton, who failed to find anything wrong with her and refused to give her more pain relief. Xander convinced Jackie to ask for a second opinion. Bolton had him escorted away by security and refused to update him on the case but Xander later learned the second opinion had discovered Jackie had a ruptured ovarian cyst and Bolton had been told not to come back. He realised Rose was attracted to Cash and tried to get them talking, but it just increased the awkwardness. Irene suggested he and Rose rent the flat above the Diner and he managed to talk Rose into it. He invited Cash over for lunch but Rose made things awkward by bringing her new boyfriend Tex Wheeler along to make a point. Rose admitted to him that she loved Cash and he asked Rose to talk to him if she had a problem.
Xander attended an accident site where a teenager died after being knocked off his bike by drunk driver Rodney Jorgensen and had to be restrained from attacking Rodney. He shut himself away in his room at the flat and told Rose that he had tattoos done of any case that affected him. He rejected Cash's attempts to talk to him and, when Irene invited him over for dinner, felt she was interrogating him and blurted out that Rose loved Cash as deflection. He admitted to Rose he wasn't coping and rang a counselling service. However, when Cash broke the news that Jasmine wasn't coming back from a visit to the Shaws' farm, Xander's stress levels rose and he got another tattoo. He did his best to support Rose after Cash was shot. His tattoo became infected but he convinced Rose Summer Bay was good for them by pointing out he hadn't needed one in weeks. After losing a patient who had a fall from a ladder, Xander assured Rose he felt fine. Rose challenged him about hiding the tattoos so he went swimming for the first time since moving to town.
Rose set him up on a lunch date with Bree, only for him to discover she was married. He and Bree wound Rose up by pretending to go on a date anyway and then signing her up for an account on Smouldr. After losing a game of pool with Rose, he had to ask new gym worker Stacey for her number. He arranged a date with her without telling Rose, only for Rose to turn up just before Stacey got there. Rose quickly left but the date was derailed when one of the patrons in Salt had a stroke and Xander had to rush him to hospital. Despite this, Stacey said she wanted to see him again. Their next date was derailed when he ended up helping out behind the bar at Salt during a rush but they still went back to his and slept together. However, he was taken aback when Stacey told him she didn't believe in only seeing one person and would continue dating other people if they kept seeing each other. He was thrown to find she had invited out Nikau and had to explain the set-up to him. He tried to give dating someone else a try but admitted to Stacey he wasn't comfortable with it. They gave just being friends a try but a friendly dinner ended with them kissing. He decided they should stay away from each other but instead Stacey offered to give an exclusive relationship a try. Rose told him Stacey still had a profile on Smouldr and Xander was caught checking her phone. Stacey said she had forgotten about it and her secretive behaviour was because she was organising a trip away. After Stacey and Rose had resolved their differences, Xander went away with her.
He was one of the paramedics on the scene as Felicity, Eden, Justin and Leah were all involved in a car accident and was also the first on the scene after Bree killed her husband Jacob in self-defence. He suggested he and Stacey move in together but shelved the idea. However, Nikau then told him Stacey had taken the phone number of a gym client, Jordan, and Rose admitted she'd caught them together. Xander confronted Stacey, who begged for another chance. However, after thinking it over, he broke up with her. He gained Bree as a flat mate when she moved in with him and Rose.
He tried to convince Remi to go to hospital after he collapsed in pain from an exacerbated hand injury and began taking surf lessons from Mali Hudson. He and his friend Jamie chased off a thief, Brock, trying to steal drugs from their ambulance but a few days later they were attacked by Brock and two accomplices. Jamie was killed and Xander was rushed to hospital in urgent need of surgery, before having a reaction to the anaesthetic and lashing out. He eventually came round after a few days and had to deal with Jamie's death. On being discharged, he learned Jamie's funeral was that day and, when Rose refused to take him, asked Mali for help until Rose relented. The experience left him deciding to quit the paramedics. He went surfing and, although Bree initially said he was fine, he later collapsed. Rose and Mali insisted on keeping an eye on him so he revealed Rose had been looking at Mali's socials. He did agree to go to hospital afterwards however. He took a job as a bartender at Salt and shortly after found Mackenzie crying in the store room, which led to her confiding in him about losing Gabe.
He tried to give his last pay package from the ambulance service to Jamie's widow Kate but she accused him of just trying to make himself feel better. However, they later met up again and shared memories of Jamie. She asked him to accompany her to her stepson Timothy's first football game and he ignored Mackenzie's warning about her being too dependent on him. He supported Kate as she struggled with not being allowed to see Timothy and they shared a kiss. He questioned whether him being around was helping her but the result was them sleeping together. As a result, he decided his involvement wasn't helping and cut ties with her. He advised Bree over her jealousy of Mercedes.