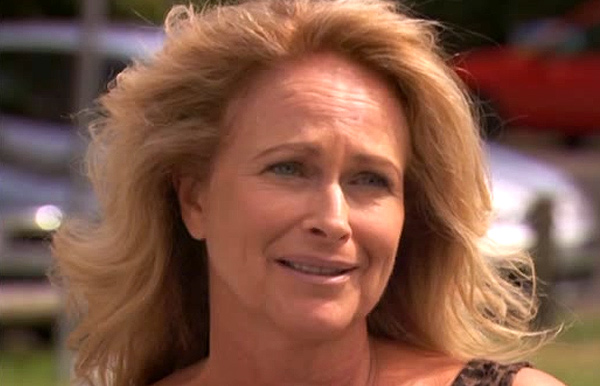 Vanessa Unley (2011)
Sarah Chadwick
Children: Lizzie Unley
---
When Gina signed up to Facebook, she quickly made contact with Vanessa, an old friend from her youth who lived nearby. The fact that Vanessa knew Gina as 'Georgie Girl' and Gina knew Vanessa as 'Vanessa the Undresser' raised a few eyebrows among the school principal's acquaintances, especially since Vanessa was a minor legend locally for a drunken rant at a teacher at Casey's old school. Vanessa met Gina and Xavier at the Diner and quickly showed her credentials by producing a photo album full of mementos from the 1970s, including a photo of Gina topless at a music festival.
Vanessa turned up a few weeks later to help celebrate Xavier's 18th birthday, bringing with her a large crate of alcohol and inviting herself along to his party with his friends. When she learned Gina wasn't letting Xavier go to a music festival, she offered to accompany him but Gina made it clear that she didn't consider Vanessa a responsible adult. The two old friends ended up in a bitter clash of personalities over how Gina had become too serious and how Vanessa needed to grow up. However, when they met up later they accepted both had had a point and decided to go to the festival together.
While Vanessa and Gina were on their way to the festival with Xavier and April, they heard on the radio that it had been cancelled. Although the teens went home, Vanessa convinced Gina to go camping with her, telling her she needed to learn to have fun. After setting up the camp, the pair had a frank discussion about how their lives had gone, with Gina saying that she was happy with how her life had ended up and what worked for Vanessa wouldn't necessarily work for her. However, Vanessa was pleased to realise that Gina considered her lifestyle as valid as her own. They stumbled across John and Xavier, who had managed to get bogged down while coming to "rescue" them, and helped them get out before sending them on their way and staying in the bush together for the rest of the weekend.