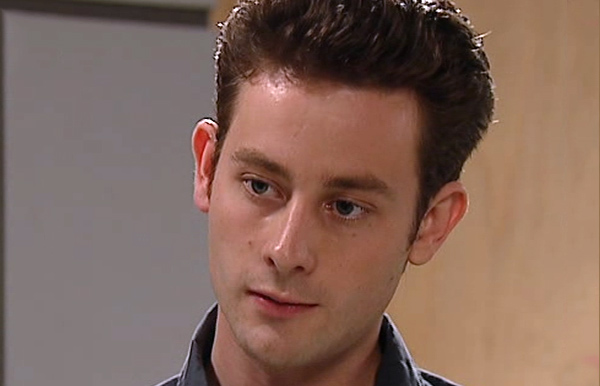 Dr Luke Harvey (2000)
Nick Flint
Episodes: 2853–2854, 2869–2873, 2921–2928
Siblings: A sister
Occupation: Doctor
---
Luke was an old friend of Kieran Fletcher from their time as medical students, who came to Summer Bay to be Kieran's best man at his wedding to Sally. As a result, he was witness to the wedding descending into chaos after it came to light that Kieran had been making advances on Gypsy in the lead-up to the ceremony. Kieran and Luke were left on the beach, with Kieran dismissive of the idea of settling down in Summer Bay, while Luke was unimpressed with his friend's behaviour. They were then approached by Steven and Frank, with Steven challenging Kieran to a fight. As Kieran came off worse, Luke sat drinking a beer with Frank and watching.
A few weeks later, Luke returned to town to check on Sally. His appearance was treated with suspicion by Sally and her friends, with Vinnie attempting to physically escort him out of town, only for Luke to easily knock him to the ground. Luke assured them he had nothing to do with Kieran anymore and soon realised he had good reason to be concerned, as Sally was showing signs of having developed obsessive compulsive disorder as a result of the distress of the non-wedding. He was one of the first people Sally admitted she had a problem to, but he was reluctant to try and help her since he wasn't a specialist. Leah convinced him that, since Sally trusted him, he should at least try and help her as a friend. He helped her start to break the cycle by placing some of the cutlery in the wrong slot and leaving it there, before joining her and her housemates for dinner. When she told him her history, he suspected her compulsions were a response to people deserting her. However, she then kissed him. Although he met her for lunch, he revealed he had decided to leave Summer Bay and refer to her a friend of his, a 62-year-old grandfather, for proper professional help, since her feelings might be a result of her recovery. He promised to return when she was better.
Some months later, when several Summer Bay residents ended up in hospital as the result of a mudslide, Luke was part of an emergency trauma team sent from the city to help out. He was recognised by Gypsy, whose father Joel was among those being treated. When Sally found out, she was upset that Luke hadn't contacted her and angrily accused him of ignoring her messages. After talking again to Gypsy, who confirmed Sally spoke about him a lot, Luke went to see Sally and told her he hadn't received any messages. They slowly pieced together that Luke's sister had been keeping Sally's messages from him, since she had been trying to set him up with one of her friends.
Sally and Luke began a relationship but Luke's placement was coming to an end and he was due to transfer back to the city. On the day he was supposed to leave, he went to the school, where Sally was doing teaching practice, and asked her to marry him. Sally initially didn't know how to respond, but caught up with him as she was about to leave and accepted. However, although Sally would visit him in the city a short time later, this would be Luke's last visit to Summer Bay. A few months afterwards, Sally realised they had got engaged without really knowing each other and called things off.