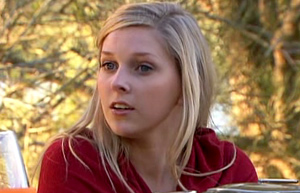 Summer Horgan-Jones (2011)
Jaimee Taylor-Nielson
Episodes: 5219, 5271, 5286, 5312, 5337-5338, 5400
Parents: Warren Horgan-Jones
Occupation: Student
---
Summer was first seen in the Diner when Ruby invited her to come to Liam and Bianca's get-away with her, Xavier and Romeo. She was shocked that Liam was a teacher at Summer Bay High and told the others she was going to do Music as an elective. Ruby's plan was to set up Summer with Xavier to district him from his troubles with April. Later at Liam's, a chat with Bianca makes Xavier think he's been dumped by April, which leaves Summer feeling sorry for him. Watching from afar, it is clear to Ruby and Romeo that Summer's concern has cheered up Xavier as the pair get close and muck around together. As it gets dark, Summer asks Xavier about the girl he's been pining over, and suggests that he move on. The pair kiss, only to be interrupted by April who has returned early from her time away.
After delivering pizza to one of Angelo's customers, Casey Braxton realises that the said customer is going away and decides to hold a party at his luxurious house. Summer attends the party, leaving Ruby and Casey concerned when she already seems drunk early on and they worry that she could be sick on the furniture. Their concerns are realised when Dex finds Summer being sick in a pot plant on the veranda. She then thanks Dex for staying with her in her time of need, revealing that she used to think he was really weird but had changed her mind. The pair call a taxi and go home after she vomits on his waistcoat.
Summer's next appearance comes in the form of her guitar lessons with Liam. Harsh words from Liam leave her very upset when his intoxicated state causes him to tell her that she should give up her music lessons. She can't understand why, saying that she loves music, but Liam bluntly tells her that she won't make a career out of it anyway and is better off focusing her energy on something more worthwhile. April overhears the conversation between the pair which only makes her more concerned about Liam's obviously fragile state of mind.
Thinking Dexter might feel like the third wheel when he spends time with April and Xavier, the couple try to think of ways to distract him. April suggests buying him a pet as he was fond of the goldfish he used to have, but Xavier thinks setting him up with a girl would be better. The girl turns out to be Summer, as Xavier thinks she may feel like she owes it to Dex seeing as he looked out for her at Casey's party earlier in the year. It turns out quite easy to convince Summer to go on a date with Dex, but the pair lack chemistry and it is clear to everyone that sparks are flying between April and Dex when she's the one to laugh at his jokes while the others don't get them. Summer says as much when she decides to leave early, hinting that she had noticed where Dexter's heart really was; with April.
A few weeks later, Summer bumps into Xavier near the beach while he's delivering pizzas for Angelo's. She invites him to a party at Ryan's, but his bad mood gets the better of him and he says that he wouldn't be good company, having just been dumped by April. Summer is surprised that it took so long for April and Dexter to get together, recalling the night that they all went on a double date when Dex and April spent the whole night laughing at each others' jokes. Xavier is left feeling stupid that he didn't realise what was going on while Summer noticed after just one night. A few hours later Xavier sees Summer again outside Angelo's and convinces him to come to the party, asking for a lift as the others have cancelled on her and she doesn't have any other way of getting there. He takes the scooter he uses for work, eventually crashing it on the way to the party. Luckily the pair come out of the accident with no lasting damage. Summer doesn't hold Xavier responsible for what happened, but her father loses his temper when he catches Xavier in Summer's hospital room. Luckily John manages to calm him down and buys him a coffee.
At another party, Casey gets the wrong impression when he sees Ruby and Xavier chatting, thinking they're getting back together when in fact, Ruby had been talking about Casey all night. Thinking they'd broken up, Casey ends up kissing Summer when she goes to see if he's alright. Clearly drunk, Summer confides in Xavier after Casey goes looking for Ruby. The way she'd been treated by boys had clearly had an effect on her as she asks Xavier whether she really looks so easy.