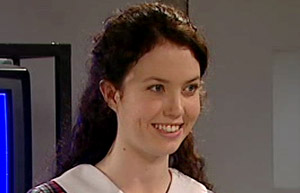 Simone Harris (2001; 2002; 2003)
Chelsea Yates
Episodes: 3105 – 3117; 3126 – 3138; 3314; 3346; 3393; 3452 – 3455; 3489; 3549
Occupation: Student
---
After Nick had broken up with Kirsty in mid-2001 and then Jade had turned him down, Simone, egged on by her best friend. She and Nick started going out. However they faced disapproval, especially when they were seen together in front of Jade.
When Nick was excluded from school he asked Simone if he could borrow her notes, but she had forgotten to bring them and so Jade volunteered to give him his. On the way home Simone started bagging out Jade and Nick, who still had the hots for Jade, dumped Simone.
Simone then won the slave auction for Seb, which is greatly annoyed Kirsty. However when she asked Seb when he could do it, Kirsty had a go at her for being insenstive, but Seb understood she didn't know.
Simone started encountering some family problems. Her mum and dad were divorced. With Shelley's help at the drop-in centre she was soon able to sort things out.
Simone and Jade slowly became friends and started helping Jade get together with Nick. When Jade and Nick finally got together howeveer, Simone thought that she had just been used and stormed out.
Simone made several fleeting appearances throughout the next year and a half; auditioning for a part in the Eisteddfod; accusing Nick of attacking Angie, appearing at Don's farewell.
She also gave a speech right before Angie's infamous uncovering.