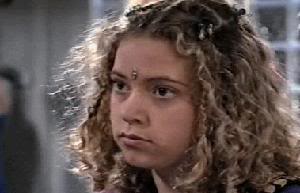 Daria Ellis (1998)
Tamra Williams
Episodes: 2410-2472; 2486-2499
Parents: Sean and Tanya Ellis
Occupation: High School Student
---
Daria Ellis was the hippy teenager to whom Sam Marshall was attracted in 1998. When they started dating, the rest of the school took little time to start ridiculing Sam for dating a weirdo, but he stayed with her. However, Daria was fighting a personal battle over whether to reveal to him that she suffered from epilepsy. She couldn't quite muster the courage to tell him, resulting in the amusing line "I've got something… it's a lollipop".
Luckily for Daria Sam supported her when she was finally able to tell him the truth. Her next problem was her father's relationship with Sally Fletcher – Daria wasn't too pleased that the first she knew of the relationship was stumbling upon them emerging from her father's room in a state of undress. Sally eventually managed to win disapproving Daria around, but not long before Daria's estranged mother returned to town.
She went to considerable lengths to reunite her parents but their bickering meant that mom Tanya was soon heading home alone.
Daria's relationship with Sam fizzled out and the final nail in the coffin was when he discovered that she had been planning to dump him. With him turning his attentions to newcomer Hayley, Daria faded into the background and her current whereabouts are unkown.