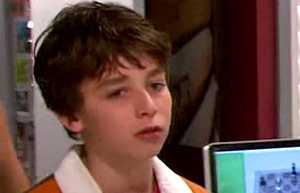 Jamie Denham (2009)
Lachlan Campbell
Episode: 4980
Occupation: Primary school student
---
Jamie hung out with Riley Radcliffe and his other two friends. He was at the Surf Club setting up the pool table when Riley boasted that he could play pool with one hand tied behind his back and Jamie wanted to see him try it.
At the Diner, Riley warned VJ to stay out of his way and Jamie told Riley to keep his voice down. When Romeo told them both to leave the Diner, Jamie left quietly whereas Riley knocked VJ over.
When Miles mentioned that Riley's Dad had lost his job in front of Riley's friends, Jamie mentioned that he was a "loser".
Jamie was with Riley and his friends when they confronted VJ in the Diner car park as he went to soccer practice but upon seeing VJ's Mum, Riley threatened him before they all walked away.
Jamie was one of the boys that kicked and attacked Miles senseless while he was having an outdoors shower at the beach. After the attack, the boys were seen running away from the scene of the crime.