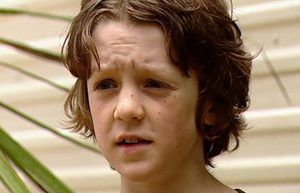 Antonia 'Toni' Davidson (2001)
Rowan Witt
Episodes: 3003-3017
Parents: John and Barbara Davidson (deceased)
Grandparent: Leo Davidson
---
Whilst returning home from swimming in a creek, Noah and Hayley found a little boy hiding in the back of their car and found themselves chased by a farmer. The boy then hopped out.
Toni decided to start hiding in the caravan park, injuring Tom Nash who was checking out one of the old caravans. Kirsty managed to find Toni and Shelley set about finding out about Toni, first of all returning to the farm that Noah and Hayley had picked up Toni, where they found his grandfather, Leo Davidson.
Shelley talked to Leo about Toni, but he was soon on the run again. Noah, subsequently located Toni and was chasing after Toni when he cut his leg on barbed wire fence. The cut was so deep that it required Toni to go to hospital where Dr Wilson revealed to a shocked Shelley that Toni was a girl and not a boy.
Upon this discovery, Toni slept with the twins, where she was having terrible nightmares. However, when Jade's ballet friend, Melissa mistook Toni for a boy, Jade and Kirsty gave her a makeover, making her look more girly.
Toni's father, John, then turned up on the scene, kidnapping Toni from the caravan park. Kirsty alerted Rhys who chased after Toni and John, and managed to stop them before they escaped. With Leo agreeing to testify against his son who had been abusing Toni, John was put into custody.
However Leo said that he was not the correct person to bring up Toni and so Beth, sorry DOCS worker Janice Angelo, arranged for Toni to be taken in a by a family down the coast and so Toni farewelled the Sutherland's, Noah and Hayley and left for his new family.