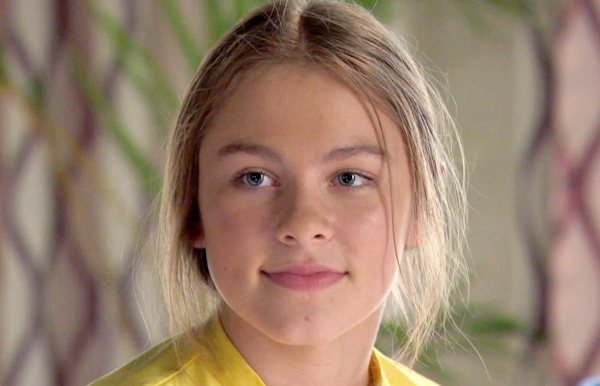 Darcy Callahan (2011-2014; 2016-2017)
Alea O'Shea
Episodes: 5346–6017; 6565–6587
Date of Birth: 10th May 2002
Parents: Tegan Callahan (deceased) & Heath Braxton; Bianca Scott (stepmother)
Siblings: Rocco Scott-Braxton (deceased) & Harley Braxton (both half-siblings)
Occupation: Student
---
Darcy was the daughter of Tegan Callahan and well-acquainted with the Braxtons, who all seemed fond of her. She returned to the area with her mother and was first seen greeting Brax by the beach and asking him to watch her surf; she also cheerily greeted Casey when they ran into each other shortly afterwards. A few weeks later, when Brax was stabbed, Tegan announced to Brax and Charlie that Darcy was Brax's daughter, something she had always denied in the past. She also told Darcy that Brax was her father and brought her to hospital to see him.
Cheryl invited Darcy and Tegan to the house to spend the day with her, Brax and Casey, where Darcy gave Brax a photograph of herself. Brax later met Darcy on the beach and gave her a surfboard as a belated birthday present. However, it was also left to Brax to tell Darcy that Tegan had been lying: Brax was her uncle and Heath was her father.
Heath also soon learned Darcy was his daughter. When the great storm hit the area, Heath collected Darcy from Mangrove River Primary and took her to the shelter at Summer Bay High, introducing her to Bianca. However, he had failed to let anyone know he was taking her and Tegan soon turned up at the school in a fury. Tegan insisted on leaving with Darcy but on their way home a tree fell on their car, fatally injuring Tegan. Darcy was unhurt but fled the scene and was found by Brax wandering around in the bush.
Darcy's maternal grandmother Connie took over custody of her but Heath remained in close contact and she was a regular visitor to him in Summer Bay, also getting to know Bianca who was often pressed into service as a babysitter while Heath was busy with family problems. On one early visit, Heath and Bianca took Darcy to the Diner, where Colleen was reluctant to serve them. Roo stepped in, making Darcy some spaghetti, and Heath proudly told Darcy she would have to get used to being treated like a Braxton. However, as Heath and Bianca became estranged and Bianca reunited with Liam, Darcy's visits to the beach house became less welcome. When Darcy went to the house to show Bianca her toy pony, which she had named Bianca, April greeted her cheerfully but Liam being there made it awkward and Bianca cut the visit short.
Darcy bumped into Liam and Bianca at the hospital while visiting Brax with Heath and learned that Bianca was pregnant. Darcy began asking Heath questions about when Tegan was pregnant with her, leaving Heath awkward about the fact he hadn't been involved. Darcy later learned, when she overheard Heath and April talking, that Heath was the father and angrily confronted Bianca about not letting him be involved. Heath took her round to apologise, but this resulted in Liam finding out that they knew about the paternity; he made plans for them to leave town together and stopped Darcy seeing Bianca. After Liam and Bianca's split, Bianca became more accepting of Heath and Darcy being involved in the pregnancy, giving them a DVD of her ultrasound.
Darcy went to see baby Rocco when he was born and also met grandfather Danny for the first time when he was released from jail. She began to view Bianca as a stepmother and, when Harley was allowed to come home, was upset that he was allowed to live with Heath when Darcy wasn't. Bianca found the situation awkward but eventually agreed they should all be a family. However, not long after, Harley died, and Darcy had to attend the funeral. She later had a meal with Heath and Bianca but Bianca scoffed at Darcy's insistence that they were still a family, although she later apologised.
Darcy ran away to Heath and Bianca when Connie fell ill with flu, worried she was going to die as Tegan and Rocco had done. She told Heath she wanted to live with them and Heath applied for custody, but Connie opposed the application. Not only was Connie awarded custody but Heath was stripped of visitation rights, meaning Connie had control over when they saw each other. Someone collected Darcy from school without Connie's permission: This turned out to be Adam Sharpe, using her as leverage to force Heath to do a job for him. She was dropped back with Heath and Bianca, thinking she had simply been having a sleepover with one of Heath's friends, when Brax agreed to do the job. Connie forced Heath to tell Darcy what had been going on and she was upset that his past was stopping them from living together.
Connie abruptly cancelled a visit when Darcy won a swimming carnival, which Heath hadn't known about. Bianca convinced Connie to let Darcy stay the night with them but Heath took her to the beach instead of school the next day and Constable Stevenson ended up taking her back to Connie. Heath started to get himself sorted but Darcy then called to say Connie had taken her to another state. Since he wasn't on the birth certificate, Heath couldn't object without a DNA test and decided not to ask for one, since Darcy might take it as evidence he thought he wasn't her father.
After the bad blood caused by Adam and Ricky's scheming had been exposed, Darcy and Connie suddenly appeared while Heath and Bianca were on the beach. Connie offered to put Heath on the birth certificate and allow sleepovers and unsupervised visits on condition he never went for full custody. However, when Darcy ran away to Heath's in the middle of the night, Connie agreed to put him on the birth certificate, move back to the area and allow proper access.
Darcy gained a new friend when she and Heath ran into Sally and Pippa on the beach. On the morning of Heath and Bianca's wedding, Cheryl brought Darcy to the Braxtons' where Darcy proudly showed Heath he was now on her birth certificate. However, the day ended unhappily when Darcy saw Bianca punch Heath at the altar on learning he had cheated on her. Heath told Darcy it had been his fault and Darcy saw them married the following week.
Darcy spent the night at Heath and Bianca's prior to starting at Summer Bay High. Since Bianca was still suffering the after-effects of her brain injury, Heath warned Darcy to go easy on her. However, Bianca got fed up of being treated with kid gloves and snapped at them, prompting Darcy to spend the night in the main house. Bianca and Leah assigned Jett to show Darcy around school, resulting in Darcy developing a crush on him. When she saw him chatting with his friend Ella Smith, she threw a drink over the other girl. She initially tried to claim Bianca's brain injury had made her imagine it but Bianca managed to pull her back into line.
Heath introduced her to her new brother Harley, the result of his liaison with Jess Lockwood. However, Darcy again felt jealous about Heath spending more time with another child, and blamed Harley when she witnessed Heath and Bianca arguing at Gina's memorial. She took Harley and ran off into the bush, but after spending a night there and getting lost she realised Harley was unwell, having become severely dehydrated. She called Heath and managed to give him enough clues to work out where they were. Heath, Brax and Bianca found them and took them to hospital. Heath initially ignored Darcy, but after she had been given the all clear he assured her he loved her and Harley the same.
Darcy went for a juice with Jett at the Diner but went home in tears after he told her he only wanted to be friends. When Heath had a go at Jett for upsetting her, an embarrassed Darcy locked herself in the bathroom for several hours. However, the incident prompted Heath to decide to go for custody again. Phoebe accidentally let the plan slip to Darcy, who was delighted, despite Heath warning her it might not happen. Sophie asked to see the pair and told them Darcy was intellectual gifted, in the 98th percentile.
Heath left Darcy with Jett on the beach, but when she was alone she fell off a boat while practising surfing and hurt her arm. She hid the injury from Heath, but eventually the pain got so bad that the next morning she ran back to the beach and sat crying. Brax found her and she explained to Heath that a friend had been taken away from her father when she hurt her arm. Heath convinced her to go to hospital, but the delay and Darcy's reluctance to say what happened made Nate suspicious and he ended up reporting Heath to Social Services for possible child abuse.
Darcy was upset at being kept apart from Heath and rang him from school. Zac and Leah only allowed Heath a brief glimpse of her, prompting Darcy to go round to his house. Heath wanted to go on the run with her and Harley but Brax talked him out of it. Although Heath was cleared, Connie forced Darcy to tell her about Heath's custody plans and banned them from seeing each other.
Heath decided to move to the city, where Bianca had found work, and he and Brax visited the house to say goodbye to Darcy. However, the next morning, Darcy turned up with Connie, who explained she had tried to run away. Heath told her to stay with Connie, but seeing Darcy with Heath and Harley made Connie realise she belonged with them. Darcy said goodbye to Brax, Casey, Kyle, Ricky, Cheryl, Irene and Phoebe at a family barbeque before going to the city with Heath, Bianca and Harley.
When Bianca and Heath both returned to Summer Bay in late 2016, Darcy was mentioned as staying with Cheryl. However, she came to the hospital with Cheryl when Heath needed surgery on a stomach bleed caused by alcohol abuse. There, she angrily told Heath and Bianca, who she could tell were having problems, not to talk about getting divorced since she and Harley didn't want to lose their family. After going to get drinks with Irene and Cheryl, she was delighted that they agreed to give it a shot, and the three of them moved back to Summer Bay, staying with Irene at the beach house. However, Darcy refused to go to school on her first day, upset that Heath and Bianca were still arguing. This prompted them to go away on their own for a belated honeymoon.
Heath and Bianca returned at the beginning of 2017 and Darcy was also reunited with Harley, who had been staying with his mother's parents. However, she was frustrated to walk in on Heath and Bianca in another heated exchange. Believing they were going to break up, she told them she wanted to live with Bianca when they did. However, she was delighted to learn the real reason for the debate: Bianca was pregnant again. Bianca decided they needed to move back to the city so she'd be close to a hospital if anything went wrong. The family said a quick farewell to Irene, where Darcy reminded her she'd broken her favourite mug during the stay and said she'd make sure they came back to visit, before driving out of town again.