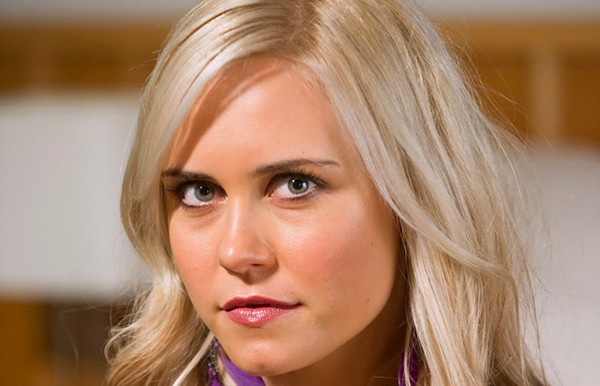 Tegan Mary Callahan (2011)
Saskia Burmeister
Episodes: 5331–5379
Parent: Connie Callahan
Child: Darcy Callahan
---
Tegan was an old on-off girlfriend of Brax's, who Cheryl summoned back to the area after hearing Brax had a new girlfriend. After meeting with Brax, Tegan went to see Heath to get information from him, then visited Colleen, who remembered her from when she was at school, at the Diner and got the gossip about Brax from her. When she saw Brax and Charlie in an intimate pose on the beach, she quickly realised who Brax's new girlfriend was and attempted to blackmail Charlie. Brax stepped in and threatened Tegan into leaving town.
Tegan began seeing Jake Pirovic, a rival of Brax's, but some weeks later she warned Brax that Jake knew that Heath and some of the River Boys were planning to raid his drug crop and was waiting for them with shotguns. Brax tipped off the police, who arrested everyone, and Tegan deliberately let Casey know Brax's role in things. Tegan then went to Brax for help after Jake threatened to hurt her and her daughter Darcy if she didn't hide his drug supplies. Brax refused so she instead went to Heath, who hid the packages at Casey's place with Brax's grudging acceptance. However, Heath then panicked and tried to do a runner with one of the packages; Tegan and Casey failed to stop him and he was caught with the package and arrested.
On learning Brax and Charlie had split up, Tegan went to see Brax in his motel room and slept with him. Charlie then turned up and saw Tegan in Brax's bed. Brax told Tegan it had been a mistake. She told Brax that Jake knew he had the drugs and wanted them back. When Brax was stabbed by Jake during an altercation, he called Tegan who made an attempt to help him with amateur first aid. She later went to see him in hospital but found Charlie there and told her that Brax was Darcy's father, something she had always denied. She later brought Darcy to the hospital, telling both her and Brax about their supposed relationship, but was reluctant to agree to a DNA test.
Cheryl invited Tegan and Darcy to spend time with her, Brax and Casey, and Brax decided to forget about the DNA test. However, Casey then overheard Cheryl telling Tegan she knew she was lying about Darcy's paternity but would keep quiet. He told Brax, who confronted Tegan. Tegan admitted Heath was Darcy's father and left it to Brax to break the news to her. She then visited Heath in prison and told him both about Darcy and about Charlie and Brax's relationship, encouraging him to get himself released. She then nominally began dating the still in prison Jake to stay in with the Pirovics.
When the area was hit by a storm, Heath took Darcy to the shelter at Summer Bay High without telling anyone. A furious Tegan tracked her down and, against the advice of Bianca and Heath, took her out into the storm. Next morning, Charlie was called to an accident scene and found a tree had fallen on Tegan's car, badly injuring her; an unharmed Darcy had wandered off and was found by Brax. Charlie sat with Tegan until the ambulance arrived and Tegan admitted it was Charlie that Brax really loved. As she was being rushed into theatre, Tegan admitted to Brax that she had told Jake's brother Hammer about him and Charlie and that he had tipped off the police about the drug crop. Brax later reported that Tegan had died in theatre.