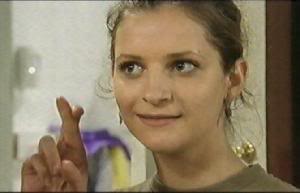 Aimee Cooper (2002)
Rhiana Griffith
Episodes: 3260; 3292-3222
Parents: Graham and Alice Cooper
Occupation: Waitress
---
Aimee first appeared at the Sarah McKay Drop-in Centre for the orienteering competition. She ended up on Dani, Josh and Brodie's teams. However Dani and Aimee's attitudes clashed and they ended up lost which meant that they lost. When June and Don decided they didn't want their trendy t-shirts they got for winning, Aimee got one and left happy.
After the Mirigini sinking, the diner was short staffed and thanks to Noah talking Leah around, Aimee got a job waitressing at the diner. However was her piercings and rather alternative dress sense, she wasn't Colleen's choice for the job. However when asked Alf was convinced by her.
It didn't take long for Aimee and Alex to start getting cosy around the diner and start going on dates. However Aimee's risk-taking was far removed from Alex's ideas of fun.
One thing that Aimee was adverse to doing was stripping off, surfing in her underwear one morning before work and then holding a bikini car wash with Hayley in an attempt to raise money for to keep things running at The Palace.
When Josh left The Palace, Aimee made herself aware to Noah that she was looking for somewhere to stay and after discussion Noah and Hayley decided to let Aimee stay with them. Aimee then began inviting herself to Noah and Hayley's on party. On one occasion Aimee borrowed one of Hayley's dresses and then did her hair to look exactly like Hayley.
The final straw came with Aimee tried slipping into bed with Noah. When Noah and Hayley confronted Aimee she took off, getting into a ute. From her belongings that she had left Noah and Hayley were able to piece together what had caused Aimee's behaviour. Aimee's father had died when she was 14 and her mum had deserted her soon after.