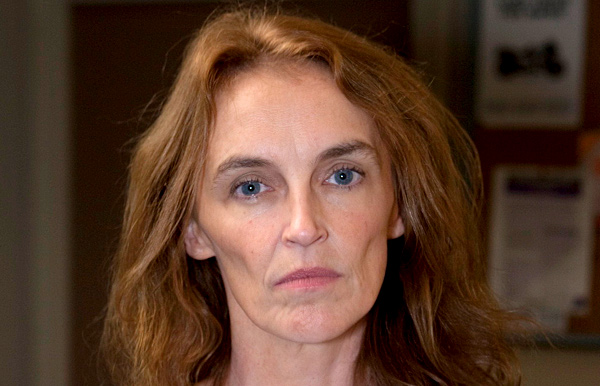 Cheryl Braxton (2011; 2012; 2013; 2014; 2015; 2016)
Suzi Dougherty
Episodes: 5243–5397; 5547; 5619–5625; 5712–5713; 5813–5818; 5847–5848; 5928–5958; 6017; 6056–6057; 6145–6147; 6560–6565
Spouse: Danny Braxton (deceased)
Children: Darryl, Heath & Casey Braxton (deceased)
Step Children: Kyle Braxton
Occupation: Fish market employee
---
The Braxton matriarch and mother of Brax, Heath and Casey first encountered the residents of Summer Bay when Romeo came over to help Casey with his homework. While Heath mocked Casey's efforts and Brax was supportive, Cheryl showed no interest in the conversation, focusing on checking a scratchcard. She was later called in to school by Gina, who suspected Casey was dyslexic, but Cheryl was dismissive of the suggestion and said it was the school's fault if they couldn't teach Casey.
When Charlie was looking to collar Heath for something, she pulled over his car for speeding only to find Cheryl driving. Despite Brax trying to intervene on her behalf, saying Cheryl was on the verge of losing her license, Charlie gave her a ticket. The same day, Casey was suspended from school for fighting with Xavier and Cheryl convinced him to drop out and take a job at the fish market.
When Ruby convinced him to go back to school, Cheryl threw him out of the house so Brax found him somewhere to stay. Heath mentioned to Cheryl that Brax had a new girlfriend, seemingly prompting her to get in touch with Brax's old girlfriend Tegan.
When it became common knowledge that Charlie and Brax were seeing each other, which prompted a bad reaction from the River Boys, Cheryl tried to order Casey to break up with Ruby and also went to the police station and threatened Charlie and Ruby. She was arrested but released without charge.
Brax and Casey later came to see her to ask her about Tegan's claim that Brax was the father of her daughter Darcy. Cheryl seemed happy for him to believe it, inviting Darcy over and calling her her granddaughter, but when she thought Casey and Brax had gone she made it clear to Tegan that she knew it wasn't true. In fact, Darcy was Cheryl's granddaughter but her father was Heath, not Brax.
Cheryl was left living alone after all her sons moved to Summer Bay. Despite disapproving of Charlie and Brax's relationship, she sought to try and end the feud between her sons and the Pirovics by identifying the member of Hammer's gang who had shot and wounded Charlie to her.
Later, the Braxtons heard that Cheryl had run up debts of thousands of dollars on the pokies. Brax initially refused to help her, since he needed the money to pay for a lawyer for Casey, who was up on an arson charge. However, when Cheryl assaulted the debt collector and she was left facing charges if she couldn't pay the debt, Brax and Casey agreed to pay.
The following year, Heath arranged for his father Danny to be released from jail. This was bad news for both Brax and Cheryl, since not only had Danny been violent but they had spent the proceeds of his last robbery. Brax convinced Cheryl to go away until things quietened down. She returned in the aftermath of Danny's death and parked herself on Heath and Bianca, who had just brought their son Rocco home. Cheryl wasn't happy with the couple, feeling Bianca was no good for Heath and would dump him sooner or later, but left them alone when Bianca stood up to her. However, the harmony wasn't to last long as Rocco died of cot death not soon after.
Cheryl came to Summer Bay for the funeral, arguing with Bianca over her cutting Heath out of the funeral arrangements and also supporting Casey over his recent ordeal at the hands of Kyle, Danny's illegitimate son. While there, she thanked Irene for looking after Rocco.
She attended Heath and Bianca's engagement party the following year, where she continued to be unimpressed with the couple but was welcoming to Casey's new girlfriend Tamara. She also met Kyle for the first time and made her disdain of him plain, also realising he liked Tamara, which prompted Casey to hit him. Ricky explained Cheryl was protective of Heath because he was her favourite. Bianca tried to make an effort, but when she mentioned Heath attending counselling, Cheryl accused her of making him think there was something wrong with him. However, she again backed off when Heath stood up to her.
Cheryl arrived for Heath and Bianca's wedding a few months later with Darcy in tow and was outraged to find Tamara was now dating Kyle. When Heath admitted during the wedding that he had cheated on Bianca and she punched him, Cheryl took Bianca's side. She was therefore infuriated that Bianca forgave Heath and rearranged the wedding for the following week. Ricky told her that if she couldn't support the couple she should leave and Cheryl behaved herself during the service, although she had a go at Tamara for hurting Casey during the reception.
She returned again for Brax's court hearing after he confessed to killing Johnny Barrett, where she was somewhat mistrusting to find Tamara was now with Casey again and disagreed with Brax confessing.
During the proceeding, she tried to shout down the prosecutor when he tried to have the charge upgraded to murder and ended up exchanging barbs with Debbie Barrett and also arguing with Ricky. She was back in court to see Brax sentenced to ten to fifteen years.
After Brax was released on the discovery that Adam Sharpe was the real killer, he went to confront Cheryl over the fact Johnny had been carrying a photo of Casey with him. Cheryl admitted that Johnny was Casey's real father. She asked Brax not to tell Casey but he insisted on doing so. Heath asked her to look after his new son Harley but Cheryl forced Bianca to do it instead. She later spent time with Casey and told him that Johnny was the only man she'd ever loved and Casey was all she had left of him.
She made a short visit to town for Heath's farewell when he decided to move to the city with Bianca, Darcy and Harley. Although she had softened slightly towards him over the years, Cheryl continued to be condescending towards Kyle but Phoebe came to his defence, pointing out he was just as much Brax and Heath's brother as Casey was.
She returned for Casey's funeral, where she blamed Brax for not keeping him safe. However, after witnessing him receiving a taunting note from Jake Pirovic, Casey's killer, she apologised to him. She spoke to Andy at the wake and told him that she had wanted Johnny to leave Debbie and be a family with her and Casey, but he had refused because he didn't want to abandon Andy.
Kyle was the one to tell Cheryl that Brax was on trial accused of killing Dean Sanderson. After Brax had turned down a plea deal and insisted on pleading not guilty, Cheryl attended his potential farewell party with the River Boys on the beach.
There, Kyle told her that he knew Brax had been sending her money, and with him running the restaurant he would make sure she was looked after. She was in court when the prosecutor requested a warrant to search for the money Brax had taken from Dean, which Ash had hidden at Angelo's, but didn't appear to return for the sentencing.
Cheryl made her last trip to Summer Bay in late 2016 when she tried to give Heath and Bianca a talking to over their marital problems.
She later brought Darcy to the hospital when Heath was admitted with a tear in his stomach caused by alcohol abuse. She had lost none of her old penny-pinching ways, "forgetting" her purse so Irene would pay for coffees, and witnessed Heath and Bianca agreeing to give things another go.