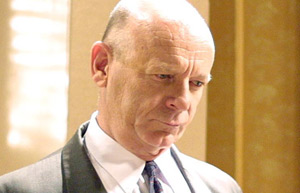 Detective Inspector Mike Carter (1998; 1999; 2000; 2001; 2002; 2003)
Stephen Leeder
Episodes: 2434; 2437; 2527; 2555; 2560; 2566; 2588; 2595; 2604; 2621; 2713; 2716 – 2723; 2750; 2756; 2761; 2825; 2840; 2911 – 2916; 2986 – 2988; 3029 – 3038; 3050; 3118; 3181; 3186; 3190; 3198; 3221; 3230; 3326; 3352; 3390 – 3391; 3405 – 3406; 3425; 3488; 3491 – 3492; 3605
Marital Status: Twice Divorced
Occupation: Detective Inspector
---
Mike Carter first appeared in Summer Bay in 1998 when he had to charge Will Smith for an assault he had carried out on Mrs Wade. He was next seen trying to convince Joel to join the force.
By the time Carter was next seen he was providing information for his now colleague Joel regarding David D'Angelo. He then got caught up in the dispute between Joel and Terri regarding Tom and as things got more strained, he had to put Joel on probation for his conduct.
After a few more minor law stories, Carter had a flurry of appearances when Robert Perez escaped prison and returned to further terrorise the Nashes. Carter also helped in the bungled operations to capture Jesse who was committing crimes at his garage.
Carter then had to investigate Alicia Campbell's supposed murder, but rather predictably it turned out to be just an accident. Carter then oversaw the hostage situation at the school, successfully bring the seige to an end.
Carter then found himself investigating the trouble that the Phillip boys were bringing on the bay, first Kane's beating, Shauna's kidnapping and subsequently Dani's supposed rape.
Carter's next major case was Vinnie's fraud. However Carter couldn't do anything to stop Vinnie being wrongly locked up. When Jesse returned to the bay in 2002, Carter frequently found himself talking to Jesse, but when Grigg came to the bay, the two became unlikely allies.
Carter then started the investigation for the Angela Russell murder case before giving way to more senior detectives.
Carter's final appearance was late in 2003 where he discussed Dani's attempted murder on Kane and then was never seen again, replaced for a short while by the better looking Pia Correlli.