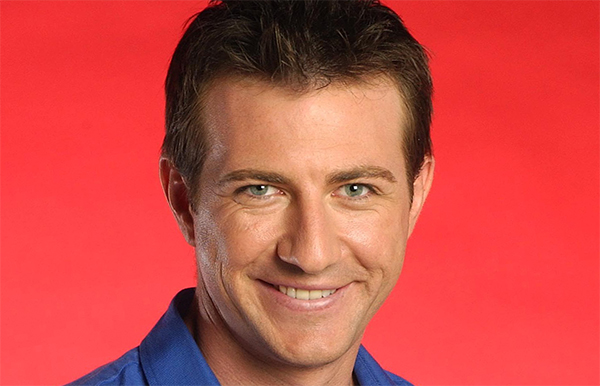 Paris Burnett (2002, 2003)
Rhett Giles
Episodes: 3266-3298; 3469-3593
Siblings: Troy Burnett
Occupation: Summer Bay High Headmaster
---
Paris Burnett was born in 1966, the youngest of 2 boys. His older brother Troy was 4 years older than Paris. Paris always wanted to be a teacher and met and married his wife when the two trained together in 1986. They were both 20 years old. They planned on having several children but there plans were cut short when his young wife became ill and died after a long illness in 1992. Paris threw himself into his career and quickly moved up the career ladder as a teacher. Always a rather serious and principled young man he impressed the department with his dedication and determination. When Donald Fisher was suspended during a departmental plot to close Summer Bay High, Paris was sent to hold the fort.
Paris arrived at school early for his first day on the job. He had already met several of the students, Nick, Seb and Jade, whilst driving around looking for his lodgings. They were impressed by his funky red sports car. The first person Paris met at school was Irene. They were immediately attracted to each other and both were a bit bemused by this. In the coming weeks Paris was impressed by Irene's intelligence and gave her more and more responsibility within the school. She lapped it up. Irene was confused by the growing attraction between them. When they went to Hayley and Noah's paint party they spent the day chatting, and painting and learnt that they had a lot in common. The not least of which was that they had both lost someone they loved.
Paris managed to save the school when Don handed him some incriminating information about the departments mishandling of the situation. They held a school dance to celebrate, and Irene organised it. Paris came over to Irene's for dinner and they talked a lot. It was obvious they liked each other. It was eyes across the room time when Irene arrived at the school dance looking a million dollars in a long black dress. Paris drove her home; the car broke down so he walked her rest of the way. He told her he had things to say, but they decided to leave it till another day. He clearly wanted to kiss her and later said he had lacked the courage to do so….awwww…
When June informed Irene that Don had got his old job back Irene decided she couldn't pursue a relationship with Paris because he was going to leave. He was very disappointed. They found it hard to be around each other. They both attended the Summer Bay sesquecentenary dinner on the Mirigini and decided to enjoy the moment. During the storm which sank the Mirigini they were shipwrecked on an island together, decided what the heck, kissed and decided life was too short for regrets. Nick wasn't impressed as he thought Paris was too young for Irene, he was 12 years younger. Paris told him he intended to be there for the long haul and was looking for a job close to Summer Bay. Nick eased up. Irene was sad when Paris got posted to Orange, which is hundreds of miles from Summer Bay. However, she was over the moon when Paris turned it down saying he wanted to be nearer to Irene. The night before leaving for a job in the city he spent at Irene's and they said a very fond and touching farewell the next day, promising to see each other at week ends and in school holidays.
Paris retuned 6 months later, Irene just having put a hold on their long distance relationship because Nick was in trouble again. Paris took over from Don when he left to be with June. Angie Russell was not impressed. Irene was confused and decided that things were not going to work because of all the baggage at the beach house, Nick and his problems, and the age difference. Paris had his work cut out to convince her. Their relationship had always been pretty passionate and after one particularly passionate afternoon, when they got caught by the four musketeers known as Kirsty, Jade, Nick and Seb she called it a day and quit her job. Paris did not give up and worked hard to win her back. Irene finally realised she loved him and it was all on again. A month later he moved into the Beach House. They were both over the moon.
Paris did not adjust to life at the Beach House at all. He liked order and calm and found Irene's spontaneity hard to live with. Nick made life an absolute hell for them and Paris moved out. Irene was devastated even though he wanted to keep seeing her, and for a while did not want to see him. They slowly got back together, after Irene was diagnosed with depression and Paris came to help her. He started to stay over again and things seemed to be moving forward.
One day Paris got a call which changed their lives. His brother and his sister in law had been killed and Paris had to go and look after his brothers children. He asked Irene to move to the city with him. After much thought Irene said she loved him but she could not leave Summer Bay. She did not think their relationship was strong enough, she thought he wanted her to change and to be someone that she couldn't be. They were both very sad, said a very tearful and touching goodbye, kissed for the last time, and Paris left the bay.
Paris was mentioned a few times in the weeks following his departure but no one knows what has become of him since.