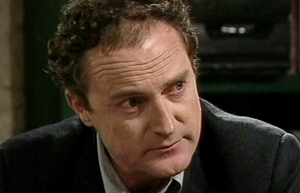 Detective David Brannigan (2003)
Richard Healy
Episodes: 3492-3497
Occupation: Police Detective
---
Detective Brannigan was the homicide detective sent from the city to investigate Angie Russell's death, teaming up with Inspector Carter. Their first port of call was with Jesse, who had discovered the body. Jesse had been with Leah that night but wanted to keep her out of it, however she ended up coming forward and giving him an alibi. With the amount of trouble there had been between Angie and the Sutherlands, Brannigan didn't waste much time in interviewing Rhys, since Angie had turned up at a party drunk and insulted him just before she died, and warned him not to leave town.
Brannigan found most of Summer Bay on his suspect list, including Josh West, who Alf had seen arguing with Angie. Irene came to the station and admitted she had been to Angie's house that night but claimed she left when there was no answer, but it wasn't enough to allay Brannigan's suspicions. He went to the school to interview Nick, Seb, Kirsty and Jade but Paris put a stop to the interview when he became too persistent. He also asked Flynn if Nick had confided in him about going to the house.
When some female DNA was found at the scene, Brannigan had samples taken from all the female Summer Bay High students and several of the town's other women. When he and Carter got the lab results back with a match, they went to the Sutherland house. However, before they could finish explaining why they were there, Rhys, who believed Dani was the killer, claimed he had killed Angie. They took him to the station to take a statement despite realising he was lying and, after listening to his unconvincing confession, Brannigan revealed they had actually got a DNA match from Jade.
Dylan then came to the station and revealed he had killed Angie: He had gone to the house to confront her and pushed her during an argument, causing her to hit her head. However, he denied moving her body from the lounge room to her bed. Brannigan charged him with manslaughter. Kirsty and Jade came forward and admitted they had moved the body, having stumbled upon the scene and thought Rhys was responsible, hoping to make it look like natural causes. When Dylan heard this, he claimed he had moved the body after all and Brannigan pretended to believe him, saying it would be understandable since he was in shock.
As Brannigan prepared to leave town, he overheard Nick defending Kirsty and Jade to a group of girls in the surf club, saying they hadn't killed Angie but had just moved the body. He warned Nick not to repeat the claim without proof then told the twins that they were lucky and Rhys would explain.