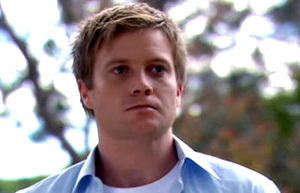 Steve Braeburn (2006)
Sam Lyndon
Episodes: 4229, 4233
Occupation: Science Teacher
---
Steve Braeburn was a teacher at Summer Bay High who had a relationship with student Lee Morton. He called off the relationship when his wife nearly found out but it was too late by then as Lee discovered she was pregnant. Steve ordered Lee to get rid of the baby and took off with his wife and kids on long term leave. However Lee decided not to do what he said as she couldn't go through with a termination.
Steve first appeared on screen after he unexpectedly came back from leave early and returned to his job at the school. Lucas told Lee that the father of her baby was back in town and this caused her to collapse at school. Tony and Sally rushed to her aid and, when Sally figured out that she was pregnant, Lee told them that Lucas was the father. Lucas was shocked but went along with it. Steve was rattled when he overhead Tony and Sally discussing the situation and immediately found Lee and told her she was the biggest mistake he had ever made and that she had to get rid of the baby.
Lucas tried to talk Lee into telling the truth but Steve overheard them. He burst into the classroom and told them that he wouldn't let them destroy his career or his family and if they told the truth he would come after both of them. Despite Lucas being unhappy about lying to his family they continued to keep up the pretence and when Steve approached them on the beach he told them they would make a happy family. This annoyed Lucas and he called Steve a pathetic coward. Steve let them know in no uncertain terms that they had to keep their mouths or he would make their lives very difficult. Sally spotted the altercation and suspected something was amiss.
When Lee and Mattie had an argument in the diner, Lee's bag dropped open and a picture of Lee and Steve fell out. Mattie spotted it and realised who the real father of her baby was. When Mattie got home Steve was waiting outside looking for Lucas. Mattie had a go at him but he tried to deny everything. She called him a pig and told him she was going to tell everyone what he had done. He grabbed her arm and told her not to tell anyone but, when she told him to get his hands off her, he backed off. Mattie then went inside and immediately told Tony and Sally the truth.
Lucas and Lee were talking near the beach when Steve pulled up in his car. Lee was terrified and hid behind Lucas. An angry Steve approached them saying that he told them to keep their mouths shut. He pushed Lucas out of the way and dragged Lee towards his car. Tony then turned up and restrained Steve, allowing a relieved Lee to escape. Steve was then left with the Police and the Education Department to deal with.
Thanks to Karena