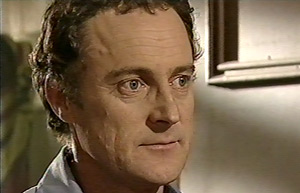 Brian Alcott (2002)
Richard Healy
Episodes: 3197-3199
Children: Miles Alcott
---
Miles' father, Brian, came down to Summer Bay for the coroners inquest into his son's fatal accident. He initially wanted to speak to Alex, but Alex had to get Colleen to send him away.
Brian then went around to see Brodie. He surprised Brodie by saying that he wanted to give Alex some support. Brodie was told Brian about the bench she had erected in memorial. Whilst Brodie went on about how adamant she was to have Alex put in jail, Brian asked her to think of what Miles would have wanted.
Alex was found not guilty and Brian told Alex what a relief it was they could put the whole ordeal behind them. That night, Brian wanted to have one last talk with Brodie about Miles. She declined his offer.
He came around the next morning to see her. Brian told Brodie about the special bond that Miles and Alex had. He said that he didn't hate Alex, he loved Alex and told Brodie that if Miles' family felt like that, Brodie had absolutely no reason to feel that way she felt. Before he left, Brian caught up with Alex and told him not to let this ruin his life.