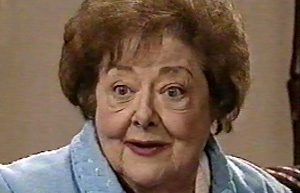 Gladys Adams (2001; 2003)
Moya O'Sullivan
Episodes: 3142; 3150; 3167-3168; 3500 – 3505
Children: Karen Adams
---
Gladys Adams lived in the flat above Jude and Noah with her granddaughter Charlotte. However she was suffering from Alzheimer's and this led to her behaviour been erratic. She walked into the Lawson brother's flat and started complaining about the mess before wandering out in front of Alf's ute and nearly getting ran over.
One night after Charlotte had went to bed Gladys got ready to do some ironing, but was distracted by the TV. Jude and Noah had to pull Charlotte and Gladys from the smoke filled flat, Gladys told Charlotte that it was time she was put in home. She needed help filling out the forms however; she couldn't remember what age she was.
As part of his sentence for assualting Angie, Nick was sent to an old folks home. There he and Seb recognised Gladys. Gladys showed them some bruising they had received she had received and Seb and Nick thought that the nurses of the sentence were mistreating her. However after some investigation they found another resident was attacking Gladys and she thanked Seb and Nick for bringing the abuse to an end.