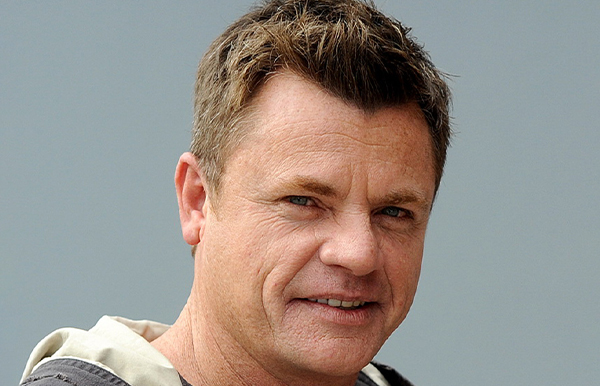 Adam Sharpe (2012-2013; 2014)
Martin Lynes
Episodes: 5627–5677; 5737–5767; 5913–5914
Sibling: Ricky Sharpe
Spouse: Unnamed wife (deceased)
Child: Jamie Sharpe
Occupation: Businessman
---
An old friend of the Braxtons and Brax's former mentor, Adam arrived in town after hearing about Casey being arrested for killing Danny and his subsequent kidnapping by Kyle. Adam was warmly greeted by Brax and Casey and told them he'd heard rumours before of Danny having a second family. He paid off Brax's legal fees and the bail money lost when Casey disappeared, before he and Brax went looking for Kyle. On his return he had a far less warm reunion with Heath: Heath blamed Adam for the fact he went to jail doing a job for him but Brax saw Adam as having saved their family when Danny went to jail.
Aware that Heath and Bianca had recently lost a child, Adam supplied Bianca with drugs and tried to use it as leverage to get Heath to work for him again. He joined Brax in interrogating Clay, who had done work for Kyle, and offered to get his brother off charges in return for information. He gave Brax and Heath the information they needed to track Kyle down in Melbourne. Bianca pulled away when he kissed her but, struggling to be around her family, she started sleeping with him. He told Liam he'd stay away from her if Liam helped organise a party for him, which he took as another excuse to spend time with Bianca. He offered to get rid of Heath permanently but Bianca laughed it off.
He became aware that his son Jamie had become obsessed with Leah after a brief relationship with her. He gave Jamie a false alibi when he vandalised the Diner, but paid for the damage after Liam showed him that Jamie had photoshopped himself into a photo of Leah and VJ. He became increasingly frustrated when Brax began questioning Jamie's behaviour and was seen slapping Jamie by Bianca. He continued holding parties at Salt but Bianca stopped attending when April turned up to prove a point. He helped track down Tamara to back up Casey's story and reluctantly bailed Kyle out when he was arrested for kidnapping Casey.
After Bianca admitted she still had feelings for Heath, Adam got Jamie to befriend Heath and play the part of the abused son, promising to find Leah, who had gone away to avoid him, if he helped. However, Brax cut ties with him on learning he'd been giving Bianca drugs. Adam got Jamie to take Heath out on a boat, knock him unconscious and leave him to drown. After being rescued, Heath, along with Brax, tracked Jamie down. Adam denied involvement but made plans to strike back at the Braxtons, with John having to step in when he pestered Bianca. Brax, Heath, Kyle and Liam arranged to have Jamie held hostage. Brax got Adam to confess to ordering Heath killed and also to covering up Jamie killing Adam's wife after she cheated on him. John and Liam then entered and revealed they'd recorded the whole thing and sent it to the police. Adam and Jamie were arrested.
Released on bail, Adam had Darcy kidnapped to force Brax and Heath to meet with him. He wanted Heath to meet with a drug supplier, Eugene Broad, who had a reputation for killing couriers after being paid. Brax insisted he go instead and Adam had Darcy returned to Heath, unaware she had been in danger. Adam intended to follow Eugene after the exchange and had made no plans to stop Brax being killed. Heath intervened, ambushing the gunman Eugene had waiting. Eugene tried to run over Brax and Adam pushed him out of the way, being hit himself. Brax and Heath believed he was dead.
In fact, even though Jamie also believed him dead, Adam had survived. He enlisted the help of his sister Ricky to get revenge on Brax and Heath for leaving him to die and set up an elaborate frame where Kyle was tricked into buying a gun used in an armed robbery on Adam's own pub. Ricky began to waver upon realising Brax had thought Adam was already dead. Adam threatened to kill Brax if Ricky told him anything. He had the stolen money delivered to the Braxton house, resulting in Casey being arrested.
Ricky tried to leave so Adam had his men hold her prisoner at the house, also having Tamara kidnapped when she asked too many questions. He sent evidence against Kyle to the police and moved Ricky and Tamara to a warehouse. He then called Brax and Heath to let them know he was alive and behind things, telling Brax to choose which of the two girls would be released. He also visited Casey in jail to tell him what was going on. By now, Tamara was nearly catatonic from the experience so Adam had her dumped where Brax and Kyle could find her.
Adam called Brax and told him Ricky was still alive, getting him to come to the warehouse. Brax freed Ricky but Adam shot him. Ricky managed to wrestle the gun away and Adam fled. He followed Brax to the hospital where he overpowered Heath and gave Brax a potassium injection. After being disturbed by Dex and overpowered by Heath, he was arrested by Senior Sergeant Emerson and convinced to reveal what the injection was, allowing Brax to be saved. It was later mentioned he had been given twenty-five years to life for attempted murder, fraud, theft, false imprisonment and firearms offences.
The following year, Casey contacted Adam for help: Brax had confessed to accidentally killing Johnny Barrett and Casey wanted Adam, who had disposed of the body, to back up his version of events to try and reduce his sentence. Adam agreed to speak with Casey if Ricky came with him. He wasn't initially cooperative but later contacted the police and not only backed up Brax's story but confessed that Johnny had still been alive when he found him and Adam had finished him off. Ricky later convinced him to reveal where Johnny's body was so his family could bury him.