Emmerdale's Danny Miller talks shock Aaron Dingle return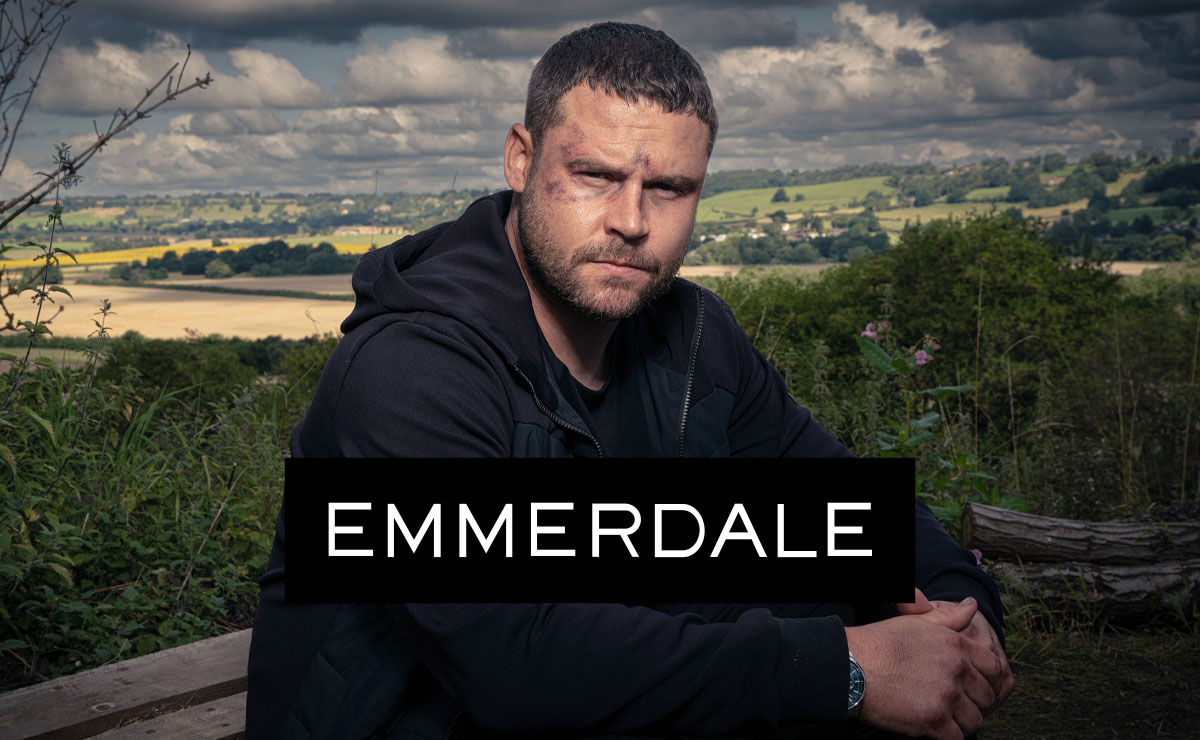 Tonight's Emmerdale revealed the identity of the person Cain and Caleb have been holding captive farmhouse. It's none other than their nephew Aaron Dingle, who returns as a main character!
Cain (Jeff Hordley) and Caleb (William Ash) have recently taken a mysterious trip away, with Cain not even letting on to Moira (Natalie J Robb) about what they were up to.
On their return, they were seen boarding up windows at the old Wylie's farm where it became obvious that they were holding someone there.
Suspicious of Cain, and worried he was getting up to illegal activity, Moira followed him to the farm in Friday's episode.
Although Cain almost managed to convince Moira that he and Caleb were looking to do the place up for Nate, Moira then heard a crash from inside. Finding a locked room, Moira opened the door and saw a familiar face tied up sitting in a chair.
Tonight, that person was revealed as Aaron (Danny Miller), and it came to light that Cain and Caleb had made a dash to Italy following a call from Adam, to save Aaron from himself.
It can now been confirmed that Danny Miller has returned to the show on a permanent basis, after producer Laura Shaw unveiled the actor to EverySoap and other media at a press event last week.
"We've been working really hard to keep it a secret, we've been calling him a different name, driving to work a different way, parking in a secret place…" Laura told us, after Danny entered the studio to whoops from the press. "We've been hiding him all over the place and hoping no-one finds him!"
Aaron was last seen back in October 2022, when he departed the village under a cloud following the death of beloved half-sister Liv (Isobel Steele), and his recent discovery that mum Chas (Lucy Pargeter) was having an affair with Al Chapman (Michael Wildman) behind husband Paddy's (Dominic Brunt) back.
With Liv only having gone out into the storm to mind Chas and Paddy's daughter Eve, after hearing that Chas has been taken to A&E after suffering a head injury, Aaron blamed his mum for Liv's death.
If she had been in the pub, and not out with Al after promising she'd end things with him, Liv would never have died. When he left the village to return to Italy following Liv's funeral, he disowned Chas.
"What you'll see is a slightly darker, different Aaron," Laura revealed. "We'll see just how much Liv's death has affected Aaron, and how much he's pushing people away.
"Having been hurt by the loss of Liv, he absolutely never wants to go through that hurt again, so he's lashing out at the world."
"Of course we also saw deep fractures with Chas when Aaron left, so what's going to happen there?" Laura teased. "I'm pretty sure it's going to be explosive, and given the anger and bitterness coming out of Aaron, I think we'll see it damage some other relationships irreparably.
"The anger will certainly come out in some shocking ways, and will definitely put some big cracks into the Dingle family."
Danny joined us after a screening of this week's episodes to discuss his return further…
What brings Aaron back?
He's been out for a couple of years trying to live a new life in Italy with Adam and his partner Marco. And he's got himself into a bit of, well, a lot of trouble really.
The death of Liv sent him off the rails when he went back. And it was such a quick exit that he didn't really have time to process everything. He's done his grieving off screen and it's not gone the way that he imagined. It's made him very angry at life and quite a few characters within the village.
And so he's just been dragged back by Cain and Caleb after taking something that wasn't his from a fair few gangsters, shall we say. He's been lying about that, which for those who know Aaron from previous years, he's very loyal and very honest and very family orientated.
So this time we see a completely different side to him.
What's Aaron's state of mind at this point?
He didn't he didn't want to come back. I think he was kind of on a self-destructive path that meant that he was more than happy to either kill or be killed over there in Italy. And it's actually Adam who makes the call to tell Cain that.
He's just off the rails and he's lost the plot entirely. And so the state of mind is very much that he's very selfish, quite angry, and maybe slightly depressed. He's not dealt with the grief very well and is constantly looking for a fight.
It doesn't bother him whether he wins or loses, as long as he can have some sort of fight and maybe feel a bit of pain at the hand of someone else.
How does it feel for him to be back in the village for the first time since Liv's death?
I think that most of the time he just wants the ground to swallow him up. It just brings back so many memories of everything that happened with Liv. And he blames Chas tremendously for that, because he believes that Liv wouldn't have been out there in the storm, had Chas not been playing away with Al.
And the fact Aaron had to keep it from Paddy and then leave for Italy with that secret kind of makes him even more angry at everybody. That's not Aaron really.
How is Aaron's relationship with Chas on his return?
Toxic is probably the best way to describe it. I think Chas almost thinks that it's old ground and it's buried, whereas Aaron's the complete opposite end of that because as I said, he blames her for the way he's feeling and the fact that he didn't get the chance to grieve Liv before he had to leave the village.
Granted, some of that was contractual, but the story was he had to get away before he told Paddy what was going on, and he kept Chas's dirty little secret. And that made him even more angry that Chas made him that person.
Do you think their relationship is repairable, or do you like playing this side of it?
I do like playing this side of it. A lot of the scenes I'm doing it going, 'Oh God, the audience are going to hate me', but it's makes interesting for a character change.
Hopefully the audience are amazing as they've always been withy Aaron, and see it as a self-destructing, self-loathing path that he's on, as opposed to just doing it for no reason.
He is very, very nasty to a lot of characters and says stuff that looks almost like he's thought about it and has no remorse, which kind of adds to that darker side to him.
You're close friends with Lucy Pargeter (Chas), does that make it harder to film?
No, she loves it! She loves a little throw around and stuff. It's been amazing to play because it's almost like we know this is eventually well, hopefully, going to be sort of a reunion and rekindling of that relationship.
We were so used to playing nice scenes with each other where she was supportive and he was protective of her and was very respectful. If anybody even looked the wrong way in her direction, he'd snap and be first to protect her. Whereas this is the opposite.
He's almost like she's a stranger to him and he can't stand everything that she's done. Aaron can't understand the fact that she's now very sorry and remorseful for what's happened, he thinks it's too little too late.
Obviously soap is great at knuckleheading together such an angry relationship with the hope there's some sort of light at the end of the tunnel, which I'm sure there will be at some point.
What was it like filming these return scenes in the farmhouse? They're pretty dark.
They were dark. It was great, I think originally he was just supposed to be stuck in there, but then I had a small issue with my knee, which kind of made easier write lines into the story saying that he'd been given a good hiding before he came over.
Not a lot of acting was required with limping because I was in agony throughout most of it. But it was just great to work with Jeff again. And obviously Will, who I've known for many, many years as well.
I've known him since I was 18/19 playing football, and they always used to say Will Ash is the nicest guy in the business. I've seen him in the show having watched it as an audience member, and followed that journey, so it was it was really nice to work with him.
Then obviously Lucy comes into the fold and maybe another character or two turn up at some point.
Could you see Aaron working more with his uncles?
Yeah, I think he's a lot more mature now. That's obviously myself as well as an actor and as a person. I think he will be able to see that sort of triangle of Caleb, Cain and Aaron. They're very like-minded, and obviously the Dingle DNA is in there throughout.
It makes for quite an interesting story that that they kind of work as a trio. But whether that happens, I don't know. We discussed it with Will and Jeff and said how interesting it would be that they all kind of bang their heads together and come up with ways of making money. And how Dingles do that is always very interesting.
Can you tease what else is coming up from Aaron this week?
Aaron's adamant that he's not taken this money, but then there is this reveal to the audience, and to Cain, Caleb and Chas, that he's lying which really sets the tone for the character. He's completely changed and it makes for a really interesting story arc.
Eventually it's going to come out why he's done it, and that money will be put to good use at some point. Whether that's through Aaron or not is a different story. But the money that he thinks is his will be put into good use somehow, which will play out that week.
And then it's a case of eventually getting him back in the village. He's got a lot of repairing to do with various different characters. And that should hopefully make for an interesting arc.
How's it been returning to Emmerdale?
It's been amazing. It's like almost like a new job for me because I see it completely differently, it's not like the previous times I've come back. I'm very appreciative for the job and I'm very thankful for being here.
Obviously I have a family now that needs feeding, so it makes it a fun way to do that. We've relocated over here as I really want to show I've committed to the show, to show them and the audience how much I love it and how much respect and thanks I've got for it.
Has it been hard keeping the secret?
Yes, it has! When Jane and Laura pitched the idea to come back, I was over the moon and obviously so excited and then they said there is kind of something we want to do with it, which means that you're going to have to keep it quiet.
Obviously this was back at the beginning of the year. So this has been months of not being able to tell people and then relocating the family without being able to tell people. And some of my closest friends and family don't even know what I've been up to. So it's been hard to do.
But obviously, as I say, the respect and the appreciation for the show, I wanted to keep that secret. I wanted to be a part of something that will hopefully be a shocking soap moment.
And you're back for the foreseeable…?
Well, you know, it's soap, isn't it? So…(Danny gives a little wave to producer Laura Shaw) Hi, Laura, you're so great! In my eyes, they'd have to drag me out kicking and screaming, but I don't know whether that will happen. I'm certainly very happy here and we'll see what happens.
Finally can you give any further hints as to what's ahead for Aaron?
I've just been reading the scripts now and it stays on this darker arc. I know Laura and Jane were saying they were keen to keep that, as we don't have that kind of character that is looking for a fight and winding people up with these smart comebacks.
It's good to play that character, but hopefully in the future he'll return to sort of some form of who he used to be.
Spoilers in your inbox every weekend!