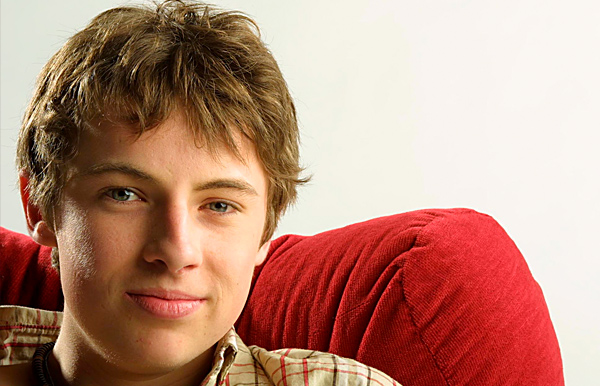 Sebastian Miller (2001-2004)
Mitch Firth
Episodes: 3074–3728
Date of Birth: 25th June 1986
Parents: Alan Fisher & Anna Miller
Occupation: Student; Photographer
---
Seb arrived in Summer Bay, with his mother Anna, in mid 2001. Anna was dying with leukaemia. They hid out in with of the Sutherland's run down caravans at the caravan park until Kirsty spotted them, though she let them stay there. Over the next few weeks, he and Kirsty became friends, eventually going out with Kirsty after she had broken up with Nick.
Anna took on a job cleaning at the school with a cleaning job, but was taken to hospital after collapsing. She kept asking for Don Fisher to come over, but he didn't arrive in time before Anna passed away. However she had told Seb who his father was and subsequently who his grandfather was, and Seb realised the significance of the book, On the Crest of a Wave, he had been give. Seb's father was Alan Fisher, Don's late son.
Noah and Jude, who had employed Anna for the cleaning post, took Seb in. It was Noah who was the first to find out the identity of Seb's family. After Seb had trashed Don's house, he was caught and was about to have charges pressed against him. Noah told Don about Seb's relation for him and the charges were dropped and Seb decided to live in the bay.
Don then organised for tests to be carried out, which proved once and for all, Seb was his grandson.
Seb suffered for dyslexia and Shelley and Sally worked introducing remedial classes at the school for people, who like Seb, had trouble with reading and writing. After seeing Seb playing football, Don remembered of Alan doing the same, and gave Seb a family photo album. A photo fell out and Nick, who Seb had a frosty relationship with took it. Jason, a school bully then grabbed the picture off Nick and photocopied the picture of a 70's Fisher all over the school.
Don, angry at who Seb could you his trust like this stormed around asking for the album back, and despite Seb's protestations he believed Seb to be at fault until Nick told him it was he who took the picture. Seb however decided to leave school.
The next day he was out surfing when he fell off and was then struck on the head by the surfboard and was left unconscious in the water until Nick found him and dragged him in. They started a shaky friendship, which eventually grew.
When Jude has his accident Seb and Noah were left alone in the Lawson House, plus doing Jude's cleaning shifts. Seb, being a bit of a hot head continuously went off at Shauna for the damage she had caused and when Don asked him to come live with him, he went off at him as well, saying he wasn't going to abandon Noah.
Towards the end of the year Seb's relationship with Don grew slightly better, to the point where they were planning to go on an overseas trip together where they would meet Don's only surviving child, Rebecca, plus meet up with Peta, Edward and Judith. However Don suffered a heart attack and the trip had to be cancelled.
In 2002, Kirsty who was becomingly increasingly rebellious, started buying Seb new clothes and gave him a new hairdo. Dani pointed how Seb had the same hair and T-shirt as Josh, who Kirsty had had the hots for recently and Seb dumped her.
His relationship with Don also began to sour when he filmed Don arguing with supply teacher Kick over teaching methods as part of an essay he was allowed to film because of his dyslexia. He was then the driving force along with Kick behind getting Don to agree to a school trip
They managed to get the school trip, but then, on the way back, the bus crashed, leaving Don injured. Realising how close he had been to losing his grandfather he decided to move in to help look after him. From then on their relationship began to grow.
Seb soon found another girlfriend in the shape of Lara, but still held a candle for Kirsty and ended up kissing Kirsty at Noah and Hayley's paint party. When he eventually gathered the courage to talk to Lara, neither she nor Kirsty wanted to speak to Seb and Lara dumped him after they won the school danceathon.
Seb was one of the unlucky people that won a ticket to have dinner aboard the Blaxland and ended up missing for a couple of days. Washed ashore up the coast from Summer Bay, he walked back and was soon reunited with his grandfather. Soon after this he became very short tempered and managed to convince Nick into helping him let off fireworks. Seb was annoyed that no one, especially Don, had remembered the anniversary of his mother's death. When Don found out about this he was devastated and managed to organise a service on the beach a day late.
Seb soon auditioned for a role in the school Rock Eisteddfod and got the lead man role alongside Jade. With Jade going through here live for the moment phase after Charlotte's death, she purposefully played her role very saucily and this caused tensions between Seb and Nick, who was concerned about what his friend might do with his girlfriend. However, after Jade's performance the Eisteddfod was cancelled. It was around this time that Seb revealed to Nick that he still had feelings for Kirsty, though this wasn't a good time to have these feelings as Kirsty was going through a rough time, what, with the recriminations of her romance with Kane and then finding out her next boyfriend was her brother, only later not to be. However Seb remained a friend to Kirsty through this time.
Seb was given the job of looking after Mikey, an autistic student that enrolled at Summer Bay High and their was many misdemeanours, such as Mikey going missing from the Arcade and then being found naked in the school.
Don then told Seb that he was planning to leave Summer Bay to move to the Whitsunday's with June. Seb was given the decision as to whether he wanted to move up there or stay in Summer Bay. Since Mitch's contract wasn't up, he decided to stay in Summer Bay and live with Alf, after he had recovered from his brain tumour.
During the play that was meant to be the Bay's farewell to Alf the lights went out and Seb took this opportunity to kiss Kirsty. Kirsty initially thought it was Dylan, but soon Seb revealed himself and they restarted their relationship.
Seb also helped Nick trick Angie into revealing the truth about her deceit by video recording it.
Seb also attracted the intentions of Christopher Fletcher at this time and Chris tried to kiss him. Chris then went missing; embarrassed by the situation, but Seb told him it was OK to be different.
Seb and Kirsty soon went through a nauseating period where they discussed when they were going to have their "first time". They finally agreed to when they were going to do it, but by coincidence Kane returned to the bay. As Seb sat all dressed up waiting for Kirsty, she had bumped into Kane and shared a kiss. Seb sound found out about the secret affair she had restarted with Kane. Seb began to stop eating and relentlessly exercising convinced that this would help Kirsty like him more. Unfortunately all it did was make him collapse. It was left to Kirsty sister, Jade, to help Seb get through this, but initially even she was interested in a relationship with him, preferring the school janitor. However this didn't last long and she decided that after all, she would rather be with Seb.
Seb and Jade then found themselves at the forefront of the school lock-in in 2004, in protest to Mr. Hyde's teaching methods. Jade was excluded for planning the whole thing and angry at not being excluded himself (yes, go figure), Seb decided to go and attack Hyde so that he too would be excluded, which he succeeded in achieving.
Duncan returned to the bay for Robbie and Hayley's birthday and became friendly with Jade again and got Jade doing drugs who was already in an emotionally unstable frame of mind after finding her family was in fact not her family. Seb tried to convince Jade to stay away from him, but failed. Jade got into a car with Duncan and they were about to start a drag race when Seb jumped on the bonnet, but Duncan went ahead with the race and ended up going over the edge of the cliff on the bonnet. He was left crippled and left in a wheelchair a week later, after dumping Jade.
Don revealed when he returned for Alf's 60th in 2005 that Seb had found a new girlfriend thanks to June. Duncan also apologised to Don for all the damage that he had caused at this time. When Don returned in 2007 he mentioned that Seb was setting up his own photography business.