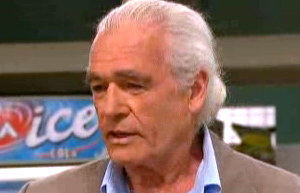 Arthur Gordon (2005)
Alan McGuiness
Episodes: 3899, 3905
Occupation: Journalist
---
When Robbie and Tasha decided to put Colleen's details on a lonely hearts website, it was spotted by Arthur, an elderly bachelor who visited her in the Diner with a bunch of flowers. After she had got over the initial shock, they got on well and it turned out he remembered her from the Miss Groper contest, with them arranging a date for after her shift.
A few days later, when the local paper printed a story about the Summer Bay Stalker after the Diner had received a threatening letter, suspicion fell on Colleen, who protested she had only told Arthur. However, it turned out that Arthur was a journalist and had been responsible for the story. Disheartened, Colleen ended their relationship.
*Although Arthur introduces himself as Arthur Gordon, he is credited as Arthur Munroe.