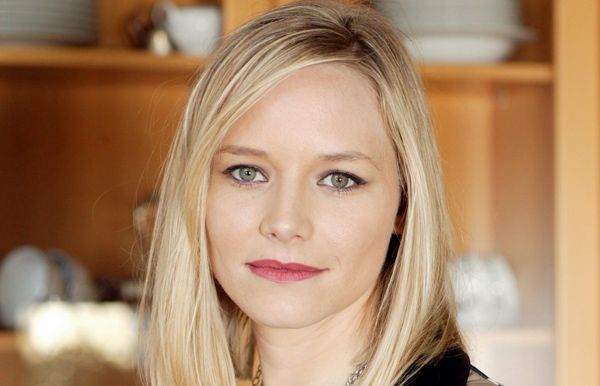 Natalie Franklin (2008)
Adrienne Pickering
Episodes: 4743–4753
Marital Status: Roy
Children: Nicole Franklin
---
Natalie Franklin was Nicole's mother and was made reference to by Roman and Nicole a long time before she appeared with Roman telling Martha that she had been his childhood girlfriend and that she had been taken away by her parents before he even knew she was pregnant. He implied that Natalie was a lot worse than Nicole, to Irene. Nicole herself told Roman that her mother's husband had made a pass at her and that Natalie had taken his side over hers.
We first met Natalie when Nicole received a phone call from her distraught mother and Geoff drove her round to Nat's house. She explained to Nicole that she had realised that Nicole was telling the truth and confronted her husband who had denied it but Natalie had seen the guilt on his face. She added that she had thrown him out. She asked Nicole if Geoff was her boyfrend but Nicole denied it. The doorbell rang and geoff opened it to admit caterers and Nat told Nicole that she was organising a party in Nicole's honour and that she'd bought her something great to wear, before dragging her upstairs.
At Nicole's party Nat made a speech about how great it was to have Nicole back but Nicole later found out from her ex Trent that Nat's husband had left her, not the other way round and that she wanted Nicole at home so she could keep the house. Nicole left without saying a word and Natalie later turned up at Roman's in tears and telling Nicole that she was sorry and that she really does need help because her husband has now kicked her out. She tried to explain herself to Nicole but Nicole didn't want to listen and stormed out. Left alone with Roman, who tried his best to contact Nicole, Nat suggested that she was no doubt staying at Geoff's but Roman insists that Irene would never let that happen. When Nat comments that she didn't book accommodation, Roman offered her Morag's room despite Charlie's obvious disapproval.
The next morning Nat entered the kitchen and introduced herself to Aden but when Nicole entered she tried to speak to her but Nicole ignored her and left. Natalie later asked Roman how he came to have such a good relationship with Nicole but Roman suggested that she should try to figure that out for herself. Nat told Roman that Nicole was being stubborn but Roman insisted that Natalie needed to give Nicole time to absorb all of this.
After some time thinking at the beach, Nat packed her bags and told Roman that she was going back to the city to give Nicole some space but just as she was about to leave, Nicole entered the house and gave Nat one week for them to bond leaving Nat delighted.
Nat suggested that Nicole learn to cook but Nicole blanked her and Nat told a surprised Charlie that she was hot but Charlie replied that she's not the only hot woman in the bay and mentions Roman's ex Martha. Nat complimented Nicole to aden in her hearing but Roman suggested that she should try treating Nicole more like an adult so Nat suggested to Nicole that they have a girls night. Nat is surprised when Nicole acted responsibly and refused to drink but they began to bond until Nat dumped Nicole for a hot guy. With Nat too drunk to drive and Nicole not keen to stay, in case Nat hooks up with the hot guy, Nicole decided to drive them home but they were pulled over by Charlie and both received a ticking off from Roman.
Nicole refused to talk to Natalie the next morning, despite defending her to Roman and Charlie later had a go at Nat, suggesting that she should be Nicole's mother not her friend. Natalie later told Nicole that getting drunk the night before was meant to give her courage to apologise for not seeing what her husband was like and Nicole replied that Nat should start acting like an adult. Nat replied that while most of her friends are just having babies now, she's mother to a teenager but that she doesn't regret having Nicole.
Nat later confided to Roman that she thinks she's getting somewhere with Nicole and adeed that she could see Roman's attraction to Charlie because "she's sexy when she's angry'. She later saw Roman hug Martha after giving her the money for the retreat and suggested to Roman that he didn't feel as much for Charlie as he did for Martha and Roman angrily told her to pack her bags. Nat later told Charlie that she thought she and roman were good together and was surprised when Roman finished with Charlie and told Nat that it was because her comment made him realise that he still had feeling for Martha.
She told Nicole that she approved of Geoff but warned her not to corrupt him and asked Nicole to go and live with her in her "dingy" flat but Nicole said that the flat was bigger than Roman's house, with ocean views. Natalie hugged both Nicole and Roman as she said her goodbyes and defended herself to Charlie before driving out of town.