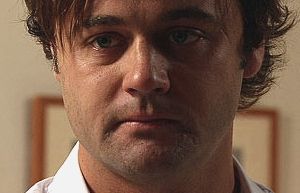 James Dalton (2007)
Gyton Grantley
Episodes: 4360-4389
Occupation: Nurse
---
James Dalton was first seen in the Surf Club. He had recently broken up with Kit Hunter, who was also in the Bay at the time. They met again and James was surprised that Kit was pregnant. Kit ran out of the Surf Club leading James to believe that the baby was his, considering the time that they broke up. Kit reassured James that it wasn't his and asked him what he was doing in the Bay. James said that he had come to take up a nurse's position at the hospital.
Whilst everyone else was at the hospital ball, James and Kit kissed signalling that they wanted to be together again. They took things slowly and James agreed to look after Kit and the baby. Kim Hyde at first felt a bit weird about the situation, but Rachel assured him that James was a keeper and was always going to be there for both Kit and the baby.
It wasn't long though before cracks in Kit and James relationship started to show. James was having to work long hours at the hospital and started using dope. When Kim found out he hit the roof. Kit was surprised to begin with, but eventually accepted it as long as he didn't smoke it whilst she was in the house. James stopped for a while but after a stressful day at work, started using it again.
He turned up for work the next day and started to treat a patient. The drugs were still in his system causing him to make a big blunder at the hospital which could have resulted in a patient dying. Rachel Armstrong reported James to the medical board which led him to be suspended from his medical position at the hospital.
After returning to the Hunter house, James told Kit that she would never leave him. He then locked her in the house and barricaded the doors leaving Kit terrified. Kim, Rachel and Matilda arrived at the house wondering what was going on. Kim managed to kick the door down resulting in James being sent to hospital.
Rachel treated James at the hospital and told him that he had great potential as a nurse. Kit was still scared by what had happened and reluctantly went into James hospital room to see him. She gently let him know that they wouldn't have a future together. Shortly afterwards, James discharged himself from the hospital. James then turned up at Kim and Rachel's place, to apologize to Kim for everything that had happened. Kim agreed to drive James to the bus stop. James told Kim that he was leaving so that he could make a fresh start and get help. The bus pulled up and that was the last we saw of him.