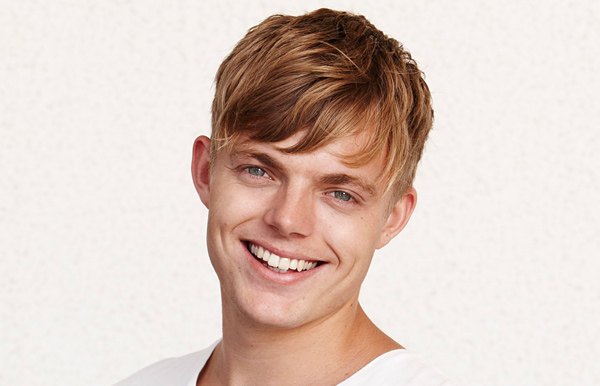 Constable Xavier Austin (2008; 2009-2012; 2013)
David Jones-Roberts
Episodes: 4764–4768; 4776–5552; 5727–5728
Parents: Jeremy Austin & Gina Palmer (deceased)
Step Parents: John Palmer (former)
Siblings: Hugo & Brendan Austin
Step Siblings: Shandi Palmer (former)
Foster Siblings: Jett Palmer
Occupation: Student; Police Officer
---
Xavier arrived in the bay at a beach party during the schoolies period, where he was seen to dealing drugs. It soon turned out that he was Tony's nephew and that he'd left home and not told his mum where he was going. He soon formed an attraction with Ruby who decided he was the boy for her. Xavier was soon caught with drugs after leaving his jacket in the Gym where Charlie found it.
Rather than get the police involved Jack called Xavier's mum and sent him back home ending his brief relationship with a heartbroken Ruby.
It wasn't long before Xavier returned to the bay with his Mum Gina, this time for his cousin Jack's funeral. Ruby tried to make an effort with him but he didn't return the kindness and it was soon discovered that he already had a girlfriend called Freya whom his mum disapproved of greatly.
Ruby persisted in her pursuit of Xavier and he soon decided that Ruby was the girl for him and left a message on Freya's answerphone ending his relationship with her. He and Ruby got drunk together sharing a bottle of champagne that was meant for the christening of Jack and Tony's boat. It wasn't long however before Freya came to town looking for Xavier and he was unable to resist her. He was coerced into selling drugs again from Freya at the school and though he did to start with, Freya increased the pressure and got hold of some 'uppers' but Xavier refused to sell them. She also caused tension between him and Hugo when she planted a kiss on his brither which Xavier saw.
He tried to stand his ground but Freya ended up planting the drugs on him anyway in the hope that he would sell them. He told Freya he had but,he'd actually given her his own money and he hid the drugs in his locker at school. Ruby found them and took them home to get rid of them but was caught by Charlie. Belle named Freya as the supplier and Ruby 'borrowed the money for rent' from Roman and gave the money to Freya on the understanding she would pay them off and leave the bay for good. Freya took the money and ran, leaving Xavier to be beaten up and then to realise that Ruby was right about her all along.
He then recruited Jai to help him win Ruby back with an email but Charlie was unconvinced and wouldn't let them see each other so Xavier went to Hugo for help. Sensing an opportunity to make peace, Hugo talked Charlie down but things between Xavier and his brother were soon tense again when their mum Gina broke her ankle and Brendan, their other brother came to stay. Though he initially tried to hide Brendan from his friends, Ruby and the others were supportive and helped him look after Brendan but his resentment towards Hugo built. With Hugo continually leaving him in charge of Brendan, Xavier snapped and took the opportunity to go to a party after Martha agreed to stay with Brendan.
Brendan freaked out though and ran off. Xavier managed to find him but Brendan freaked out at the sight of a blue car and shot a rock through the windscreen, causing Leah to crash and Roman to be injured. Scared, Xavier tried to cover for Brendan but when Gine returned to town for Tony's wedding, she sussed something was up and the secret came out. Luckily Roman refused to press charges but Hugo was furious to find that Xavier had left Brendan with Martha on the night in question.
Their relationship deteriorated further when an argument over a stick saw Hugo accidentally hurt Brendan. Xavier and Gina didn't believe Hugo that it was an accident but Hugo later had a heart to heart with both his brothers and as Brendan left the bay once more, the brothers were finally on good terms.
With the threat of a shark in the area, and no word from Hugo out on his diving recce, Xavier's concerns for his brother's safety grow. While Martha also had some initial fears, she assures Xavier that Hugo is an experienced diver who can look after himself. Nevertheless Xavier can't shake his concern that something bad is going to happen, and he approaches Alf to use his radio to try to contact Hugo. Unfortunately though, there's no response from Hugo, and in spite of Ruby's support and sympathy, Xavier spends the day feeling helpless and at a loss as to what to do. When Hugo still hasn't turned up that night, Xavier reveals to Ruby that he thinks it might be karma. He explains that ever since Hugo arrived in the Bay, Xavier's been really hard on him. And now when it seems things are finally getting on track…this happens. Xavier worries that he'll never get the chance to tell his brother he's sorry. Later that night, Hugo finally returns from his diving recce bearing a nasty wound on his side. He collapses on the floor of his boat, blood seeping through his shirt.
Xavier was relieved when Hugo recovered from his injuries but soon after Hugo disappeared, uncomfortable about his growing feelings for Martha, and Xavier worried he would have to stay elsewhere. When Hugo returned, Xavier gave him a frosty reception and accused him of never being there for him, prompting Hugo to invite him along to collect a shark cage. The trip however resulted in Xavier being taken hostage by Gardy and having to be rescued by Hugo and Roman. He soon found another target for his hatred when Angelo returned to town. Xavier secretly began slashing Angelo's tyres and, after being pulled over by Angelo for driving without a license and fined, was eventually caught by Hugo. Angelo came across Hugo standing by the car with a knife and, realising Xavier was the culprit, had him charged with criminal damage, despite Hugo already sending him to work on the farm as punishment.
He and Jai found some old guns at the farm and couldn't resist trying one of them out. When the weapon jammed, Xavier accidentally caused it to go off and the bullet grazed Jai. Not wanting anyone to find out about the incident, Xavier gave Jai some amateur first aid and persuaded Ruby and Annie to keep quiet about what happened. When he came across Hugo and Martha kissing, he commented that he knew they liked each other and was happy for them. He still kept quiet about Jai's wound when he and Annie went missing on a school trip, annoying Ruby who took the opportunity to tell him that Charlie was seeing Angelo. Things got worse for Xavier when Trey Palmer, who he and most of the other Summer Bay students had been belittling after he and Jai had confronted him over filming himself having sex with Nicole, planted a bomb under the bus and the explosion ended up injuring Hugo. As a result of spending time at hospital with him, Xavier missed his court appearance and Angelo had to step in and keep him out of trouble.
Ruby asked Xavier to sleep with her on her 16th birthday but when the day came she got cold feet. Xavier made it special for her anyway by telling her he loved her. A few weeks later, they finally slept together at Martha's farm only to be caught by their combined families, with Hugo having to restrain a confused Ross from attacking Xavier. The reason came out when Ruby discovered that Charlie had been raped as a teenager and she was the result. She confided in Xavier and asked to stay with him but Martha and Hugo wouldn't go against Charlie and Xavier wouldn't go against them. He was devastated when Ruby left town without speaking to him.
When she returned, she seemed to spend more time with Geoff and Jai than him, making him feel she was shutting him out and didn't trust him and he was very concerned when he heard she and Geoff had shared a bed while they were away. When he arrived at the house to find Geoff helping Ruby into her dress, he assumed something was going on between them. He was also less than impressed with Gina's new boyfriend Ted. When Ruby continued to avoid him, he assumed they'd broken up and her agreeing to a meal with his family only reassured him slightly. He was even more bemused when she had a go at him for being friendly to Grant until Ruby told him about Charlie kidnapping him. With Brendan staying with the family, Xavier was in two minds about his quasi-romance with Ruby Leeds and desire to move in with her but admitted that Brendan's Ruby probably liked him more than "his" Ruby did.
He was horrified when Ruby broke up with him and accused her of only doing it because she was interested in Geoff; however, he was then knocked unconscious when he tried to break up a fight between Hugo and Derrick and when he came to he told Ruby he couldn't remember the conversation and she played along that they were still together. Ruby asked him to help her give Charlie a false alibi for the night of Grant's murder and he reluctantly did so. He also asked Geoff to stay away from Ruby, saying they would be happy together if he left them alone. When he admitted to Gina that he had lied, she and Hugo persuaded him to retract his statement and he was annoyed that Ruby didn't seem to care he could have gotten into trouble. Although they later sorted out their differences, he still felt she wasn't interested in him anymore.
When Ruby was hospitalised with diabetes, Xavier admitted he did remember her breaking up with him. He and Romeo agreed to help two girls, Ali and Rosie, check out a supposedly haunted house for a Halloween party and found Bambang there, taking him to Martha. When he later found out Ruby was dating Geoff, he kissed Ali in front of her. He then persuaded Romeo to give him the keys to Liam's place so they could hold the party there and as the event descended into chaos he ended up sharing a kiss with Rosie. He struggled to find time to tell the two girls he wasn't interested in either of them and was further thrown when Romeo told him that Gina had started spending time with John Palmer. He endured a nightmare dinner when Ali and Rosie both joined the trio and spent the evening sniping at each other. He got angry with Tony for taking business advice from John and reminded him that Gina cried herself to sleep every night after his father left. Tony told him he needed to let Gina make her own decisions and after he and Gina had talked about his objections he agreed to make an effort with John. He worked with Romeo to try and find a way to rid himself of his two "girlfriends" and was fairly relieved when he then saw Rosie with another guy.
When Suzy turned up and caused trouble between Hugo and Martha, Xavier automatically took Martha's side. Xavier was disgusted when Hugo announced he was leaving town, accusing him of walking out on them again. However, when he began having flashbacks to Hugo and Derrick's fight and the mention of shipping containers, he began to suspect there was more going on and persuaded Alf and Romeo to help him check it out. This resulted in them finding Wayan and the other refugees and he was horrified to realise Hugo had been involved. He was devastated when he heard Hugo had been killed and when Gina refused to show any emotion at the fact. After the funeral, he found a message from Hugo and a box of money in his room, which he asked him to use to make up for what he'd done. He and Romeo attempted to fulfill the wish by donating some of it to the refugees' collection, only for Gina to unknowingly return the donation to the house. Afterwards, he comforted Brendan as the news of Hugo's death sank in for him. He apologised to Geoff and Charlie for what had happened to them as a result of Hugo's actions and subtly tried to give Charlie some of the money.
Xavier was annoyed when Romeo told Mink about the money and she ended up stealing it. After he'd angrily confronted her, she returned it, apologised and then kissed him. Xavier had been getting close to Ruby again after Geoff's departure and was annoyed again when Mink told her about the kiss. He was also cross when she got into an argument with Gina after realising she disapproved of them spending time together, although when Mink apologised to him and Ruby for causing trouble, he realised she was genuine. He was shocked to hear she'd been in juvenile detention and, after getting several versions of events from Romeo and Mink, he eventually learned that she had taken the blame for their mother after she killed Romeo's stepfather. He tried to talk to her after she and Romeo argued and was concerned by how depressed she was. Despite promising to keep quiet about the truth, he ended up telling Ruby and Gina, prompting Mink to accuse him of messing with her life, and was relieved when a talk with Gina seemed to leave Mink happier. His sympathetic attitude also impressed Ruby, who soon got back with him.
Xavier was bothered by Gina's renewed romance with John Palmer, especially when he came home to find them half-dressed. He told Gina he wanted her to be happy but then went to see John and warned him off. Worried about Gina's reaction, he skipped school with Ruby, only to be caught by Martha and forced to work on the farm as punishment. He asked if he could move in with her, then, when Gina tried to get him to apologise to John, he told her to go to hell, which resulted in Gina asking him to move out to Martha's farm. He had trouble hiding Hugo's money from her and Liam, overreacting when Liam moved it into the house, carrying it around in his racksack and nearly being sprung counting it by Liam, and was worried when he overheard Liam saying he thought he was on drugs. He hid the box in the loft and stonewalled Martha's attempts to see it. When Tony offered to teach him boxing, Xavier was less than enthusiastic although he seemed to enjoy his first lesson until Gina interrupted them. He wasn't sure about continuing but Ruby suggested he could use it as a lever with Gina, offering to give it up in return for her breaking up with John. In the end, Gina got in first, telling Xavier he could carry on with the boxing if he moved back in with her and she would keep John away from the house.
Xavier found himself needing somewhere else to hide the money. Ruby was reluctant to keep it at her place and instead they decided to hide it at an old army battery. Xavier went back to the farmhouse to recover it only to find it missing. Martha then called him to the house and gave him the box, saying she wanted him to trust her and promising not to tell anyone about it. He and Ruby went to the battery, only to find evidence someone was already living there, including a photo of Hugo and Xavier. He spent the night in the battery but no-one turned up. When he heard about Vinnie's death being faked, he wondered if Hugo was in witness protection as well and questioned Alf and Angelo, who both tried to put him off. He carried out a second search of the battery with Ruby before having to endure a dinner with Gina and John, during which he struggled to stay polite. He decided to hide the money in a locker at the gym, hiring one out permanently. He also gave Romeo advice about his faltering relationship with Annie while playing the nurse in the Romeo and Juliet production. He was shocked when Martha told him the police were looking for the money (unaware it was actually a story Angelo had made up) and when Gina found out about it he insisted he wanted to use it to help people rather than just hand it over to the police. He shared his theory about Hugo with Martha, who eventually confirmed it was true. He was reunited with a returned Hugo and went to get him some supplies only to run into Angelo. He and Martha then found Hugo with Gina at the house and helped hide him from the police.
With Hugo hiding out at the farm, Xavier continued to visit him but was disappointed by his insistence he would soon have to move on. He was also worried about Ruby spending time with Liam, although he tried to appear supportive, and became increasingly paranoid that they were having an affair. The only bright spark was that John and Gina's relationship seemed to be floundering. When Ruby continually seemed to prefer Liam's company to his, he ended up warning Liam off her but soon had bigger things to worry about when he was abducted by 'Killer' and left tied up in a rapidly filling water barrel, along with Martha and Gina. He managed to get free and then release the others. He advised Hugo that Martha loved him and genuinely wanted to go with him. On his return to school, Ruby admitted she did have feelings for Liam and he broke up with her. He was annoyed when Rachel blamed Hugo for placing them in danger and briefly saw Martha and Hugo at the farm before they went on the run, taking comfort in his certainty they would be happy together.
When he threw some old photos of him and Ruby in the sea, he was accosted by the environmentally minded April and there was an instant spark between the pair. He was furious when he overheard Romeo planning to get John and Gina back together and started a fight with him at school, during which Liam was caught in the crossfire. As well as getting detention, he was roped into helping Tony deliver leaflets about boxing classes as punishment but after April showed an interest in them he offered to be his assistant. After he had dithered over whether to phone April, she ended up coming round to the house herself for a chat and made it clear he was the main reason she wanted to be involved in the boxing classes. He apologised to Liam and when he introduced April to Ruby he assured her he was over her. He and April then helped Tony clear out the shed for the classes.
He was initially horrified when Gina asked John to move in and told John that if he did he would make his life a living hell, although a kiss from April improved his mood slightly. After a run-in with Gina, he reluctantly helped John move his things into the house. April took him down the beach to cheer him up and encouraged him to blow off steam by running into the water half-dressed. They ended up falling asleep on the beach before accepting they were now a couple and Xavier surprised everyone by going home and calmly apologising to Gina. He accompanied April to meet her sister Bianca but Bianca soon hijacked the evening to flirt with Liam in front of the pair and Ruby. He tried to comfort Ruby the next day but she insisted she didn't have a crush on Liam and kissed him, at which point he rejected her. He was worried about how April would react and took advice from Tony and even John before deciding to tell her and was relieved when she was fine about it. When April and Bianca were made homeless, he asked Gina to let them move in in return for promising to be nice to John for two months. When Gina ordered them to move out after just a few days however, hostilities resumed. He ended up agreeing to behave if John promised to do him a favour in future. He put aside his differences with Romeo while they were helping to do up Angelo's restaurant but refused to be Ruby's shoulder to cry on and was among the residents who said farewell to Tony and Rachel when they left town.
Xavier called in his favour to get John to support April's plan to ban bottled water but John refused so Xavier told him if he didn't agree he'd make trouble for him at home again. April refused to let him blackmail John, so instead he told Gina that John was giving his support so he'd have no option but to go along with it. As a result, he got roped into delivering flyers about a rally John was organising. He went for a job at Angelo's restaurant to try and get enough money to buy a car but ended up losing out to April. Whilst at the rally, Xavier and John stumbled across an Ford Falcon which they decided to buy and do up together, causing them to bond. He got Alf to help him draw up a proposal for the council and was also approached by Charlie about using the people smuggling money to help Angelo's brother Paolo out of debt. He asked Romeo, April and even John for advice before telling Charlie she could have the money as long as she took all of it but in the end she decided she didn't want it.
He was disappointed when he heard John saying he wished he hadn't got the bottled water proposal through since it meant he lost out on the Highway to Summer Bay idea that would have benefited his business. John told him and April to come up with a proposal to make up for the loss of business but he was uncomfortable when April gave John a report on combibuses which she claimed were being used in Sweden and tried to get her to tell him the proposal had actually been rejected, even trying to tell him himself. When Gina overheard them talking about it, she forced them to tell John the truth and Xavier tried to convince April that she needed to apologise properly to him. When he learnt John had known all along that April was lying but had kept quiet to teach them a lesson, he got angry with him but was upset when John suffered a heart attack and spent the night at the hospital with him.He also supported Ruby when she came back to school after getting out of alcohol rehab.
After John recovered, Xavier was initially sent into a panic when he revealed he wanted to propose to Gina but wasn't going to do so unless Xavier was all right with it. After talking it over with April, he realised Gina loved John and gave him permission. He was surprised when she rejected the proposal and upset when they broke up and John moved out, since he'd got used to John being around. He even arranged with April to get them together for a talk. He managed to persuade John to keep supporting April's proposal, although his initial plan to tell him Gina was going to the meeting didn't work. Although the proposal was ultimately rejected, he was grateful and tried to get John and Gina back together. When Gina kept sneaking out, he was worried she was having an affair then learned it was actually with John. He spoke to Gina and suggested they needed to decide whether they were a couple or not. Gina then told them about her and Roo's plan to get the money to Martha and Hugo and he and John both agreed to it, after which he was glad when John moved back in.
He tried to help April with her plans to reunite Liam with Bianca, persuading Bianca to be a chaperone at the formal, getting John to arrange a bucks night for Vittorio the same night and even being a waiter at the event with April to keep an eye on things. After Bianca ended her wedding to Vittorio, he agreed to be John's best man when he married Gina instead and even did up the Ford Falcon to act as their wedding car. However, he was then horrified when he saw Joanna dragging April away from the reception to take her back to Europe.
He got dragged to a party at Liam and Bianca's by Romeo and Ruby and ended up kissing Summer Horgan-Jones just as April arrived. He was concerned it would affect their relationship, even though she insisted she still wanted to be with him, and worried by her regular correspondence with Rene, her father's assistant. He offered to help her with her plans but was horrified to find she had stolen some chemicals from school to sabotage a factory. On realising April had no idea what she was going to do with the chemicals and discovering how dangerous they were, he tried to dispose of them but caused a reaction that left him hospitalised with toxic fumes, after being left unconscious in the kitchen for some time before Bianca found him. He was devastated when April broke up with him in the aftermath and dealt with it by going down the beach and trying to pick a fight with Rob, one of the River Boys, until Romeo stepped in. He tried to win April back by getting Emily Logan to teach him a French message to read out to her, but after he'd recited it outside her house Dexter told him she didn't want to see him (and it turned out the message wasn't what he thought it was). He then tried to pick a fight with Heath so John had to step in.
He was the first to realise Ruby had feelings for Romeo. He was paired with Dexter and Casey for a science assignment and, after spending most of their planning session talking to Casey about how girls were aroused by powerful cars, was persuaded by Dexter to use that as their assignment. He assigned the job of presenting it to Casey rather than talk about the subject in front of Gina. He spoke to Casey about the latter's dyslexia and encouraged him to present their assignment in a science competition. When April's birthday came, he gave Irene a necklace he'd bought while they were together to give to her. Dexter encouraged him to join her birthday dinner at Angelo's restaurant but when he brought up the subject of them getting together she gave him the necklace back.
He agreed with Casey's suggestion they borrow his and John's car, despite not being licensed to drive it, to join the River Boys at Deacon's Point. They took Ruby with them and Xavier managed to outsmart Heath with his knowledge of the car, although he annoyed Ruby by stepping in when Heath tried to chat her up. As they were driving back to town, the car ran out of petrol and Xavier decided to walk to the nearest petrol station. He was picked up by Charlie and tried to hide Ruby's involvement but when they returned to the car they found her and Casey in a state of undress on the back seat. He copped lectures from both John and Gina and narrowly managed to avoid Gina selling the car. He turned on Ruby when it came out that she'd slept with Romeo, accusing her of breaking them up, making nasty comments to her in the Diner and trying to convince Indigo that the incident was all Ruby's fault and she should forgive Romeo, but seemed to soften towards her a bit when someone sent a cartoon mocking her to half the school and after receiving a lecture from Casey.
He took a job as a pizza delivery boy and on one delivery met Miranda Jacobs, an older girl who thought he was a uni student and invited him to a party at her place. He pretended to be a philosophy student and got Gina to give him tips to impress her. He invited her along to a party Ruby and Casey had organised at a holiday mansion but ended up having to cut the event short to take April home when she was thrown into the swimming pool. He had to think quickly and change into surf club clothes when Miranda almost caught him in his school uniform, then found himself slightly out of his depth when Miranda took him to an art gallery and introduced him to her philosophy student friend Oscar. He was about to tell her the truth when she kissed him and they fell asleep on the beach. He joined the surf club and let Miranda train him for the surf carnival but was worried when Gina started showing an interest in the relationship, talking her out of inviting her for dinner. However, she found out the truth when she gave a motivational talk at school and found out he was one of the students. He persuaded her to give him another chance but had to delay their date when Angelo asked him to deliver some pizzas. After a catalogue of disasters where the pizzas were stolen and he dropped the keys to the scooter down the drain, he persuaded Miranda to help him deliver some pizzas he'd bought but she was unimpressed when he lied to both the customer and Angelo and dumped him.
He continued training for the surf carnival with Romeo's help and used John's Twitter account to make comments about the Mangrove River team, sparking a minor incident but also inspiring John to start making inflammatory tweets of his own. He took part in a photoshoot alongside Miranda where John assured him he had a good chance of winning the junior title, although he was disappointed when Roo told him their first two choices for the photoshoot were unavailable. He was delighted when he won the event but less so when Miranda told him she was now dating Oscar. He spent time with April when they arranged to plant some shrubs on the beach to protect against erosion and admitted to Dexter he still liked her. He and April discussed their break-up and reunited. They tried not to exclude Dexter, who Xavier was worried would end up as a fifth wheel, but ended up spending most of their time kissing in front of him.
He was among the students who worried about Liam when they found him standing on a cliff top. He found himself fielding Facebook messages from an old friend of Gina's, Vanessa Unley, and arranged a meeting between them, where he used a topless photo of Gina at a music festival to blackmail her into chaperoning him, Ruby and Casey to a music festival. He celebrated his 18th birthday with a family dinner with John and Gina and a party on the beach and was annoyed when Gina told him he couldn't go to the music festival because she was too busy to accompany him, until she finally relented and told him he could go on his own. The festival ended up being washed out anyway and Xavier was roped into helping John rescue Gina and Vanessa, who had gone camping, only for their vehicle to get bogged down in the mud and have to be towed out by Gina and Vanessa, who weren't in any need of assistance.
Worried that Dexter still seemed uncomfortable around him and April, he set him up on a double date with Summer. Looking for ways to spend more time with April, he offered to teach her to surf but she wasn't interested. He was injured on a surfing trip to Nelson's Noose, when he hit his head and nearly drowned. Soon afterwards, he tried to intervene when Casey started getting aggressive with Ruby and punched him, only to come off worse in the fight.
Worried he and April were drifting apart, he tried to arrange to take her away on a schoolies holiday but instead she dumped him. He then found out she'd been seeing Dexter behind his back. When he confronted the pair on the beach and Dexter made light of the situation, he punched him. He went for a bike ride with Summer only to fall off and lose his job and his license, since he had been using the company scooter without permission and carrying a passenger. John suggested it might be better to just forgive the pair rather than continue being angry.
He accompanied John and Gina to the bachelor and spinster ball at the farm where he met Kelly O'Mara. The next day, he saw Kelly's brother Dean try to forcibly remove her from town and stepped in to stop him. He took her home and convinced John and Gina to let her stay with them after reassuring them they were just friends. He then tried to get her his old job at the restaurant only to find Dexter had taken it. He pressured Dexter into giving up the job but Kelly was annoyed with what he'd done. Dexter convinced him if they were friends again he could convince Kelly he'd given her the job as a favour to Xav. At the end of the day, Xavier and Kelly shared a kiss. They agreed to stay friends and he began repairing his friendship with April.
When John suspected Kelly was homesick, Xavier arranged with Dexter for her to ride a horse on a nearby farm, after which they slept together in the barn. Kelly didn't want to lie to Gina and convinced Xavier to be honest about them being together, after which Gina agreed to her staying on. He was worried when he heard Dean was coming to visit but impressed with the new look Kelly cooked up. He was worried even more about Dean pressuring Kelly into signing over her part of the farm to him and tried to talk her out of agreeing. He got John to look the contract over and persuaded her to talk to the council, which resulted in them learning Dean planned to sell her part of the farm to a mining company. When Dean grabbed Kelly to try and force her to sign, Xavier stepped in and they ended up in a fight which was halted by John and Gina. They later learned that Dean was responsible for raping Bianca and Xavier supported Kelly as she made a statement against him. He tried to support her in the aftermath, getting April to talk to her, and talked her out of leaving town because of the incident. However, she felt homesick and left anyway.
When John mentioned she was only a bus ride away, he decided to follow her back to the farm where they had a joyful reunion. He was less warmly welcomed by her mother Rhonda, who made it clear he would sleep in the workers' quarters and put him to work on the farm, where he continually made a mess of jobs. He began to improve after a few days but cut his hand on some barbed wire. While Rhonda patched him up, he helped her accept that Kelly had done the right thing in reporting Dean but also accepted he wasn't cut out for life on a farm. He and Kelly accepted they came from different worlds and spent one last night together before he left.
He met Sasha Bezmel for the first time when she ignored his instructions to stay off the beach during a storm and later found her looting his house, not being placated by the news she had called an ambulance for John when he suffered a ruptured spleen as a result of being caught in a brawl a few days previous. He later learned she was Dexter's sister. When Gina seemed in a depressed mood over the school being closed because of storm damage , Alf inspired him and Dexter to start a campaign to keep the school open and he, April and Dexter organised a protest about its demolition. He joined the party looking through documents and found out about the damage to the school done during an earthquake, which had never been repaired.
He later joined Dexter in trying to talk Sasha out of dating Stu Henderson. Gina asked him to keep an eye on her and, when he saw Sasha in a row with another River Boy, Ferrett, he stalked over to the man after Sasha had gone and had a go at him, only to be punched for his troubles. He later spoke with Dexter about his friend's desire to sleep with April and admitted they'd never gone that far. He and Dexter went to a Year 12 party together where he ended up spending most of the night hanging out with Ruby. Casey saw them chatting together and misinterpreted the relationship so ended up kissing Summer. Ruby left upset and Xavier angrily told Casey that Ruby had spent the whole night talking about him, before comforting Summer. After Sasha had gone off with Stu, Xavier saw them in a car outside the Braxtons' and alerted Dex.
When Sasha was unable to contact Stu because of her lack of phone credit, Xavier wound Stu up about the fact they'd spent the day together.He was present when April collapsed from a drug overdose.When April subsequently wondered why Dexter was off with her, Xavier told her he'd been talking about sleeping with her. He made plans to take a gap year and go backpacking but Gina warned him it would require a lot of funds. John suggest they sell the V8 and split the price but the first person who took it for a test drive was a timewaster and it was then briefly stolen by Stu when he had a fight with Sasha. Xavier tried to get the attention of Dallas Phillips, a girl who only went for virgins, by going to a party dressed as a nerd but she went after Dexter instead. When the incident led to April and Dexter breaking up, Xavier tried to get them back together by inviting April out for a meal where Dexter was waiting for them. He was pleased to be reunited with Mink on a visit and she suggested he was interested in Sasha. Not long after, he found Sasha collapsed at the bus stop and rushed her to hospital where it was found she had an infected tattoo. He was intrigued that Sasha allowed Sid to blame Stu, even though he insisted it was nothing to do with him.
He went to a car sales rally with Ruby and April, reluctantly taking Heath along as driver, and was shocked when April asked him to the school formal. He reassured Dexter he was only going along to keep an eye on her. He persuaded Dexter to go but Dexter ended up attacking him at the event after learning April was planning to lose her virginity with him. Xavier made it clear that he wasn't going to betray Dexter. Next morning, he went to the farm to smooth things over with Dexter and check on Sasha after it came out about her being beaten by Stu, where he saw Sid arrested.
After Charlie's death, he was inspired to join the police force and began attending an academy inland while still spending time at Summer Bay during the weekends. He also made his peace with April over what happened at the formal. He defended Sasha, dunking Jase McKenzie's phone in his coffee when he received a lewd photo of her. When he found out Stu had hit her again, he and Dexter went looking for him and had a run-in with Stu's father Alan. He admitted to Gina he had feelings for Sasha and, when Sid asked him to keep an eye on her, he kissed her. Sasha ran off upset and later told Xavier she was toxic and he should stay away from her. He tried to make it up to her by giving her a poem, only for Gina to tell him Sasha had accused him of harrassing her, and she continued to send out mixed messages. When Stu subsequently turned up dead, he and Dexter ended up as suspects.
He admitted he was being bullied by his trainer Sergeant Rafferty after oversleeping early on and telling him his mother normally woke him up, but resolved to deal with it alone. After both his house and the Walker farm were searched by the police, he went to the farm to help clear up and shared another kiss with Sasha. Dexter advised him to give her some space and he apologised to her. He tried to defend Sid when Alan had a go at him and the incident left them both convinced Alan was innocent. Sasha then confessed she had accidentally killed Stu and, despite being refused permission by Rafferty, Xavier deserted the academy to support her and convince Indigo and Dexter to do the same. Fortunately, Georgie smoothed things over for him.
Xavier finally managed to earn Rafferty's respect when he caught an attempted armed robber. He tried to help smooth over John and Gina's marriage problems. He continued to support Sasha when she was charged with murder and they began dating. They teamed up to try and reunite John and Gina by cooking them a dinner but it failed when John let slip he'd lied to Gina about what foods he liked. He was annoyed when Sasha ignored his advice and broke into Stu's house to retrieve a book with a potentially incriminating dedication but, after a talk from Gina, managed to stop her leaving town. During her trial he helped Morag by getting a statement from Rafferty saying Georgie had initially said Stu's death was an accident, which helped get her acquitted. Afterwards, Xavier and Sasha declared their love for each other.
After enlisting April's help to get Sasha a birthday present, he was shocked when Sasha announced she was leaving town to be nearer to her brother Felix and joined Sid and Dexter in trying to talk her out of it. His and Sasha's relationship was hotting up enough that Sid and John had to give them a talk about boundaries. While parking, they saw Harvey arguing with Mayor Coombes and Xavier shared the news with John. He managed to get himself and Sasha an invite to join John and Gina having dinner with Harvey and Roo but ended up accidentally playing footsies with Dexter when they shared a table with him and Lottie. Although things seemed to be going smoothly between them, Xavier became concerned about Sasha's behaviour, especially when she offered to sleep with him just to make him happy. He realised that her experience with Stu had left her reluctant to disagree with him and tried to convince her otherwise, but when she continued to let him make all the decisions he realised she wasn't ready for a relationship and broke up with her. He tried to stay on friendly terms with her in the aftermath and convinced Casey to give her a ride home when she tried to go to a party while grounded. He also helped Dexter exercise in order to impress Lottie.
Xavier became suspicious of Jett James, who John believed was behind a series of thefts, and correctly guessed he was responsible for robbing Colleen, Indi and Marilyn. He went to Jett's house while he was out and tried to talk to his mother Liz about it and also noticed Jett taking showers by the beach. When he discovered Jett playing truant, he marched him to school and got him to empty his bag but found nothing. He was annoyed when Gina insisted on supported him when his guilt was confirmed but slightly more sympathetic when it was revealed Jett's mother Liz had died, although it evaporated somewhat when Jett bit his hand while trying to escape from the police. He was against Gina inviting Jett to live with them, although he did decide to sleep on the sofa so Jett could have his room. He was even more concerned when Jett pushed Gina into a table during an argument and tried to convince her to get rid of him.
When he was doing a work placement at the local station, he stumbled across a fight between Jett and some bullies and pocketed a photo that was tipped out of Jett's bag. He suspected the man in it was Jett's father and learned from police records that he was Richard Bozic. He spoke to Jett, who said he didn't know if Richard was his father or not. Xavier wanted to track him down in the hope he would take Jett off their hands, angering Gina. She later asked him to pursue it in the hope of getting Jett answers but Senior Sergeant Emerson caught him accessing the police records. He confided in John about his fears his career was over but Emerson eventually chose not to report him, although he did warn him to keep his personal life and his work separate. Xavier responded by telling John he was moving near the academy in Goulburn permanently. Although John tried to get him to reconsider, he felt him and Jett living together wouldn't work. He said his goodbyes to Sasha, made his peace with Jett and convinced Gina of his decision, giving her the information he'd taken on Richard from the police computer before being caught as he left.
Xavier returned in 2013 for Gina's funeral. With John having trouble dealing with his grief and talking to Jett about his future, Xavier told Jett that he would always be a part of the family, and that Gina was his mother just as much as Xavier's. He later asked Roo whether she'd heard from Martha and Hugo, disappointed that he didn't know their whereabouts to inform Hugo of his mother's death. At the service he gave a moving eulogy, where he again reaffirmed Jett as part of the family. Before leaving the bay, he asked Casey to look out for Jett in his absence.