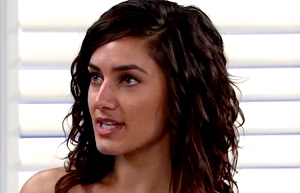 Mia Austin (2008)
Jodie Harris
Episodes: 4695 – 4696
Occupation: Sales Rep
---
Mia was a Sales Rep who tried to sell her range of frozen pasta to Roman. Even though he said he only used fresh pasta in the Diner, she talked him into having coffee with her anyway.
The next day Mia had some frozen pasta delivered to the Diner and left a note for Roman: "See you for lunch? Mia x". When Mia turned up at the Diner she was all dressed up and immediately started flirting with Roman to make him have lunch with her. He eventually relented and they went off to lunch.
When Mia and Roman returned, Charlie spotted them together and seemed upset when Mia gave Roman a kiss goodbye. Later when Charlie confronted Roman about the 'date', he said it was just a business meeing and he wasn't interested in Mia.