Coronation Street – Does Stephen kill Jenny and escape Weatherfield?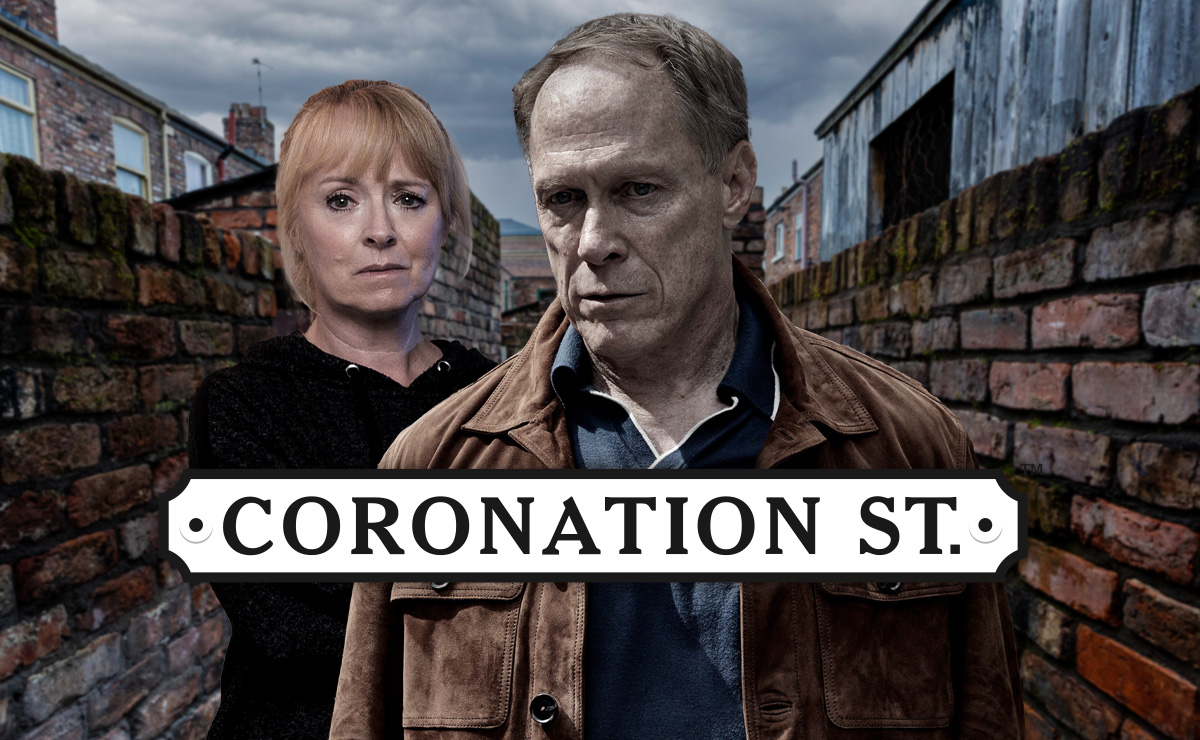 Tonight's episode of Coronation Street has left viewers worried for Jenny, after she thwarted partner Stephen's planned escape from the country.
Jenny (Sally Ann Matthews) had so far been blissfully unaware of what Stephen (Todd Boyce) has been up to over the past year, with three (possibly four) murders under his belt, his drugging of Carla (Alison King), and stealing equity from his mother Audrey's (Sue Nicholls) house.
Having worked out that Stephen had dosed her with LSD, leading to a suspected breakdown which saw her seek treatment, Carla had reported her suspicions to DC Swain.
Whilst she admitted that she believed her, they couldn't do anything without any firm evidence, and warned Carla to not let Stephen know that they were onto him.
Hearing of Jenny's plans to move with Stephen to Thailand however, Carla implored Jenny not to go, explaining what he had done to her.
With Carla's warning ringing in her ears, Jenny asked Stephen if they could delay their move to Bangkok by a few weeks. Stephen agreed, but was secretly broken-hearted, realising that he would have to flee the very next day and leave love of his life Jenny behind.
Tonight's episode showed Jenny's suspicions of Stephen further increase, as he suggested that they transfer their savings into a Thai bank account in preparation for the move.
Promising to think about it, it seemed to be all the confirmation Jenny needed that Stephen was now simply after her money, as she struggled to hold back the tears.
With Jenny holding out, Stephen turned his attention to the Underworld accounts, not realising that Carla had already taken the initiative of blocking his access code.
A pretend phone call to Carla meant that Stephen was successful in tricking Michael (Ryan Russell) into lending him his access code, and he proceeded to transfer the entire capital of Underworld, £250,000, into his own account. Carla was horrified when she received a notification showing that the account was now empty.
In the meantime, Sally (Sally Dynevor) finally realised that husband Tim (Joe Duttine) hadn't skipped their wedding anniversary celebrations to go to the county match with Kevin, and was in fact missing.
Little does Sally know that Tim, whose lifeless body was last seen in Monday's episode, is locked up in the boot of his taxi in the middle of the woods after being attacked by Stephen.
The news of a body being fished out of the canal was of course a concern for Sally, who rushed down there with Gail (Helen Worth) and Tim's mum Elaine (Paula Wilcox).
Although they could get no further details, Gail clocked the roofbox that was visible on the towpath that looked very similar to Stephen's old one, which set her mind whirring.
Despite DC Swain's advice, Peter (Chris Gascoyne) couldn't help but confront Stephen over drugging Carla, leading to an altercation between the two in Stephen's former flat at Redbank.
Finding himself sprawled over the coffee table, Stephen was gearing himself up to attack Peter with an award that had fallen on the floor, when they were interrupted by the arrival of Audrey.
Ordering Peter to leave, Audrey then confronted Stephen over the money he'd stolen from her.
"Although she is angry with Stephen herself she has no idea why Peter is attacking him," Sue Nicholls reveals. "If she hadn't got there I am sure Peter would have killed him.
"She hears Peter being very aggressive to Stephen and in typical Audrey fashion, she tells him to shut up. Stephen is relieved she turned up but then she makes it very clear she has a come for answers and knows about the money."
Stephen admitted to taking the equity out of her house, claiming he had every intention of paying it back, but then turned the tables on Audrey as he suggested that he deserved it following her giving him up for adoption.
"She is shocked, he says that he has always felt abandoned and has always felt the need to prove himself," Sue continues. "Audrey tries to explain but those words are going to really hit her hard in the coming weeks. He has been very cruel, knowing what he has done and that the truth will come out about that and knowing that he has landed all that guilt on his mother."
Stephen was in no mood for further chitchat, but as Audrey stood in his way of leaving, we were left wondering whether Stephen would be forced to harm her to make his escape…
Meanwhile, the rest of the Platt family were now starting to believe that Stephen could well have been responsible for the murders of Leo, Teddy and Rufus, and made known their suspicions to an unharmed Audrey when they eventually found her hiding away in the salon, ashamed of what she had 'caused' her son to become.
As Elaine updated Sally on the fact that Stephen seemed to have bumped off anyone that stood in his way, Sally's blood ran cold… Tim was always getting in Stephen's way!
When DS Swain discovered that Stephen was booked on a flight from Manchester airport to Thailand that afternoon, she put an alert out to the airport police and hotfooted it to the terminal. Stephen was one step ahead however, as he disembarked his taxi at Liverpool's John Lennon airport where he made his way to buy a ticket for Amsterdam leaving in an hour, with an onward ticket to Cambodia.
However, when Stephen handed over his passport wallet to the check-in clerk, he was horrified to find it was empty! It had definitely been in there when he last checked in Rita's apartment, and there's only one person who could have removed it in the meantime…
As the episode came to a close, Jenny bid farewell to Roy (David Neilson) after demolishing his 'bad news quiche', as a furious Stephen watched nearby from the shadows.
Could Stephen become so desperate as to hurt Jenny to make his escape?
Whilst our lips are currently firmly sealed on Corrie's final instalment for Super Soap Week, the preview for Friday's episode reads: "As the shocked residents realise that they have a murderer in their midst the hunt is on to find Stephen before he can add to his death toll – or are they too late?"
The unmissable final chapter in Stephen's story airs from 8pm on Friday 13th October.
---
Here's the spoilers for next week's Coronation Street:
Monday 16th October (Episode 11085/86)
Can the residents recover?
Daisy wants Ryan to talk stalker.
George 'lurches' from one problem to another.
Wednesday 18th October (Episode 11087/88)
Daisy and Ryan can't resist temptation.
Ed doesn't have enough in his coffers for coffee.
The police want answers.
Todd and George reunite.
Friday 20th October (Episode 11089/90)
Lauren cashes in on Ryan and Daisy.
Carla fights for Underworld.
Ed's led into temptation.
Spoilers in your inbox every weekend!