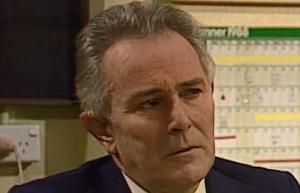 Mr Horton (1988)
Brian Harrison
Episodes: 44; 141; 212
Occupation: Education District inspector
---
In his first appearance Mr Horton got on the wrong side of Fisher by praising Bobby's artwork and took an instant dislike to the Deputy Headmaster. He was blamed by Fisher for being responsible for passing him over for Principal when Walter Bertram was revealed to be the Summer Bay Nutter.
He then reappeared to interview Fisher and other witnesses after Fisher slapped his son Alan who had just feigned a brain aneurysm. When Bobby, the person who had been closest to the incident failed to appear, Mr Horton had to suspend Fisher. Only when Bobby, racked with guilty told the department the truth the day after did Fisher get his job bacl
He came to school again to quiz Jeff Samuels about allegations of forcing pupils to use performance enhancing drugs.